Anheuser Busch Settles Lawsuit Over Kirin Brewing Origins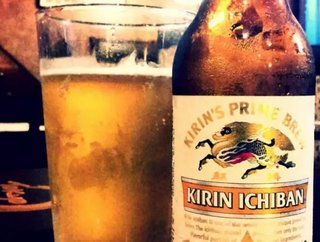 Did you know that the Kirin beer brand is licensed by Anheuser-Busch in the United States? Did you know that, ever since adding the brand to its distrib...
Did you know that the Kirin beer brand is licensed by Anheuser-Busch in the United States? Did you know that, ever since adding the brand to its distribution portfolio almost 20 years ago, Anheuser-Busch has been brewing Kirin Ichiban and Kirin Light domestically using domestic ingredients? Maybe you did, maybe you didn't. While Anheuser-Busch has been proud enough to announce the partnership, and a Kirin beer label's small print does state: "brewed under Kirin's strict supervision by Anheuser-Busch, Los Angeles, CA and Williamsburg, VA," not every consumer reads the back of a beer label and Kirin's website isn't always clear.
But does it really matter who owns the Kirin name, and whether it's brewed in Japan or in the United States? Actually, according to the results of a Miami-based lawsuit filed against Anheuser-Busch in 2013, it definitely matters. Lady J. Suarez and Gustavo E. Oliva, the two plaintiffs in the lawsuit, claimed that Anheuser-Busch's less than direct labeling tricked consumers into believing that Kirin is produced in Japan and imported into North America, a violation of the Florida Deceptive and Unfair Trade Practices Act.
On the surface it seems like a textbook frivolous lawsuit, but there's more to it than just nitpicking over geography: an imported beer often sells for a fair amount more than its domestic counterparts at restaurants, bars, and retail outlets. Consumers are willing to pay more for that imported beer, with assumptions of quality and importing costs—but finding out that supposed "imported beer" is actually produced domestically is the kind of revelation that makes consumers feel frustrated at best and cheated at worst:
"As a result of these unfair and deceptive practices, the defendant has collected millions of dollars from the sale of Kirin beer that it would not have otherwise earned," says the lawsuit. "Plaintiffs paid money for a product that is not what it claims to be or what they bargained for."
Not that Kirin is the only one who does this—a simple Wikipedia search reveals that Kirin peers Asahi and Sapporo are both brewed for North America consumers in Canada, the former by Molson and the latter at a Sapporo-owned facility. But just because everyone does it, that doesn't mean it's going to sit any better with incensed consumers.
Now those consumers are getting some vindication. A Florida judge has approved Anheuser-Busch's offer to settle the lawsuit for $1 million to the class counsel and a promise to label the beer's production origins more clearly on consumer-facing packaging moving forward. The brewing company is also offering consumers up to $50 per household (but actually more like $12 for most consumers) as compensation for Kirin beer they may have purchased while under the impression that it's imported:
Under the terms of the deal, consumers who bought Kirin from Oct. 25, 2009, through Dec. 17, 2014, will be able to receive 50 cents per six-pack of 12-ounce bottles, $1 per 12-pack of 12-ounce bottles, or 10 cents for each individual bottle or can. Reimbursements supported by proofs of purchase are capped at $50 per household, while those without proof of purchase will get no more than $12 total, according to the settlement.
On the plus side, even $12 will still pay for at least a bottle or two of imported Orion or Hitachino Nest Beer. And in the meantime, the industry and its processes have grown a little more transparent.
[SOURCE: Miami New Times via Eater]