AB InBev invest US$34.4m in no-alcohol brewing technology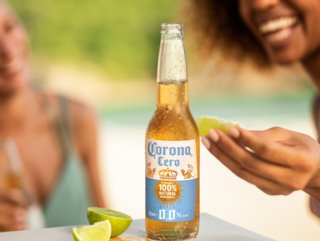 AB-InBev furthers its commitment to innovative non-alcoholic products
Being one of the top producers of 0.0% alcoholic beers, AB InBev is furthering its investment in the beverages with US$34.4m spent on brewing technology
Offering customers greater choice when it comes to moderate and responsible consumption, AB InBev is investing US$34.4m in no-alcohol brewing technology to expand its offerings in the fast-growing beer categories to meet demand.
Decades of innovation
Spending decades developing innovative ways to brew better non-alcoholic beers, AB InBev has made a US$34.4m investment in technology upgrades to its Belgian breweries - Sint-Pieters-Leeuw, Hoegaarden, and Leuven.
Expanding its non-alcoholic and low-alcoholic beer portfolio the investment will also improve the companies bottling capabilities and optimise a new de-alcoholising system that is used to make Corona Cero - the company's newest non-alcoholic version of its classic Mexican lager that debut in 10 European countries in 2022.
One of seven non-alcoholic beers brewed by AB InBev in Belgium, many of its non-alcoholic brewing techniques were developed in Belgium as part of the company's Global Innovation and Technology Center (GITEC) in Leuven.
"The no-alcohol beers of today are much different from what was available years ago. The innovative methods and technology developed by our brewers and researchers are creating the next generation of refreshing, great tasting, no-alcohol beers for people to enjoy on any occasion," said David De Schutter, Global Vice President, GITEC.
Global Innovation and Technology Center (GITEC) in Leuven
Headquartered in Leuven, Belgium, AB InBev's Global Innovation and Technology Center (GITEC) is powered by a diverse team of over 120 scientists and specialists from 20 countries to deliver award-winning innovations and technologies.
Collaborating with multiple internal and external partners around the world, GITEC is dedicated to continuously developing new and exciting breakthroughs for raw materials, packaging, and brewing processes.
"This way, we can be sure that we deliver the highest quality products and great experiences to our customers in innovative, sustainable ways. Here at GITEC, we dream big and we look to the future. We're always up for a challenge," commented GITEC.