Top 10 biggest beer brewers worldwide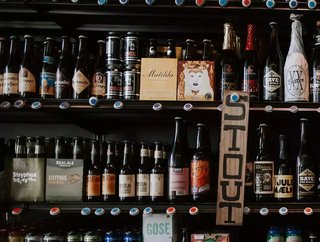 With the business of beer back on track to brewing up a global storm, we chart the top 10 breweries churning out the most beer
Continuing to reign alcoholic beverage supreme, the business of beer may well have been impacted by the pandemic, with a 9% net fall in beer volume in Europe alone, but beer making is set to rebound in 2021.
With brewers increasingly focused on premiumisation, craft/speciality, and the low- and non-alcohol category, the global beer market is expected to grow 5.2% between 2021-2026 reaching US$962bn by 2026, according to IMARC Group. 
We chart the top 10 world's biggest beer-makers, ranked by beer production in 2020, which collectively brewed up 1.2 billion hectolitres last year.
10. Beijing Yanjing Brewery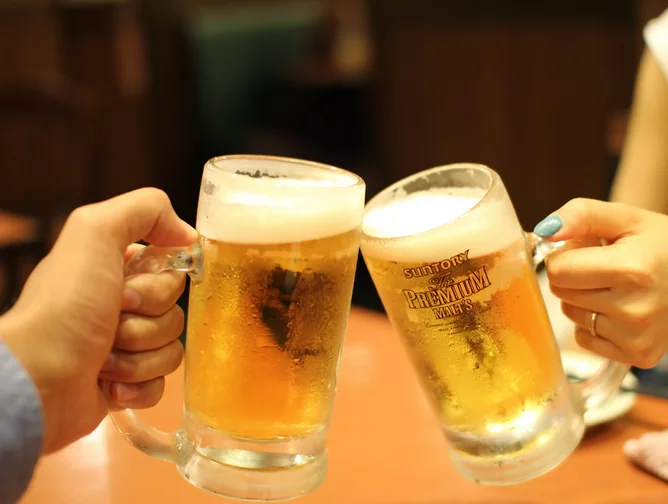 Beer output 35.3 million hectolitres
HQ Beijing, China
Employees 42,000+
CEO Li Fucheng
Market cap US$20.86bn
Brewing history Named after an ancient city in modern Beijing, Yanjing Brewery is the fourth biggest Chinese beer producer in terms of beer sales and has been churning out its flagship Yanjing Beer since the brewery's founding in 1980. Now a subsidiary of Beijing Enterprises Holdings Ltd., the company's brewery is one of the largest in Asia brewing up its signature brand Yanjing, which makes up around three-quarters of the brewery's beer sales, along with other beer brands Liquan, Huiguan and Xuelu. While its beers are most popular in China, the brewery does export its namesake beer across Asia and into Canada. Also known as Beijing Beer, and often dubbed the 'taste of China' due to its popularity, the award-winning Yanjing is made from water that hails from the springs of the YanShan Mountain in Beijing, and comes in many forms, from premium, black and draft, to lemon and pure draft ice beer. Not only is Yanjing beer the official beer supplier at Chinese state banquets, but it has been official sponsor for major events including Beijing Olympics (2011) and Chinas lunar exploration project (2012). 
Brewing performance While Yanjing's revenue of US$1.53bn for 2020 was down 4.43% on 2019, the first quarter of 2021 saw the brewery bounce back with revenue up 38% YoY.
9. Anadolu Efes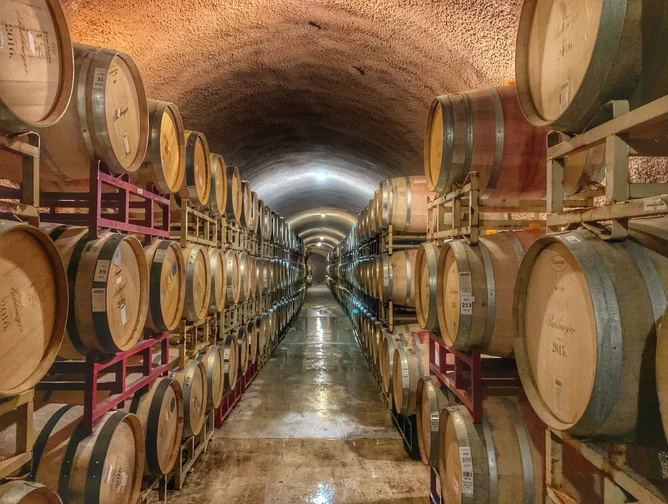 Beer output 32.2 million hectolitre
HQ Turkey
Employees 80,000+
CEO Can Caka
Market cap US$1.58bn
Brewing history Founded in 1969 with the merger of two Turkey-based breweries, Anadolu Efes debuted its first beer brand Efes Pilsen the same year. Known for cultivating Turkey's beer culture in the 70s and 80s, rolling out different versions of its popular Efes beer brand and resurrecting Turkey's oldest beer brand Bomonti, the company expanded internationally in the 90s, launching its international subsidiary EBI in The Netherlands. While it remains the industry leader in Turkey with 55% market share, two-thirds of its sales are international. The company has a 29% market share in both Russia and Jordan, 5% in Pakistan and 46% in Kazakhstan. Counting 21 breweries in six countries, five malteries, and 100 beer brands distributed to 70 countries, the company has made numerous acquisitions over the years including Russia's biggest beermaker (KV Group), Georgia's leading brewer Lomisi Ltd, and mergers, collaborating with Heineken in the Serbian and Kazakh markets. 
Last year, the company relaunched the Efes family of brands with a new brewing technique, the +1 Resting technique, an industry first that increases the malt flavour in the beer. 
Brewing performance In Q1 2021, the company achieved growth in all of its international beer operations, other than Ukraine, following three consecutive years of growth with strong volume growth in the CIS countries, in particular. Sales revenue in 2020 was US$7.2bn.
8. BGI/Groupe Castel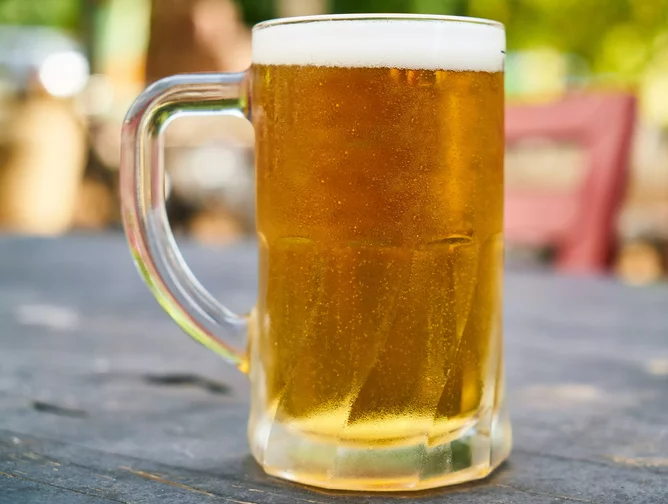 Beer output 36.7 million hectolitre
HQ France / Ethiopia
Employees 28,000+
CEO Laurent Lescuyer
Market cap US$1.82bn
Brewing history Established in 1949 by Pierre Castel, and renowned for being the largest French wine producer, family-run French firm Groupe Castel bought into beer with the acquisition of African beer company Brasseries et Glacieres Internationales (BGI) in 1990. With its headquarters in Addis Ababa, Ethiopia, and as masters in ingredients and techniques for the manufacture of beer recipes specific to tropical countries, BGI boasts five breweries and 22 worldwide distributors, and exports its brands to 50+ countries. 
The Group's beer brands include flagship brand St. George, Ethiopia's oldest beer brand, along with acquisition brand Castel, and recently launched brand Doppel. Its beer brands dominate across Africa, controlling up to 90% of the beer market in Cote d'Ivoire, for example. 
Brewing performance BGI's beer production output for 2020 was the same as it was in 2019. 
7. Asahi Breweries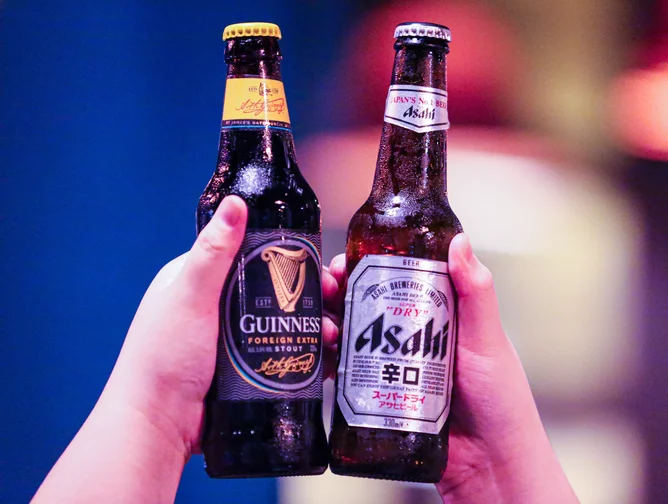 Beer output 56.3 million hectolitres
HQ Tokyo, Japan
Employees 29,000+
CEO Atsushi Katsuki
Market cap US$22.2bn
Brewing history Tracing its roots back to 1889 and the Osaka Beer Brewing Company, famed beer Asahi was born in 1892, garnering a Grand Prix award at the Chicago World's Fair the following year and achieving a number of beer firsts, including Japan's first bottled 'draft' beer (1900) and first canned beer (1958). It wasn't until 1966 that the mass production of Asahi beer began, under Asahi Breweries, which was formed in 1949 and is now part of global F&B group Asahi Group Holdings. 
Today, Asahi Breweries is the largest brewery in Japan, in sales volume, with the highest home market share of the beer industry, mainly with its namesake brand Asahi which comes in many styles, from zero-carb Style Free to non-alcoholic Dry Zero. In 1987, Asahi introduced the world's first-ever 'dry' beer, Asahi Super Dry, a highly carbonated rice lager that achieved explosive sales, propelling Asahi to the top beer-making position in Japan. Ever innovative, this year Asahi introduced a supersized version and a special 'draft' version of its packaged Super Dry. 
With the aim of growing its global footprint, the brewery has in recent years spent US$20bn on brand acquisitions including Italy's Peroni and Czech market leader Pilsner Urquell. 
Brewing performance Accounting for global beer volume sales of around 3%, according to Statista, Asahi's profits dropped 30% in 2020, due to the pandemic, as Asahi counts on restaurants for nearly half of its revenue. 
6. Tsingtao Brewery Group, China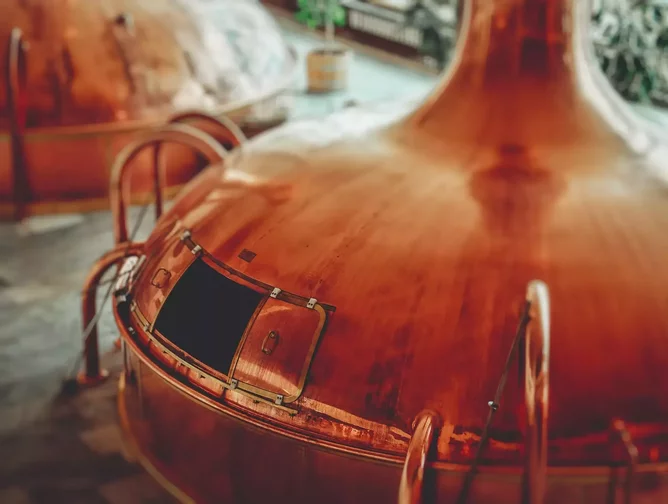 Beer output 80 million hectolitres
HQ Qingdao, China
Employees 35,000+
CEO Ke Xing Huang
Market cap US$18.7bn
Brewing history With a brewing history dating back 117 years, making it one of the earliest breweries in China, Tsingtao is today the second largest brewer in China controlling 15% of domestic market share. 
It is however the most well-known Chinese consumer brand, with 90% brand recognition outside of China, and is the top Asian imported beer brand with a strong presence in 100+ countries. The Group, which was privatised in the early 90s and has in the past been part owned both by brewing giants AB InBev and Asahi, delivers a portfolio of beers, spirits and ciders, though its flagship beer Tsingtao accounts for the majority of its production. Brewed only in China, Tsingtao comes in many variations, from IPA, Stout and Pilsner, to Strong, Wheat and Light, and increasingly with more of a health focus like 0.0% non-alcohol and Green Pilsner, the latter containing spirulina and claiming to promote good health. 
Looking to the future, the Group's focus is on the young and the premium markets, with plans to accelerate development of high-value products, including canned and craft beer, and create more youthful and healthy associations, including sponsoring the Beijing 2022 Winter Olympics and launching a series of products featuring 15 ice sports; taking part in New York Fashion Week; and continuing to roll-out its hip, high-design Tsingtao 1903 bars across China. 
Brewing performance Bucking the beer trend, Tsingtao was down just 1% on beer production in 2020 compared to 2019 and posted an 18.86% YoY profit growth in 2020. 
5. Molson Coors Brewing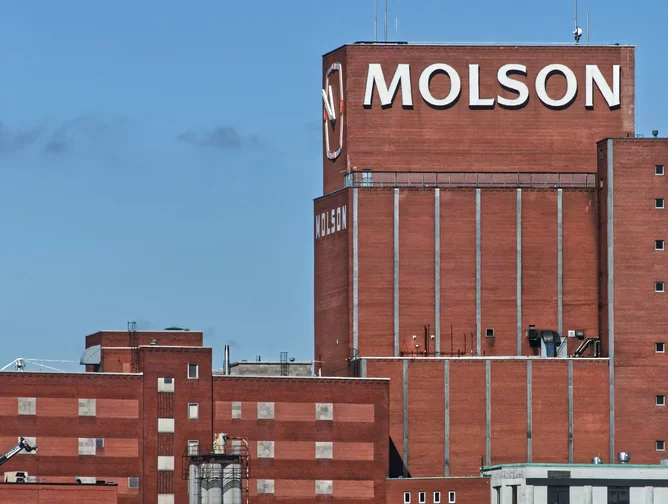 Beer output 84.5 million hectolitres
HQ Chicago, Illinois, US
Employees 17,000
CEO Gavin Hattersley
Market cap US$11.74bn
Brewing history The second-largest beer company in the US and fifth worldwide, Molson Coors is a merger (2005) of two brewing giants with Molson's brewing history dating back to 1786 Canada, making it the oldest brewery in North America, and Coors dating back to 1873, Colorado. Today, the company operates 42 breweries and boasts 15 brand families with more than 90 strategic and partner brands selling products in 100 countries. Particularly profitable in Canada and Europe via subsidiaries, the brewer's biggest seller Coors Light is the fourth best-selling beer in the US; while Molson Canadian and Carling are bestsellers in Canada and the UK, respectively. Other key brands include Foster's, Miller, Blue Moon and Leinenkugels. 
The company is investing heavily in the craft and cider markets and in the expansion of its 'beyond beer' category including hard seltzers, premium spirits and ready-to-drink options. 
Passionate about driving social change, and on track to reduce carbon emissions by 50% across all direct operations, Molson Coors recently became the first major brewer to produce all of its beers and ciders using 100% green electricity within its UK operations.  
Brewing performance The Group reported net sales revenue of US$9.7bn in 2020 with 84 million hectolitres sold. 
4. China Resources Beer (CR Beer), China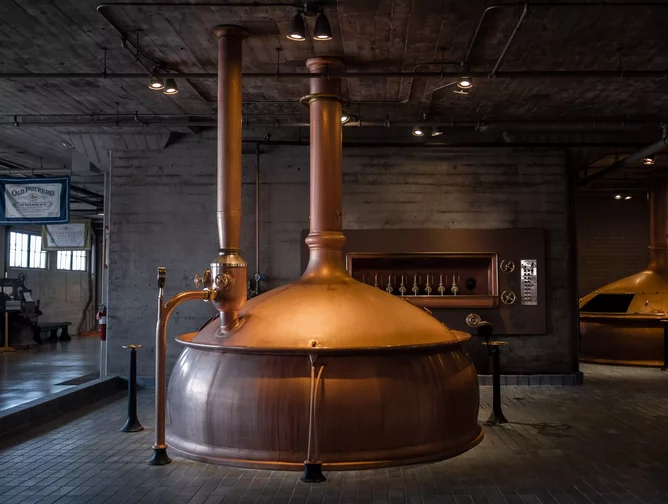 Beer output 106.9 million hectolitres
HQ Beijing, China
Employees 60,000+
CEO Xiaohai Hou
Market cap US$26.8bn
Brewing history Not yet three decades old, but pulling in the sales at number 4, China Resources Beer (CR Beer) is China's largest brewer controlling a fifth of the country's market share. 
Born in 1993, as part of a joint venture between China Resources Beer and multinational SABMiller, CR Beer acquired more than 50 breweries so that by 2010 it was one of the biggest beer producers by volume worldwide. SABMiller sold back its stake in 2016 and CR Beer sold a minority stake to Heineken in 2018. While its beer brands, including Blue Sword, Green Leaves, Largo and Shenyang, aren't especially well-known outside of China, its flagship beer Snow remains one of the world's bestselling due to its dominance in China where the premium beer category has seen double-digit growth since 2012, according to Euromonitor. CR Beer also has a licence for the Heineken brand in China, part of a deal with Heineken to combine operations, and recently launched its high-end product Heineken Star Silver beer. 
Last year, the company announced plans to close a third of its 74 breweries over five years to optimise production and to focus on premium beer products, including Heineken.  
Brewing performance While CRB's sales in 2020 grew by 59.6% to US$4.58bn, driven by its premium products, revenue dropped by 5.2% from the year before, due to the pandemic.
3. Carlsberg Group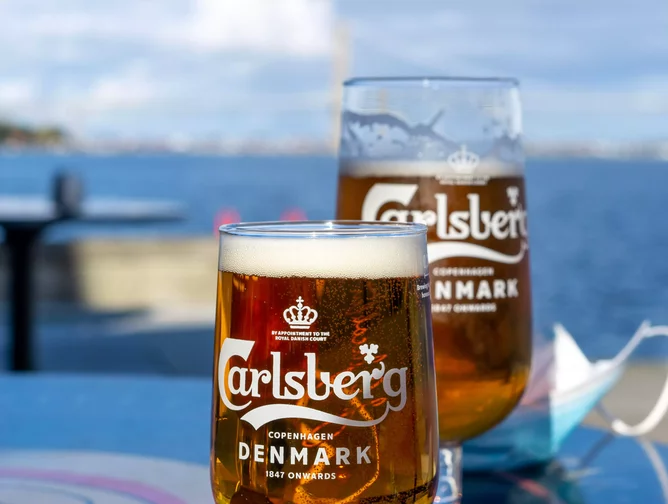 Beer output 110.1 million hectolitres
HQ Copenhagen, Denmark
Employees 40,000+
CEO Cees't C. Hart
Market cap US$24.2bn
Brewing history Known for its catchy slogan 'probably the best beer in the world', which it refreshingly rebranded to 'probably not the best beer in the world' in 2019, Carlsberg has been at the forefront of beer-making innovation since its founding in 1847: from its discovery of yeast purification in 1883 and invention of the pH scale in 1909, to its recent innovations in packaging (plastic-free Snap Pack) and taste (caps that remove oxygen to make beer taste fresher for longer). Today, the Group delivers 140 beer brands spanning core, craft/speciality and alcohol-free, including flagship brand Carlsberg, created by the founder's son 'Carl'. 
While it's known globally for Carlsberg, Tuborg, Kronenbourg and Special Brew, the latter created in 1950 to commemorate a visit by Winston Churchill to Denmark, as well as its craft brands French 1664 Blanc and Grimbergen, it is powered by strong local brands such as Ringnes (Norway), Wusu (China) and Baltika, Russia's bestselling beer. The Group, which has carried out a number of M&As in the last year, including Marston's in the UK, has ambitions to become number 1 in the low- and non-alcohol category, and is on a journey to create the world's first 'paper' beer bottle made from sustainably-sourced wood fibres. 
Brewing performance In 2020, the Group's organic revenue saw a decline of 8.4%, its lowest since 2007, but its global premium brands, craft/speciality and alcohol-free brews all delivered solid growth from Q3 onwards with China becoming Carlsberg's biggest market. 
2. Heineken Holding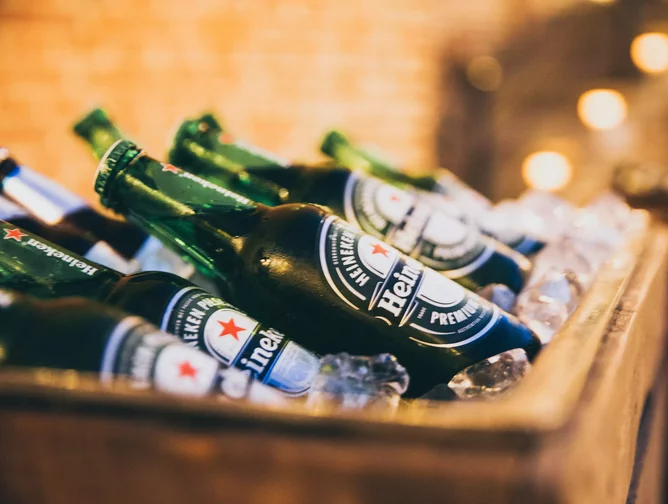 Beer output 221.6 million hectolitres
HQ The Netherlands
Employees 85,800+
Market cap US$27.3bn
Brewing history Credited with being the largest beer company in Europe, renowned Amsterdam brewer Heineken has been churning out beer, arguably the world's most iconic, for 150 years securing numerous accolades along the way including the prestigious Grand Prix in 1889. 
The company exports more than 300 brands to some 190 countries and operates over 160 breweries in more than 70 countries. As well as its namesake flagship brand Heineken, exported to 84 markets and a market leader in many Central/South American countries, the Group's globally recognised brands include Amstel, Sol, Tiger, Birra Moretti, and Edelweiss; while its portfolio of local brands includes Jamaican brand Red Stripe, popular in the US; Kingfisher in India and Portugal's top-selling beer Sagres. It also offers a growing portfolio of craft brands and ciders. In recent years, the Group has invested billions in developing technologies leveraging AI and big data to accelerate its production; and has pledged to be a carbon-neutral producer of beer by 2030, already counting five of the world's ten largest on-site solar-powered breweries. 
Brewing performance Whilst Heineken saw its net revenue fall by 11.9% to €19.7bn in 2020, it witnessed double-digit growth in Q1 2021 in 40+ countries, and especially across Africa, the Middle East, Eastern Europe and Asia-Pacific.
1. Anheuser-Busch InBev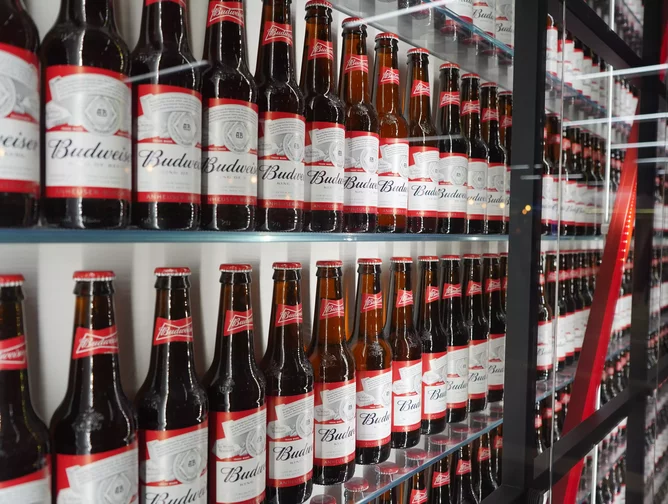 Beer output 467.4 million hectolitres
HQ Belgium
Employees 163,00+
CEO Michel Doukeris
Market cap US$134.1bn
Brewing history While the holding company of AB InBev was founded in 1977, its brewing history dates back six centuries to the brewing of Leffe by Belgian monks 800 years ago. Today, AB InBev boasts the world's most valuable portfolio of beer brands, with over 500, and a network of 600 company-owned distributors and wholesalers selling its products worldwide. In fact, this beer-making Goliath sells one of every four beers consumed worldwide and produces more than double the amount of beer as its nearest competitor, Heineken. As well as flagship brands Budweiser and Bud Light, its beer portfolio includes global labels Beck's, Hoegaarden, Stella Artois and Corona; along with numerous local brands (Aguila, Brahma, Cass) and a growing premium offer of speciality/craft beers, like Leffe and Camden Hells. 
With a new CEO in place from July 1, the Belgian beverage giant is focused on growing its premium and super-premium portfolio and ensuring 20% of its global beer volume is low or non-alcoholic by 2025. The company is also leading the way sustainably, with 100% of its product set to be returnable or recyclable by 2025, and becoming the first brewer to use blockchain technology to track where the barley in every beer comes from. 
Brewing performance While its beer volumes declined 5.7% to US$46.9bn in 2020, thanks to Covid-19, AB InBev delivered growth of 2.8% in Q1 2021 compared to 2019, with its premium beer portfolio showing double digit growth across ecommerce in China.