Wok Box: Reaching Fans Through Social Media and Hyperlocalization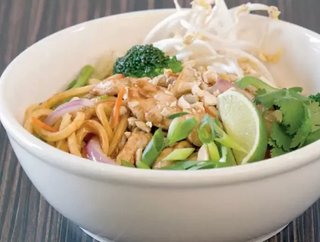 Check out the latest issue of Food Drink and Franchise! The way that consumers interact with their favorite brands is changing, and savvy QSR chains...
The way that consumers interact with their favorite brands is changing, and savvy QSR chains and franchises are finding ways to evolve with their fans and keep them engaged. Edmonton, Canada-based Wok Box is a QSR chain finding success by taking a hyperlocalized strategy and harnessing the power of social media.
"It's playing a much larger part than it did even 12-18 months ago," says Wok Box CEO Lawrence Eade, explaining that the pan-Asian chain has recently partnered with strong social media management in order to help its franchisees reach out on social media platforms and communicate with consumers in a way that's easier and more hassle-free. Giving franchisees that power to run their own social media campaigns is vital to Wok Box's strategy of speaking directly to consumers in given markets.
Where social media is going, the purpose and the use is really localized content," says Eade. "Five years ago, having a website and pushing everyone to the same Facebook page—whether they're in South Florida or Seattle—was what you needed to do. But now what's happening is that social media has made it so that people are only interested in what's going on around them. People want to know what's happening in their own market, whether it's a new business owner looking for new businesses or a customer looking for new food."
Wok Box is employing a hyperlocalized strategy to reach both types of customer that the chain needs to reach—consumers and potential new franchisees.
"Our strategy with social media is becoming very big in hyperlocalized content," Eade explains. "That could be telling our consumers in South Florida: we have a new product coming out, or a new store opening in greater Ft. Lauderdale so here's some information about that. Or it could be reaching out to Detroit area franchisees of other systems, asking: have you considered adding to your portfolio? It's really about tailoring the content to those local people whether it's through Facebook or Twitter, Instagram or even Yelp."
As Wok Box grows even further into new markets, including franchise opportunities in Eastern Canada and the United States, this hyperlocalized approach to social media should serve the chain well. To find out more about its expansion plans and consumer engagement, check out the whole story in this issue of Food Drink & Franchise.
Let's Connect!