The return of the Original New York Seltzer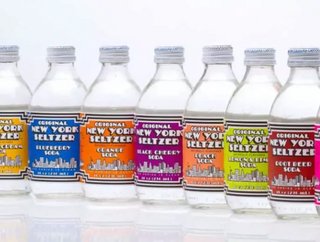 When a cherished product is retired, nostalgia eventually takes hold in the minds and hearts of its fans. But when it is resurrected years later, can th...
When a cherished product is retired, nostalgia eventually takes hold in the minds and hearts of its fans. But when it is resurrected years later, can that revenant product live up to years of heightened expectation? So far, the answer is an overwhelming yes: this year has seen a wave of nostalgia-steeped food and beverage products brought back from the dead, from Surge soft drinks to French Toast Crunch. Even Crystal Pepsi is now hinting at a comeback. But perhaps the most unexpected comeback yetis the resurrection of a little cult favorite soda that was decades ahead of its time and vanished without a trace over 20 years ago: Original New York Seltzer.
Fans of the soda remember its distinctive short glass bottles, the vivid cityscape label design with a different color for each unique flavor. Fans also remember that the soda was unceremoniously discontinued in the early 1990s, when its original owners decided to pursue another calling.
RELATED TOPIC: Coca-Cola Resurrects Surge Online Because the Nineties are Back
Ryan Marsh was one of those fans, raised on Original New York Seltzer as a kid and holding a torch for years with the rest of us after it disappeared from supermarket shelves. The only difference is that, unlike the rest of us, he decided to do something about it. After building a career as a successful entrepreneur in the beverage and vending machine industry, Marsh purchased the original bottling factory where the soft drink was once produced and hired on many of the original employees. Armed with the equipment, the knowhow, and the original formulas for all of the original flavors, he set out to make Original New York Seltzer live again.
What was the draw to Original New York Seltzer after all these years, and why is now the time to bring the soft drink back? For Marsh, it was a combination of nostalgia and knowledge that consumers are finally ready to appreciate on a mass level what the brand had to offer.
"As a kid growing up in the '80s, my family and friends all knew and loved Original New York Seltzer. It was the only brand our parents would allow us to drink. We pursued ONYS because we loved it, and I really connected with it like so many others have done," says Marsh. "Original New York Seltzer is taking off now for the same reasons it took off then. Everyone's just seeking out and gravitating toward smarter, healthier choices. And clearly, right off the bat, we're there already. With health consciousness at an all time high and rising, it's just perfect timing for us."
The Original New York Seltzer brand might be under new ownership now, but with the original formulas and the original factory, it isn't starting from scratch either. According to Marsh, there's something powerful about producing the soft drink in the same factory it was originally produced and packaged in during its first run. 
RELATED TOPIC: Four Reasons Why Craft Soda Could Be the Next Craft Beer"
Some of these guys have been here doing this for 30 plus years," says Marsh. "They're so comfortable and that makes me feel comfortable. It really is second nature for them. Watching them do their thing so smoothly, it's just like clockwork—mixing, tasting, batching and bang. They're making this stuff you remember right in front of you."
With that said, the factory—along with the soft drink—did undergo some major upgrades. In addition to expanding the warehouse and distribution twentyfold to meet anticipated demand, Marsh also implemented several machinery upgrades inside the facility including ARPAC high-speed, tray-forming equipment, high-speed case bundling equipment and palletizers, new high-speed Trine Labeling systems, and newly outfitted quality control features and QC rooms. As for the soda itself, Marsh and his team are already experimenting with diet versions of the classic flavors.
The fan base that has remained for the soft drink is not lost on Marsh—Facebook communities with names like "Bring Back Original New York Seltzer!" count thousands among their ranks, and the official brand account already has over 50,000 followers. So part of Original New York Seltzer's plan to succeed in this new era is by taking full advantage of one tool that the brand was not privileged with the first time around: social media. Facebook, Twitter, and Instagram together comprise a key factor in the brand's current strategy.
"We have the chance to genuinely engage with our people and we're really going to run with that—I make every effort I can to talk with as many people as I can," says Marsh. "We want you to know that ONYS is going to be very connected with people through social media and the web. It's going to be the primary place to connect with us. It's really something that we can exchange right on the spot with so many people, and we're going to keep the line wide open."
The internet is also tied in directly with the brand's initial sales strategy. Following the lead of other brand relaunches like Surge last year, Original New York Seltzer started up with only online sales—from there, it's progressing with a controlled brick-and-mortar retail rollout starting with its home state of California this month. Starting with online sales is a smart way to gauge interest and demographics ahead of time, but it's also another way to connect more directly and genuinely with consumers. 
RELATED TOPIC: Top 10 Franchises to Master Social Media
"I really enjoy talking to people and hearing their stories," says Marsh. Everyone is so connected and ready to just have a conversation and instantly click in and order from us. It's great. That just wasn't possible before."
Marsh is quick to point out that, while the nostalgia factor might be an important factor in sparking initial interest in the brand's return, the focus shouldn't be on what Original New York Seltzer was, but what it has to offer today. It's an important distinction to make. Nostalgia can only carry a brand so far—after that, real growth comes from attracting new fans and proving that the brand has what it takes to make it in today's market.
"The fact that people have a genuine emotional connection to ONYS is just a whole separate, unique advantage that we enjoy," says Marsh. "But, inherently, it's just a better, smarter choice, because there are no artificial flavors, colors, preservatives, or corn syrup—and our flavors are just killer. We're committed to natural, preservative and color-free products. We package in glass because it's simply the best material for food products. We have an enthusiastic and fantastic distribution network, and it's been inspiring to connect with them all. There really isn't a better beverage in this category out there."
But while nostalgia may fade as this product comes back to the forefront, the most important thing is ensuring that it maintains the spirit—and the flavor—of the soft drink that made such a huge impression on its fans the first time around. As long as Original New York Seltzer succeeds in capturing that feeling, it's off to a good second start.
"On another level, ONYS was a genuine, start-up boutique brand with a mission," says Marsh. "ONYS launched in the face of giant beverage companies, and we were distinctly different. I think people felt that independent spirit and rallied with us—everyone roots for the little guy."