Who's behind the new Go Breakfastarian viral marketing campaign?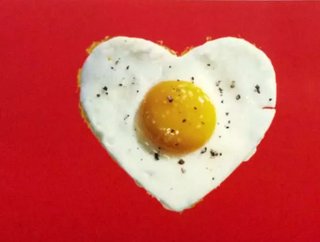 Check out the latest edition of Food Drink & Franchise! Today a curious package was delivered here at FDF World HQ. Inside the package: a pin (remi...
Today a curious package was delivered here at FDF World HQ. Inside the package: a pin (reminiscent of a political campaign) and a mysterious flyer entreating us to "see the light, eat breakfast at night," and join the Breakfastarian movement:
"As breakfastarians, we believe in having breakfast anytime—especially for dinner," reads the flyer. "Please help us gain more breakfast acceptance by sharing our message with the world." The flyer also directs us to a newly-formed Tumblr account and a fresh Twitter handle with just a handful of followers to date.
There's no question that breakfast is at the crux of today's Franchise Wars—with so many QSR and casual dining chains offering breakfast options at varying day parts, we're at a point right now where a brand has to be especially bold and intriguing just to grab a fair share of the market. When executed well, viral marketing can be one of the most effective ways to be bold and intriguing, and while this campaign is in its beginning stages it seems to have some real potential. Our interest is certainly piqued: who's behind this mysterious new movement? With no one stepping forward yet, we're using our context clues in an attempt to figure it out.
McDonald's
When we first opened the package, our gut screamed: "McDonald's" a few reasons, starting with the knock-down, drag-out brawl that the chain is currently locked in with Taco Bell for dominance in the breakfast day part arena. When we think of Breakfast Wars, right now we think of McDonald's, and the tone of this campaign could position Breakfastarians as a political opponent to Taco Bell's Breakfast Defectors campaign.
Then there's the fact that McDonald's has already been testing all-day breakfast in San Diego—could this be a hint that the chain is ready to roll out all-day breakfast nationwide? What's more: we can't help but compare the color scheme and styling of the bright yellow egg yolk against a bright red background to the "golden arches on a red background" design of the McDonald's logo, while the heart-shaped egg has the chain's "I'm Lovin' It" catchphrase echoing in our head. All of these subtle signs seem to point to McDonald's as the most likely candidate petitioning on a platform of breakfast at night.
But just because something seems like the obvious answer, that doesn't mean it's the right answer. There are other forces at play that could certainly be behind this viral campaign.
Denny's
Again, we point to the yellow and red color scheme of the flyer. McDonald's might be the most widely recognized brand using that color scheme, but let's not forget what colors have been adorning Denny's signs since the 1950s. Furthermore: in a Twitter conversation with one user, the @Breakfastarians account noted that it prefers bacon and eggs to cereal. Bacon and eggs could certainly apply to biscuits and McGriddles, but it's not part of the chain's core breakfast menu—and it certainly makes us think more of
While fast food chains are introducing the idea of breakfast all day gradually, Denny's has been doing breakfast all day for years. Perhaps this campaign is not a fresh entry into the Breakfast at Night category, but a reminder that Denny's was the "pancakes after last call" diner of choice for America's youth long before these QSR Johnny-Come-Latelys showed up. Denny's has proved wildly savvy and successful with social media in the past, especially on Tumblr, which makes it all the more likely that this is a campaign for either Denny's or its college kid-oriented offshoot The Den.
IHOP
Here's what's bothering us: while the flyer utilizes a red and yellow color scheme, making us think of McDonald's or Denny's, the button—arguably a more critical piece of this puzzle—is red, white, and blue. Neither McDonald's nor Denny's feature blue prominently in their branding, but guess which 24-hour breakfast chain does: International House of Pancakes. As a fellow cornerstone of the "breakfast all day" concept and a fellow purveyor of bacon and eggs, IHOP is just as worthy a candidate for essentially all the same reasons as Denny's.
Further evidence: our package was sent from a P.O. Box in Manhattan Beach. These could have been sent out by local divisions. But it seems important to note that, while McDonald's is headquartered in South Carolina and Denny's is based out of South Carolina, IHOP hails from Glendale, CA. Speaking of post office clues, the stamp on our package also has pancakes on it—and so far pancakes figure prominently on the Tumblr account. In the "about" section of the Tumblr there is also this statement:
"We believe that having breakfast for dinner is about having some fun and breaking a few rules along the way. It's about connecting with those we love and bringing the world a little closer — one dinner table, one meal, one pancake at a time."
The mention of the dinner table has us thinking more casual dining or family dining than QSR or fast casual, and again we have mention of pancakes. While the pancakes could be a red herring (Denny's and McDonald's also serve pancakes—IHOP doesn't have a monopoly on the griddle, after all), they could also be the most important clue of all.  
Other Contenders: Almost Anyone, Really
Honestly, who isn't throwing their hat in the Breakfast Wars primaries at this point? Wendy's, Burger King, Tim Hortons, Carl's Jr.—anyone could be involved, from a global chain to a regional upstart.
Who We're Pretty Sure it Isn't: Taco Bell
There's not so much as a hint of Taco Bell's signature color scheme of purple, yellow, and black here. Besides, as we mentioned, Taco Bell already has a political-themed breakfast campaign well underway with its own handle and hashtag: #breakfastdefectors. Nothing is impossible at this point, but we'd be very surprised if this was Taco Bell. 
Let's Connect!