Top 10 Must-Have Bites to Try at Coachella 2015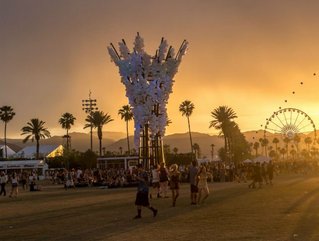 The weather is warm and the sun is out in Southern California, and the Coachella Valley Music and Arts Festival is nearly upon us. Set times have jus...
The weather is warm and the sun is out in Southern California, and the Coachella Valley Music and Arts Festival is nearly upon us. Set times have just been released, and the first three-day weekend of the event is just days away. But between the ferris wheel, the record boutique and running from stage to stage and set to set, you're going to want to carve out some time to stop by the food stalls. Coachella has upped its food game this year, putting together a well-curated collection of some of SoCal's best boutique and craft food and beverage makers to fill its beer gardens, food courts and markets.
You'd have to be awfully ambitious to try everything there is to eat at Coachella in only three days (honestly, it'd be a tall order even if you went both weekends). For the best Coachella eating experience, you're going to have to prioritize and set some goals. So we're preparing with a purely subjective wish list of all the bites we want to stuff our faces with until the Monday drive back to reality.
From The "Cheap" Seats
(In Other Words: From the Terrace to the Campgrounds, You Won't Need a VIP Pass for These Delights)
10. A Spicy Peach Popsicle from Sweet Clementine
Here's the thing about Coachella: it's going to be hot, okay? We're going to need to cool down, and science has proven that one of the best ways to cool down on a hot day is with a sweet and tasty popsicle. From Thai Tea to Lemon Buttermilk, Sweet Clementine's entire line-up of "early summer" seasonal treats look to die for. But we're suckers for anything peach, and the promise of a little spice kick only seals the deal.
9. A Massive Ice Cream Cookie Sandwich from Coolhaus
LA-based Coolhaus debuted its staggering architecture-inspired ice cream sandwiches at Coachella in 2009, when it was nothing more than a few flavors and a single truck. The company has also been growing ever since, launching everything from brick-and-mortar storefronts and a nation-spanning fleet of food trucks to a cookbook and a ready-to-eat retail line—but even now Coolhaus continues to stay true to its roots, making an appearance at the festival that rocketed it into stardom. No matter which flavor you choose—and from mint chip to brown butter candied bacon, you really can't go wrong here—this is one Coachella foodie tradition you have to keep.
8. Tacos and Tortas from Pinches Tacos
If you're a Southern California native, you know it's not a true and total street food experience without tacos. They're perfect for eating on the run, and when they're made well and packed with flavor, they're the best decision you could make this side of a sandwich. We know Pinches Tacos will be slinging tacos from the Terrace, piling fresh seafood and grass fed meats on top of handmade tortillas. But we've got our fingers crossed that they bring some fresh baked artisan bread for tortas along too, so eaters can have two ways to dash around while eating well. 
7. An Egg Sandwich from Yeastie Boys
If you're camping out during your Coachella stay, you're going to need some early morning sustenance to get you through a long day. Sure, any old egg sandwich could supply you with just enough protein to keep you from flagging before noon. But the promise of a "soft egg omelette" smothered in caramelized onion, beer cheese and jalapeno schmear on a handmade bagel? That's the kind of morning energy that could keep us moving forever.
6. A Raw Vegan Cold-Pressed Health Break from Juice Served Here
You can't be eating ice cream and chips and burgers all three days—or maybe you can (in which case, our hats are off to you!). But chances are good that at some point you're going to have to chill out and take a break with some healthy fare. That's when Juice Served Here, which is popping up around Coachella everywhere from the Terrace Yurts to VIP, will be calling our name. With a focus on locally grown and organic ingredients, any of the stand's myriad selections could be just what the doctor ordered to stay hydrated and energetic—the liver detoxifying Charcoal Lemonade could be especially apt.  
5. A Roast Beef Sandwich from Top Round
We love lowbrow fast food, and we love highbrow craft food and we adore when the two mix—that seems to be the premise for Top Round, a Los Angeles-based restaurant touting chef-driven fast food. Top Round was founded by chefs and fine dining fanatics who wanted to make real, tasty food, fast," states the sandwich joint's website. "We miss good old fashioned fast food, before machines and mystery meats got into the mix." So do we, and we're hoping to get back to it through a sandwich stacked high with tender roast beef and drenched in homemade "cheese wizz"—bonus points if they bring any atomic horseradish with them.  
4. Kogi Sliders from Kogi BBQ
At this point, there's no doubt you've had ultra-trendy sliders before. You've also probably had some bland, boring and bread-heavy sliders that have turned you off of the trend. But we're not talking about those sliders, we're talking about Kogi Sliders from Chef Roy Choi's groundbreaking Kogi BBQ food truck: tiny toasty burgers overflowing with tender marinated short rib meat, sesame mayonnaise, slaw, che ese, salsa roja and a chili soy vinaigrette. That's the kind of slider we will keep coming back for every time. (Although, if the opportunity is there, we couldn't say no to Kogi BBQ's spicy pork-stuffed, salsa verde-topped Blackjack Quesadillas either.)
3. Pork Belly Chips from Beer Belly
We've been dreaming about the decadent comfort food on offer at Beer Belly since the day it appeared on Diners, Drive-Ins and Dives—and while the famous Death By Duck won't be making an appearance at Coachella, we're more than satisfied with the Koreatown restaurant's truncated festival menu. Between the maple syrup-laced Beer Belly Grilled Cheese sandwich and Nutella-topped deep fried Oreos, we're faced with a tough choice. But you know what? When we have the option of pork belly, pork belly wins every time. (Especially when it's accompanying "sweet onion sugar" and a Tabasco aioli on top of chips. Sold!)
2. A Coachella Dog from Kushiyaki Dog
Jeffrey Lunak and Jevic Acain, the Seattle-based restaurant industry veterans beyond Japanese cuisine-inspired hotspots like Blue C Sushi and Tokyo Sweets, decided to take on the hot dog—and the result, making its debut at this year's Coachella Festival, looks nothing short of sublime. Kushiyaki Dog plans to have five hot dogs on offer at the Craft Beer Garden (including a katsudon-inspired deep-fried tempura dog!) , along with side treats like okonomiyaki fries and a togarashi-spiced riff on elote. But we can't leave without trying "The Coachella," topped with caramelized onions, pickled sweet peppers, jalapeno wasabi relish, sriracha mayo, sweet soy glaze, wasabi furikake & kizami nori.
1. A Milky Bun from Afters Ice Cream
If you keep up with over-the-top dessert trends, chances are you've heard about the Milky Bun—a warm glazed donut filled with creamy creatively-flavored ice cream and any number of toppings, from chocolate chips to Cap'n Crunch. Fountain Valley, CA-based Afters Ice Cream is the mastermind behind the trend, and this year they're bringing cups, waffle cones, and Milky Buns to Coachella. Fun Fact: Afters Ice Cream was originally slated for the VIP Lounge, but specifically requested to be moved to the General Admission area. "This way everyone attending will get a chance to try our ‪Milky Bun!" the brand stated on its Facebook page. We can't help thinking that's the right decision.
For a Few Dollars More…
What's that? You have VIP tickets and access to the Rose Garden? Then you're in luck, because you've also got access to quality grub that General Admission ticket holders can only dream about. If you have the means, we suggest sinking your teeth into some of these rare treats:
5. An Original Chicken Sandwich from Free Range LA
A responsible and refined fried chicken sandwich? Yes please. Give us a tempura-coated free range fried chicken sandwich from this LA farmers' market staple. Whether you're topping it with coleslaw and honey mustard on a toasted bun or honey and sriracha in a biscuit, it's a craveworthy choice.
4. A Hangover Cure from Eggslut and Ramen Champ
Zagat's has the scoop that Alvin Cailin's brother restaurants Eggslut and Ramen Champ are offering up a "hangover cure," with headache-trouncing thick cut bacon and perfectly soft Eggslut-worthy eggs over potatoes, cheese, pea shoots and scallions. Any hard partying VIP-goer will be all kinds of thankful for this one in the morning.
3. Forward-Thinking Veg Cuisine from Beefsteak
While Chef Marcel Vigneron might have been a villain in the olden days of reality television, he's since come into his own as a rising force in the culinary world. Vigneron is gearing up to open Beefsteak—an upscale fast casual vegetarian concept focusing on fresh and seasonal plant-based cuisine—in LA on Melrose Ave later this year, and is previewing some menu selections at this year's Coachella. We can't wait to see how far he's come since Top Chef.
2. A Spicy Hot Pot to Share from POT
While General Admission festival-goers are crowding the Kogi BBQ truck, VIP visitors can make a reservation at a pop-up version of Chef Roy Choi's POT at the Line Hotel in LA's Koreatown. Inspired takes on Korean jjigae include savory hot pots that can come filled with anything from kimchi, seafood, pork belly and egg to ramen, fish cakes, spam and chili.
1. A Unique Experience at Outstanding in the Field
A four-course meal at Coachella? Sure, why not? Even if you don't have a VIP wristband, for an extra $225 you can sign up for cocktails and a 4-course dinner in the Coachella Rose Garden prepared by a revolving roster of celebrated chefs. Will you choose Jamie DeRosa (Tongue & Cheek) and Michael Beckman (Workshop Kitchen + Bar), Alex Resnick (Ditmas Kitchen) and Vartan Abgaryan (Cliff's Edge), or Ricardo Zarate and Tin Vuong (Little Sister) on Weekend 1? Or will you opt for James Trees (Hutchinson Cocktails & Grill) and Jason Fullilove (Malibu Pier Restaurant & Bar), Nicole Rucker (Bludsoe's Bar-&-Que) and Steve Samson (Sotto), or Steven Fretz of The Church Key on Weekend 2? Whichever day you do choose, you also gain access to the VIP area for the day of your dinner if you're not there already, so that's an added bonus.