[OPINION] Budweiser Gives Brooklyn Hipsters a Craft Beer Bait and Switch at NY Beer Week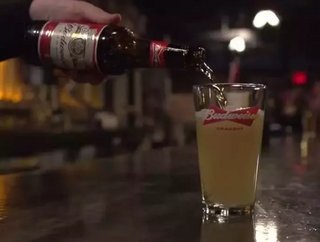 Hey craft beer snobs: is all that craft beer snobbery for real, or are you just posturing? Can you actually tell the difference between Budweiser and a...
Hey craft beer snobs: is all that craft beer snobbery for real, or are you just posturing? Can you actually tell the difference between Budweiser and a real craft beer? Budweiser's betting you can't, and it's got the hidden camera footage to prove it.
Behold: a wild-eyed Budweiser man in hipster's clothing mans the bar, serving up an unnamed beechwood-aged "special beer" made from a 139-year-old recipe, describing it as "a beer-drinker's beer" with a "fast finish." Crowds of bespectacled Brooklynites offer up opinions before the reveal: it's Budweiser! Some awkward laughs ensue, and then it's all over. Check it out for yourself:
We just have a couple of comments. First of all, we're 100 percent with Ad Age in questioning Budweiser's choice of Brooklyn to conduct their Candid Camera shenanigans. Brooklyn was certainly a hipster mecca several years ago, but at this point it's kind of passé now that most real life young people have been priced out—Business Insider can tell you that Queens is where you want to be right now in New York, and other lists suggest abandoning the city altogether in favor of Hoboken.
So what does the choice of Brooklyn really say? You could say it's a misguided effort. You could also say it's a cipher and a signal (Portland might have worked just as well) for its actual intended audience, reinforcing brand loyalty among Budweiser fans who look at cities and neighborhoods like Brooklyn or Portland with the same derision that Budweiser seems to have for craft beer. Either way, it's reads a lot more like preaching to the choir than it does a genuine attempt to convert new fans.
Additionally, when you get down to it, what is this ad really trying to say? Is the point that you can't tell Budweiser apart from a craft beer? Because the point of craft beer is that there are so many to choose from—they run the gamut from light to dark, complex to simple and sessionable. Is the point that cool kids would love Budweiser if they just gave it a chance? Because there were a lot of awkward faces and faint compliments in that ad, and if that's the best they got then we hate to see what was left on the cutting room floor. Is the point that craft beer fans are silly easily fooled hipster caricatures and should be laughed at by true (Budweiser) beer fans? It seems like a shallow point, but at least it's on brand with the Super Bowl ad.
With a different ad tactic, a lot of those cool kids probably would be just fine with Budweiser. After all, while plenty of cool young Millennials have an abiding love for craft beer, plenty of other cool young Millennials are perfectly fine to get down with whatever's cheap and available—be it PBR or Steel Reserve, Trader Joe's Simpler Times or Budweiser. With that in mind, the ad seems to say: why not make Budweiser that cheap and available beer of choice? And why not indeed?
But with divisive ads like this, it feels like they're going to have a hard time getting where they want to be.