5 Things You Need to Know Before Attending Natural Products Expo West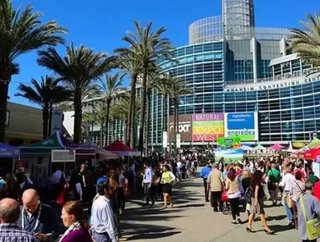 Its that time again: time to head to Anaheim for Natural Products Expo West 2015. If youre on your way to the Anaheim Convention Center this weekend, he...
It's that time again: time to head to Anaheim for Natural Products Expo West 2015. If you're on your way to the Anaheim Convention Center this weekend, here are some tips to help you along your way.
1. There's a Lot to See so Plan Ahead
If you have never attended Expo West before, prepare yourself. The convention is stationed at one of the largest convention centers in the US, and there's never a dull moment. This year's event features such key events as a 25th anniversary celebration for the Organic Farming Research Foundation, several networking events and guided tours, an extensive lineup of exhibitor hosted events, keynote speeches by Mark Bittman and David Perlmutter, and a special event for Just Label It with Aimee Mann and Ziggy Marley (which unfortunately is already sold out). Of course, that's all to say nothing of the seminars at the Hilton and the sights and sounds all happening on the convention floor. So the point is: check out the schedule and make a game plan ahead of time.
2. It Pays to Download the App
First things first: get the free dedicated Expo West mobile app. Why should you make space on your smartphone for another single use app? If you're attending Expo West, you'll likely be happy you did. As we mentioned, there are roughly a million things to do and see over the next few days, and the app will go a long way in helping create some order in your schedule by offering a floor plan, an exhibitor list, a schedule planner, and push notifications for events and education opportunities relevant to your interests. If you haven't downloaded the app already, you can find it at m.expowest.com.
3. Pack Strategically and Light on the Floor
Think you'll be walking out the door with bag upon bag of samples like always? Not this year, due to a new policy likely aimed at supporting a good cause while cutting down on food waste. "It has been determined from both attendee and exhibitor feedback that one sample bag per day is sufficient for buyers to bring home product and literature from the show floor," reads Expo West's official show policies page. "Therefore, each attendee is permitted to exit the show floor with one sample bag per day. Additional bags will be donated to local food banks and charities." So you will need to be strategic and smart in choosing which samples you need to take home immediately, and which samples you can arrange to have shipped to you after the show.  
Exhibitors will also be able to donate their extra product to the local food bank. Any exhibitors who want to authorize an attendee to take home a larger amount of product will have to head to the GES Service Center before closing on Sunday to fill out authorization paperwork.
4. Be Prepared for Parking
As the expo continues to grow in scope and attendance, showing up right as the doors open and parking directly next to the Anaheim Convention Center is a thing of the past. If you're driving to Expo West, take advantage of the free parking made available at Angel Stadium and ride the shuttle in—and between shuttle lines and transport, be sure to give yourself plenty of time (think upwards of an hour) to the convention center once you've parked.
5. It's Well Worth the Effort
The benefits of attending a trade show like Expo West are pretty clear. From its beginnings with 3,000 attendees in 1981, the show has come a long way. Expo West counts a 5 percent growth in retailer attendance just between 2012 and 2014, with last year's trade show hosting more than 67,000 attendees from over a hundred countries. That means that every year brings more opportunities—opportunities for retailers to find exciting new products to stock their shelves, opportunities for creators to get their new products into stores and the hands of the consumers that demand them. It's a win-win and worth the effort to get there.