Dunkin Donuts Plans to Open a Thousand Locations in California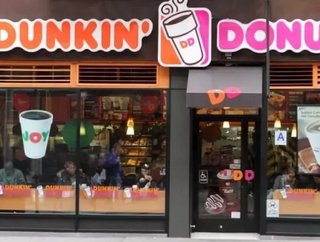 With three hybrid locations alongside Baskin-Robbins, Dunkin Donuts made its first tentative steps into California – and already the consumer anti...
With three hybrid locations alongside Baskin-Robbins, Dunkin Donuts made its first tentative steps into California – and already the consumer anticipation and excitement has been through the roof. As it turns out, Dunkin Donuts is just getting started: this week Dunkin Brands revealed plans to start opening traditional standalone restaurants this summer, with further-reaching plans to open a thousand Dunkin Donuts restaurant locations throughout California in the years ahead.
Although Dunkin Brands may have only opened three Dunkin Donuts locations in California over the last year, the company has been very busy laying the groundwork with a network of franchisee investors. According to a statement released by Dunkin Brands, the first new Dunkin Donuts locations to open this summer will be in Downey and Whittier, through a partnership with franchisees Danny and Coby Sonenshine of Prell Restaurant Group. From there a new location will open in Santa Monica, operated by New Jersey-based franchisee Gary Haar. In Modesto, multi-state franchisee Sizzling Donuts LLC will take the reins.
But that's not all – that's just this summer. As these restaurants get underway, Dunkin Brands is also working with four other franchise groups on the development of 54 more restaurants in Southern California alone:
Burton Restaurants LLC, developing 14 locations in San Diego;
Good Treats LLC, developing 14 restaurants throughout Glendale, Burbank and Santa Clarita Valley;
The Tasty Group LLC, developing two restaurants in Santa Barbara and eight in Ventura County;
Mike Stout and Neal Wichard, brand new franchising partners, developing 16 locations in San Diego's North County and Southern Inland Empire
"We are pleased with the solid start to our California development plans, and today's announcement of the locations of our first new traditional Dunkin' Donuts restaurants represents development that is ahead of schedule due to the strong interest of prospective franchisees and consumers across the state," said Paul Twohig, President, Dunkin' Donuts U.S. and Canada, and Dunkin' Donuts & Baskin-Robbins Europe and Latin America. "We are especially happy to be partnering with such experienced and passionate franchise groups as we begin opening traditional Dunkin' Donuts restaurants inCalifornia. We look forward to keeping Californians running on our brand's high-quality coffee, sandwiches and baked goods."
Nobody could argue that it's an ambitious plan – especially considering that the brand isn't just expanding in California. There are some risks involved with such an aggressive strategy. When the North Carolina-based donut chain Krispy Kreme first franchised its way into California in the late 1990s, the hype was massive – lines wrapped around the block at new store Grand Openings, with hundreds of consumers eagerly waiting to try a fresh donut hot off the line. But once the dust settled and the novelty wore off, it turned out that Krispy Kreme had spread itself too thin. Between market saturation and the low-carb diet craze, the mid-2000s saw the chain closing hundreds of stores to stay ahead of bankruptcy.
Then again, Dunkin Donuts was able to successfully launch 371 new locations in the United States alone in 2013, along with entry into new international markets like the UK and Vietnam. This isn't Dunkin's first time at the expansion rodeo, and it is up for the challenge. There's also no denying that there is a massive consumer interest in more Dunkin Donuts locations, from both curious West Coasters and Eastern transplants hungry for a taste of home. As long as Dunkin Brands is able to learn from the mistakes that other donut brands have made before them, this should be a very successful expansion.
[Read More: http://investor.dunkinbrands.com/releasedetail.cfm?ReleaseID=853854 via http://www.qsrmagazine.com/news/dunkin-aims-1000-california-restaurants]