Domino's Pizza Expands Smart Slice Program for Public Schools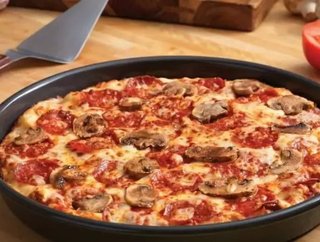 Pizza has already been a staple of U.S. school lunches since time immemorial. It hasnt always been an easy or uncontested permanence – who can for...
Pizza has already been a staple of U.S. school lunches since time immemorial. It hasn't always been an easy or uncontested permanence – who can forget the debate that erupted when it was deemed to count as a vegetable? But Domino's Pizza is trying to elevate the status of pizza in public schools. In 2010, Domino's launched a Smart Slice pilot program in three states – this year, the Smart Slice program is expanding to 3,000 schools across 38 states nationwide.
Unlike the franchise's normal consumer menu, the Domino's Smart Slice is specifically engineered to meet USDA school lunch standards. That means 51 percent whole wheat flour in the crust (though it's still refined white whole wheat), and significantly reduced sodium compared to the traditional pizza sauce and mozzarella cheese used in its retail stores. Students also have the option of choosing different toppings like pepperoni, ham, chicken, and vegetarian choices beyond just plain cheese.
It's not perfect – one hopes that the program will expand to offer dairy-free or gluten-free options for children with food allergies sooner rather than later. But for those of us who still vividly remember ordering pizza and burgers every waking school day in the lunch line, it's certainly a step in the right direction. Many parents oppose the newer USDA school nutrition standards, complaining that their children won't eat the foods that the standards require. But it's pretty hard to argue with standard-meeting pizza – all kids eat pizza.
Of course, when one sticking point is cut off, another grows in its place. When it comes to Domino's Smart Slice, the concern is with branding – opponents argue that the Smart Slice not only builds a false sense of security that pizza is healthy, but primes students for brand loyalty to Domino's. "The Domino's trucks, and Domino's delivery people, and Domino's insulated pizza boxes, and Domino's placards hung in the lunch lines all help to imprint the company's red-and-blue brand on the brains of students," says a video produced by the New York Times regarding the rollout and surrounding concerns.
But branding in schools is by no means unusual – many have had contracts with Pepsi or Coca-Cola and various fast food brands for decades, and that mutually lucrative system has no intention of changing. In the meantime, making the nutrition that these brands offer better is progress nonetheless. 
[Check out the NY Times Video: http://www.nytimes.com/2014/06/11/dining/the-dominos-smart-slice-goes-to-school.html?src=dayp&_r=1]