[VIDEO] Please Stop Throwing Pizza on Walter White's Roof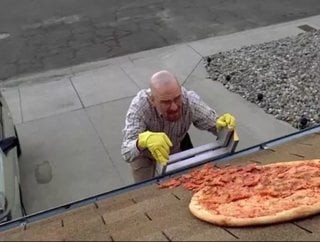 Public Service Announcement: pizza belongs in your mouth, not on Walter White's roof. So stop putting it there. Not that it wasn't a great scene the...
Public Service Announcement: pizza belongs in your mouth, not on Walter White's roof. So stop putting it there. 
Not that it wasn't a great scene the first time around. In a series as full of nerves and tension as Breaking Bad, one of the best little bits of all-too-welcome comic relief is that giant pizza that Walter White flings onto his roof in a fit of frustrated rage in Season 3.
You know what though? It's been a year and a half since the last episode of Breaking Bad aired, and that pizza had been cleared away for ages by the time we got to the final season. That Esurance commercial during the Super Bowl made it abundantly clear that it's time to let Walter White go already—and if it's time to let Walter White go, then it's definitely time to let his rage pizza go as well.
But some Breaking Bad super fans aren't letting it go. To the contrary, they're holding a torch for the glory days of Rage Pizza, going so far as to keep the dream alive by continuing to toss pizzas onto the roof of the house where Breaking Bad was filmed. It would probably still be sort of funny for a while if it was a public space. But the Albuquerque house that once played the part of the White residence is actually a real life home with real life residents who just want to live peacefully without constantly having to deal with scraping cold congealed pizza off the roof.
So yesterday's Better Call Saul Insider Podcast opened with a plea straight from Breaking Bad (and Better Call Saul) creator Vince Gilligan—plus an interjection from Jonathan Banks (who plays Mike Ehrmantraut on both series)—asking one simple thing: stop throwing pizzas on Walter White's roof already.
Vince Gilligan: The house in Albuquerque – the Walter White residence, the house that we used for Breaking Bad – is a bit of a tourist attraction, as most of us know at this point. And the lady who lives in that house, she and her husband are the two nicest people in the world, and they deserve to be treated well. What's going on is – and this has been okay with her for a long time, that people come by and visit, and get their picture taken in front of the house, just so long as they do so within reason and do it in a respectful manner. But lately we're hearing from her that folks are wandering onto her property, and they are being rude to her when she comes out… and they're throwing pizzas on roofs and stuff like that. Let me tell you: there is nothing original or funny or cool about throwing a pizza on this lady's roof. It's just not funny, it's been done before, you're not the first.
Jonathan Banks: And if I catch you doing it, I will hunt you down.
Vince Gilligan: I'm with you.
Hear that? If you're not going to listen to Vince Gilligan, you have to at least listen to Jonathan Banks. The World's Best Grandpa doesn't mess around. Stop throwing pizzas on the roof. Check out the whole podcast here, or skip straight to the pizza at 3:17.
[SOURCE: Salon]