Orange County Restaurant Week 2015 Prepares for Launch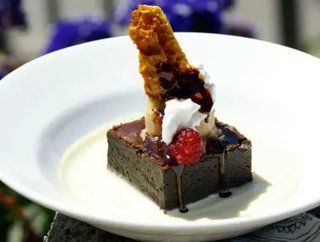 Its a growing phenomenon in the restaurant industry: Restaurant Week, a week for consumers can get a taste of some of their citys top established and em...
It's a growing phenomenon in the restaurant industry: Restaurant Week, a week for consumers can get a taste of some of their city's top established and emerging restaurants thanks to indulgent set menus at special bargain prices. This Saturday, February 28, Orange County is kicking off its 7th annual Restaurant Week with a launch party at the Hilton Waterfront Beach Resort, followed by a week of restaurant specials that will run from March 1 to March 7.
This year more than a hundred restaurants from Anaheim to Yorba Linda are registered, offering limited edition prix fixe lunch or dinner menus ranging from $10 to $50 per person. Pam Waitt, President of the Orange County Restaurant Association and organizer for OC Restaurant Week, notes that—while the benefits for consumers are clear—the event is also extremely positive for the restaurants and vendors who participate.
"We all have a list of restaurants we want to try, and Orange County Restaurant week creates that nudge," she relates, noting that on average more than 75,000 people dine out over the course of the event. "The restaurants are creating a really fun prix fixe menu that's able to handle the influx of all these new people, and at the same time gives the customers a great week to try all these new restaurants—resulting in new customers that they can have for years to come. It's a win-win all the way around."
"We feel that it's an opportunity for people, [who] might not otherwise travel to Laguna Beach, to come over and try our local organic fare," explains Debra Sims, executive chef at Maro Wood Grill, a seasonal and sustainable (and back-to-back Golden Foodie Award-winning) Laguna Beach restaurant in its second year or participation. "We feel it enhances our brand and shows our support for the Restaurant Association—The OC Restaurant Association is invaluable to small independent restaurants like ours, [and] their events promote camaraderie among the chefs of Orange County."
With the participation of restaurants like Maro Wood Grill, along with other chic choices like Fig + Olive and Bluefin in Newport Beach or Watermarc in Laguna Beach, diners are taking notice both in and out of Orange County. It's a boon for local restaurants and for the county on the whole, as diners from surrounding cities have begun to take an interest in the cities of Orange County as dining destinations.
"We're definitely starting to see people from San Diego and Los Angeles come to the OC for Restaurant Week," says Waitt. "For years, a lot of us in Orange County have gone to San Diego and Los Angeles to visit their towns during Restaurant Week, because it's a fun event and it's one of those times where you go 'oh, I've always wanted to try that restaurant, I'll go when there's a good $50 prix fixe menu.' Now we're seeing them start to come to our neck of the woods for our Restaurant Week."
The event also builds recognition and camaraderie among chefs and retailers who don't necessarily fit the restaurant mold, with ways to participate beyond the prix fixe standard. "OCRW means a lot to my team because it provides us a distinct opportunity to share the love and passion we bake into every one of our cupcakes," says Casey Reinhardt, founder and CEO at Casey's Cupcakes, whose glitter and fondant wing-topped Heavenly Cupcakes are the Official Cupcake of OC Restaurant Week and are being featured at Restaurant Week's launch party along with a range of retailers, restaurants, and breweries. "As well, this event affords us the privilege of meeting scores of Casey's Cupcakes lovers up close and personal in a culinary setting."
 "Really it's the OC Restaurant Association supporting local artisans like myself in the community, and showcasing how they can pair small artisan food products with the restaurant community," adds Amy Jo Pedone, Certified Master Chocolatier and owner of Valenza Chocolatier, whose artisanal chocolates will also be on feature at the launch party. "Since everything I do has an Italian ingredient or is an old family recipe, I pick specific selections from my collection and have samplings. So people can learn about me and indulge on my masterpieces, which are my babies, and it's basically a way for me to have a platform to showcase my work during this wonderful launch event."
"It really is a time where all of Orange County comes together—we say it's the time for Orange County to break bread together," says Waitt. "It's really an embracing time for the whole county to celebrate and dine out all week. I like that component of it—it creates a really cool sense of community."
Check out the full list of participating restaurants at the OC Restaurant Week website.