Green Flash Brewing Co Acquires Alpine Beer Company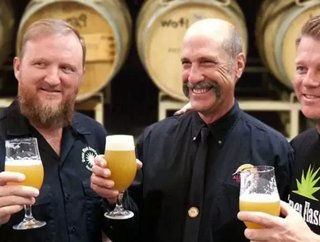 Big news in the craft brewing industry: Green Flash Brewing Co. is acquiring Alpine Beer Company. Today Green Flash founders, Mike and Lisa Hinkley, alo...
Big news in the craft brewing industry: Green Flash Brewing Co. is acquiring Alpine Beer Company. Today Green Flash founders, Mike and Lisa Hinkley, along with Alpine Beer Company founders Pat and Val McIlhenney, made the announcement that the two breweries will be joining forces.
The two companies made it official today, on the first Monday of San Diego Beer Week, with Green Flash acquiring Alpine for undisclosed cash and stock.  Alpine Beer Company will move forward as a wholly owned subsidiary of Green Flash, operating independently with  Pat McIlhenney remaining on board as President and Brewmaster, and Green Flash will start bottling Alpine beers in 22oz bottles and expanding the brewery's draft distribution in 2015.
This comes off as a natural progression for two brands that have been working together for some time now — the larger Green Flash started brewing beer for Alpine in November 2013, a move that allowed the smaller brewery to increase its output from 1,500 to 3,000 barrels. According to the breweries, the deal is not about Green Flash absorbing the Alpine brand — it's about both brands supporting each other and growing stronger through their shared resources and industry expertise.
"We have been friends with Pat and fans of his beer for a very long time, and we started brewing his beer to help him raise the capital to build a new brewery," says Mike Hinkley of the partnership's beginnings. "It was very exciting for our team and we got closer to the McIlhenneys than ever before.  We starting asking 'what if…'[and]now we are all working together to create a new brewery in Alpine."
The acquisition comes with some serious benefits for Alpine Brewing Company, expanding the brewery's reach through 22oz bottle production, added distribution territory in the coming year, and the construction of an expanded brewing facility in Alpine. While Alpine has gained critical acclaim over the years, the brand has been limited by its brewpub-sized production capacity — Green Flash's support will change that significantly. Furthermore, the merger also allows for stronger support to Alpine's staff and crew at its brewery and brewpub.
"There are many benefits in teaming up with Green Flash as a partner. Not only are they committed to producing high-quality beer, the company culture and mom and pop roots of Green Flash are very similar to our own. There is strength in unity, which will allow both of our breweries to secure even higher quality ingredients," says Pat McIlhenney in a joint press release. "However, the most important advantage is how this partnership will help improve the quality of life for my employees. For the first time, Alpine will be able to offer our team an excellent company benefits package including affordable health care, 401K plans and other perks made possible by this exciting partnership."
There are major gains for Green Flash as well with this merger, especially the potential that lies in the two breweries working side by side. "It was both intriguing and challenging to meld our philosophies while we worked together to scale up Pat's recipes to be brewed in larger quantities," says Chuck Silva, Green Flash Brewmaster, in a joint press release announcing the acquisition. According to Silva, he and McIlhenney have some cross-brewery collaborations already in the works including projects at Green Flash's currently under construction barrel aged packaging and cork-finish bottling facility Cellar 3.
"It is very exciting for our team — I try hard to keep everybody here engaged and having fun," adds Hinkley, on the benefits of bringing Alpine into the Green Flash family. "Secondly, we enjoy building things.  We are taking on Alpine to build it.  Pat, Val and Shawn have dreamed of all that Alpine could be, and we are working together to make that happen."