Top Ten West Coast Craft Pale Ales That Can Beat Budweiser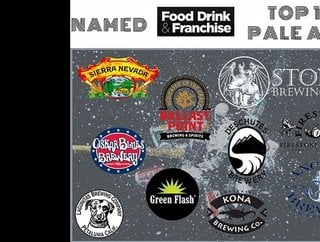 Check out the latest edition of...
The beer industry is changing: that much we know. Budweiser's own tagline positions itself as the "king of beers," but while it still undeniably captures a significant market share, the king is starting to feel like more of a figurehead than a ruling force. Since 1988, Budweiser has gone from selling 55 million barrels per year to 16 million in 2013—even more alarming for the brand, new reports indicate that 44 percent of 20-something beer drinkers have never even tried it.
Meanwhile the craft beer segment is growing exponentially, with thousands of local and regional breweries expanding their reach and fan base to push out the handful of macrobrewed beers that still occupy the top of the market. If you ask us, when the next generation comes of age, the best selling beers in the United States will look very different.
What kind of beer will be the brew to rule them all? The IPA craze is still going strong in the craft beer community, but the aggressive hops of bolder IPAs (and double and triple IPAs) could be a turn-off for the consumers who might have turned to a Bud or a Miller in years past. So we say: What about the pale ale? Crisp and hoppy enough to satisfy hardcore craft beer fans, yet balanced and smooth enough to win over mainstream beer drinkers, pale ale has what it takes to be the classic American beer of the future—and we have some ideas about which brands on the west side of the country could seize the market.  
1. Sierra Nevada Pale Ale (Chico, CA) 5.6% ABV
If there's one craft pale ale that's already come close to achieving breakout mainstream success, it's Sierra Nevada Pale Ale. Sierra Nevada Brewing Co. itself is the seventh largest brewery in the United States, producing 985,000 barrels of beer in 2013. A citrusy medium-bodied beer, finished with Cascade hops and balanced with caramel malt for just the right amount of bitterness, Sierra Nevada Pale Ale isn't just the brewery's flagship or the most popular beer in its portfolio—it's also the best selling pale ale in the United States and the second-best selling craft beer full stop.
2. Ballast Point Grunion Pale Ale (San Diego, CA) 5.5% ABV
Launched in 2013 with new American Mosaic and Calypso hop varietals, Ballast Point Brewing Co's Grunion Pale Ale is an all-around newcomer on the scene. That hasn't kept it from becoming a force to be reckoned with, proven by its claim to the APA division Gold Medal this year at the 2014 Great American Beer Festival. Herbal, slightly sweet, and supremely sessionable, right now the only thing holding Grunion back is its draught only status—but that's about to change. Ballast Point has plans to start packaging the pale ale for retail in early 2015, and when that happens, we're expecting it to blow up in a major way.
3. Stone Pale Ale (Encinitas, CA) 5.4% ABV
Before all the bastards, arrogant and otherwise, there was Stone Pale Ale: Stone Brewing Co.'s first beer on the market and its launching pad into the craft beer scene back in 1996. To this day it remains a consumer favorite and a cornerstone of Stone Brewing Co.'s year-round distribution lineup, and not without good reason. The dark amber pale ale works to strike a balance between the malty sweetness of older traditional ales and the crisp Magnum and Ahtanum hops that let you know you're definitely drinking pale ale born on the West Coast.
4. Oskar Blues Brewery Dale's Pale Ale (Longmont, CO) 6.5% ABV
As one of the first craft breweries to market its beers in cans instead of bottles, Colorado-based Oskar Blues Brewery has cemented its place in history. There's more to Dale's Pale Ale than just being America's first craft-canned pale ale: inside the aluminum is a flavorful hop-heavy beer that packs a punch at the highest ABV on our list. But the convenience and familiar feel of a can—not to mention the satisfaction of cracking open a cold one—makes Dale's Pale Ale that much more of a solid contender to take on the world.
5. Deschutes Brewery Hop Trip Pale Ale // Deschutes Brewery Mirror Pond Pale Ale (Bend, OR) 5.9% // 5.0% ABV
It's a tough call with Deschutes Brewery. On the one hand there's the perennial favorite Deschutes Mirror Pond Pale Ale, a smooth and balanced Cascade hop-heavy APA that you can find year round. On the other hand there's the seasonal treat Deschutes Hop Trip, a punchy local Centennial hop-based APA with spicy and citrusy notes perfect for autumn. But no matter which hand you're looking at, you have a pale ale voted among the top one hundred highest rated world class-level APAs of all time—so why not both?
6. Firestone Walker Brewing Company Pale 31 (Paso Robles, CA) ABV 4.9%
The "31" in Firestone Walker Brewing Company's Pale 31 represents California, the 31st state in the union. Crisp and sunny with subtle hops, Pale 31 has been a formidable ambassador for West Coast pale ales over the last decade, picking up over a dozen awards including four Gold Medals (plus a Silver and a Bronze) at the World Beer Championships between 2003 and 2012.  
7. Lagunitas Brewing Company New Dogtown Pale Ale (Petaluma, CA) ABV 6.1%
Lagunitas Brewing Company can get away with its self-deprecating "Lagunitas sucks" humor because its legion of fans knows differently. Lagunitas leads off its description of its New Dogtown Pale Ale by noting that it no longer tastes like the brewery's first pale ale attempt in 1993, which it says, "tasted like broccoli and kerosene and the carbonation ate right through and drained your stomach into your gut." The version that beer drinkers enjoy today tastes a lot more like sweet fruity hops and toasty malts, balanced but aggressive enough to keep the hop heads happy.  
8. Anchor Brewing Liberty Ale (San Francisco, CA) 5.9% ABV
There's some debate over whether Anchor's Liberty Ale can best be described as an IPA or an APA—but as the brand itself states: "It doesn't matter where one chooses to place Liberty Ale. It fits comfortably as either, and also stands alone in a category all its own." We'll take it and run with it because Anchor's aromatic Cascade dry-hopped Liberty Ale, first introduced in 1975, helped shape the course of California craft beer as we know it. Anchor Brewing has grown a lot since 1975, currently ranking as the 21st largest craft brewery in the US, and its Liberty Ale remains a craft beer staple.  
9. Green Flash 30th Street Pale Ale (San Diego, CA) 6.0% ABV
San Diego-based Green Flash Brewing Co. has never been one to shy away from hops, and its tribute to San Diego's fabled 30th Street beer corridor is no exception. Made with Warrior, Cascade and El Dorado hops, it's both a strong pale ale in its own right and a perfect gateway for introducing novices to stronger IPAs. With the brewery's steady growth and recent acquisition of celebrated Alpine Brewing Company, Green Flash is well on its way to sharing its hometown homage with every beer drinker from coast to coast.
10. Kona Fire Rock Pale Ale (Kailua-Kona, HI) 6.0% ABV
Kona Brewing Company has been serving up its crisp, hoppy Fire Rock to pale ale fans on the big island since the mid-1990s. Nearly 20 years later the Hawaii-based pale ale has achieved international recognition, still winning global awards like the APA Bronze at the Australian International Beer Awards in 2013. In 2010 Kona was acquired by Craft Brew Alliance, granting the brewery access the extensive distribution system of AB InBev, a partial stakeholder in the company. This may put Fire Rock's craft status into question. But with annual barrel production of around 220,000, it's still a small brewery doing big things with a lot of room to grow. 
Let's Connect!