Top Ten Products that Embody Thanksgiving Dinner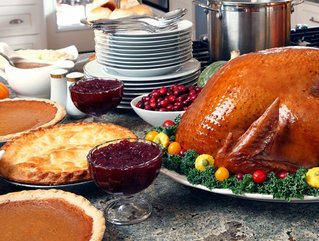 Check out the latest edi...
Check out the latest edition of Food Drink & Franchise!
Thanksgiving was officially declared a national holiday in 1836, and we've been eating the same meal on the fourth Thursday of November ever since. Based around a particularly notable historical dinner, it makes sense that the holiday is inexorably linked with food—and when the meal itself is a tradition, certain brands rise to the top as representatives of the different parts that go into making that meal.
1. Butterball Turkey
It's not called Turkey Day for nothing. A Thanksgiving dinner table can have all the sides and fixings in the world, but for full success, that table needs an anchor. For the vast majority of American consumers, that anchor is a turkey. Known for its pre-brined turkeys as well as its popular Turkey Talk help line, Butterball is a leader in both fresh and frozen turkey—according to reports, of the 48 million turkeys shared on Thanksgiving dinner every year, about a quarter of the turkey on the carving board are Butterballs. 
2. Heinz HomeStyle Gravy
Nobody wants dry turkey and mashed potatoes on their Thanksgiving dinner plate (or a dry leftovers sandwich the next day), and that's where it's turkey gravy's time to shine. H.J. Heinz Company is a leading force when it comes to sauces, and its HomeStyle Gravy is a point of strength within its portfolio, especially around the holidays.  
3. Ocean Spray Cranberries
Whether you prefer them jellied and canned or freshly prepared, cranberries are a crucial Thanksgiving staple—and with 700 growers and manufacturing facilities across five states, agricultural cooperative Ocean Spray is far and away the leading producer of all things cranberry. Between its sauces and juices and fresh fruit offerings, the brand boasts yearly sales of more than $2 billion USD.
4. Swanson Broths
You probably don't set a can of broth out on the table during Thanksgiving dinner—but there's a good chance that it's a key ingredient in everything from the stuffing to the gravy, making it a clear (if too-often unsung) hero of Thanksgiving dinner. It's also a critical part of the Campbell Soup Company portfolio: the company's U.S. Simple Meals division, which counts Swanson among its portfolio, reported $2.944 billion USD in sales for the 2014 fiscal year.
5. Libby's 100% Pure Pumpkin
This was a tough call, because we could have gone with Libby's pumpkin pie filling. But it's the simplicity of the pure pumpkin puree that makes it an important part of everything from sweet pumpkin pie and cupcakes to savory pumpkin soup and casseroles. It's also an important part of the baking division of Nestlé Global's Prepared Foods sector, which as a group brought in more than $6.3 billion Swiss Francs (roughly $6.6 billion USD) in sales by the end of 2013.
6. Pepperidge Farm Stuffing Mix
Stuffing may just be the most ubiquitous side dish on the Thanksgiving table, so it only makes sense that several consumer favorites have arisen. Another member of the Campbell Soup Company brand portfolio, American brand Pepperidge Farm's dry stuffing mixes are a perennial consumer favorite.
7. French's French Fried Onions and Campbell's Cream of Mushroom Soup
This one's a double feature, because these two products go hand-in-hand. French's may be best known for its classic yellow mustard, but the brand has successfully made its French Fried Onions synonymous with Thanksgiving thanks to a savvy brand partnership with Campbell Soup Company. Who hasn't heard of a green bean casserole without these key ingredients? The holiday campaign has become so successful that, today, the primary question on French's French Fried Onions FAQ is whether it can be used for anything other than green bean casserole.
8. Stove Top Stuffing
There are thousands of ways to prepare a turkey at Thanksgiving, and most of those methods involve stuffing—but even if you're not stuffing a bird (or even eating a bird at all), you probably have a casserole dish full of this beloved side. Millions of households every year turn to the simplicity of Kraft Foods Group's simple-to-prepare Stove Top stuffing—according to the New York Times, consumers picked up 60 million boxes of the stuffing mix for Thanksgiving in 2005 alone.
9. Mrs. Cubbison's Stuffing Mix
Brand namesake Sophie Cubbison started using pieces of her best-selling melba toast to make turkey stuffing in 1940s, and since then it has grown into a widely recognized and popular choice for those who like to fully customize their stuffing before it goes into the turkey or casserole dish.
10. Tofurky Holiday Roast
Tofurky has become the go-to brand for vegetarian and vegan consumers who still want the full Thanksgiving dinner experience. The brand has sold more than 3.5 million of its flagship meatless holiday roasts nationwide since its regional launch 20 years ago, cementing its place in the Thanksgiving brand hall of fame.
Let's Connect!