[VIDEO] How Kellogg's New Ad Campaign Targets the Older Millennial Set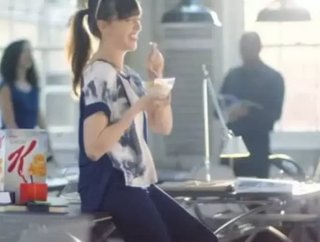 When we think about Millennials, we tend to think about youth – and by youth, we mean fresh-faced high school and college kids. But with most experts...
When we think about Millennials, we tend to think about youth – and by youth, we mean fresh-faced high school and college kids. But with most experts marking its beginning in the early 1980s, the Millennial generation has been growing up for years and the early end of the demographic looks pretty different from the tail end. But that doesn't mean those older Millennials aren't worth marketing to – far from it. In fact, more brands are starting to take a stronger approach toward marketing to thirtysomething Millennials.
We're mostly thinking of The Kellogg Company and their recent summer ad campaign:
You might have young children, but you're still young enough to have some frivolous fun themselves. You still enjoy breaking out the now-retro video games you grew up with. You're an adult, responsible for making household purchasing decisions, but sometimes that means letting loose and getting that sugary cereal you always wanted to stock your pantry with when you were eight – this one hits home with older Millennials on several levels.
This one's a little bit more subtle. But if you were in college during the early 2000s (a hallmark of the early Millennial), this commercial may have instantly triggered a long-forgotten memory of this Youtube eBaumsworld-era video meme:
For many commercial viewers, it's a pleasant and entirely appropriate G. Love and Special Sauce cover about cereal and milk; for others, it's a weirdly nostalgic callback to a deep cut of internet memery.
It wouldn't be the first time that older Millennials found themselves the target of marketing, especially breakfast cereal marketing for a couple of reasons. While it's increasingly difficult to market directly to children today, the marketing of yesterday is still highly effective: according to a study in the Journal of Consumer Research, adults continue to have fond feelings and brand loyalty for breakfast cereals with kid-friendly mascots well into adulthood.
Kellogg competitor General Mills got onboard last year, targeting bored office workers after finding that approximately 40 percent of Lucky Charms consumers are adults. But then earlier this year, the brand took aim at the much more common target of Baby Boomers (i.e. the parents of Millennials) with retro boxes to celebrate the 50th anniversary of Lucky Charms.
Now Kellogg Company following suit with its current ad campaign seems to solidify the idea that companies and advertisers are recognizing older Millennials as their own demographic – still more susceptible to memes and ads than their Generation X older siblings, but perhaps with children and fledgling careers and different interests than their younger Millennial siblings. When every advertiser seems to be targeting the teenage Tumblr demographic (sometimes effectively, sometimes awkwardly, and often with actual Tumblr accounts), it can be refreshing to see a growing acknowledgement that the coveted Millennial market isn't exactly a monolith of aesthetics and interests. As more brands attempt to adjust their marketing strategies accordingly, they just might see higher sales for their efforts.