Is the UK Beer Industry on the Rebound?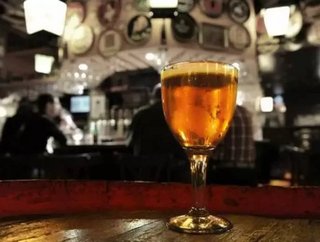 While the United States brewing industry has been having a grand old time in recent years, brewing in other countries around the world hasnt necessarily...
While the United States brewing industry has been having a grand old time in recent years, brewing in other countries around the world hasn't necessarily been as easy. According to results, several factors from the recession to the popularity of cider have caused a serious downturn in beer sales in the UK over the last five years. But new research suggests that, when the numbers are tallied in full, the results will show a significant rebound in UK beer sales throughout 2014.
As FoodBev reports, this research comes from London-based private market research firm Mintel. The firm has been studying the market and what's driving it, and has reportedly found that overall volume sales of beer in the UK may have increased 1.3 percent to an estimated 4.24 billion liters sold in 2014. Mintel analysts are attributing this increase to several key points, not least of which was the World Cup:
Chris Wisson, senior drinks analyst at Mintel, said: "Pressures on household finances, health concerns and competition from other markets have led to significant volume sales decline over the past five years for the beer market. However, 2014 has seen volume sales finally bounce back into growth, buoyed by a warm summer and the football World Cup. Whilst much of the market's recent value growth has been driven by inflation and the now-defunct beer tax escalator, successive 1p cuts on the tax on pints and the slowdown in the cider market bode well for beer's improving fortunes."
More in depth research finds lager sales improving ahead of the curve, up 1.7 percent in the UK in 2014, with white ales not far behind. Craft brewing is also growing in the area, with 1 in 5 consumers having consumed craft beer within the past six months (a number that increases to 31 percent among 25-34 year olds—to improve that number even further, Mintel suggests that brewers outline what it is about them that makes them craft brewers).
But wait—what's that about a slowdown in the cider market? Wasn't cider so hot right now? It certainly was for a while, but it appears that consumer interests are listing away from the novelty of cider (especially pear cider which experienced a staggering 29 percent decrease) and back toward beer once more:
"Despite the significant recent growth of the cider category, volume sales are surprisingly estimated to dip slightly in 2014. Some of cider's momentum appears to have been lost to a rejuvenated beer category, which is seeing strong growth from various segments such as craft and world/global beers." Chris commented.
Will 2015 be the year that good craft beer and good craft cider find a way to coexist and achieve better sales numbers together? We certainly hope so.
[SOURCE: FoodBev]