TapHunter Enters the Next Phase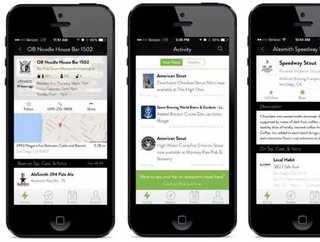 Check out the latest issue of Food Drink and Franchise! When the app TapHunter was launched in 2009, it quickly became synonymous with the craft beer m...
When the app TapHunter was launched in 2009, it quickly became synonymous with the craft beer movement—with a few taps on the touch screen of a smartphone, users could keep their finger on the pulse of the brew pubs and craft breweries in their area. But the craft beer movement hasn't stood still, and neither has TapHunter. At 2014 Beer Week, the app launched a major overhaul with some key new features including the introduction of spirits and cocktails to its menus and tracking capabilities. We sat down with TapHunter Marketing Director Kara Robinson to discuss new developments with the app and how they can benefit both bars and restaurants and the consumers they count on.
FDF World: For those who don't know, what is Taphunter and what does it have to offer?
Kara Robinson: Taphunter is two things, and a lot of people don't know our other side. First we're the mobile app to help originally craft beer lovers, and now craft beer and cocktail lovers, to find the drinks they love and the bars who are serving them. But then we also have a back end set of tools for bar owners.
FDF: If you're a bar owner, how can these online tools help you manage your beverage program?
KR: We have a full sales team here that goes out and tries to find the right bars to not only put on our app but help them save time and sell more with our tools. So basically the short rundown of what our tools do is they input their beverage list—whether that's just beer or spirits or cocktails. They input it into our system and it's going to automatically update everything. It's going to update their social media, Twitter and Facebook. It's going to update their print menu so they can just click customized print menu with one click from our platform. It's going to update their website menu. If they have digital beer boards in their location, like their beer lists on a TV, we design those and it will automatically update those.
So basically it's just saving them a ton of time. They Input their beverage list into one place, one platform, and it will automatically update everything else for them so they don't have to contact their social media person and say "hey, let everyone know we just put this beer on tap!" They don't have to go into InDesign and design a new menu with their new beer list on there. In this day and age of rotating craft beer lists and spirits and cocktail programs continually changing, it's really helping bar owners save time.
FDF: Tell me about the app's new geolocation feature, what does that offer to consumers and bar owners?
KR: Before, we used to have markets. For example, people who live in North County San Diego lived halfway between our San Diego market and our Orange County market. A lot of them didn't like having to switch back and forth between the markets.
Now it's all geolocated—so the stuff your'e going to see if the stuff that's literally around you, not just necessarily in the market you selected. It's also cool for the notifications. If I follow my favorite beer on the app, I'm going to get a push alert when it shows up around me. So that's cool if I'm traveling to Phoenix and my favorite beer goes on tap around me, it's going to know via the geolocator that I like that beer and it went on tap around me. When I'm traveling I might find a really cool place to go to.
FDF: And that helps business owners get that exposure that they might not have had otherwise?
KR: Exactly. We have this new feed. So before we didn't have an activity stream, so there was no real reason for people to open up the app unless they were thirsty or wanted to find out what their favorite bar had on. So now we have this activity stream. If you're bored and just want to know what's on tap around you, you can scroll through. You can choose your favorite styles and it will tell you a new beer that you might like based on your previous style preferences. Or it will tell you a new bar that opened in [your area], and it will tell you some events going on around you at your favorite bars.
It's really customized, so people can go in there and make their feed their own so they get this stream of information constantly about things that they might like.
FDF: What was the motivation for adding cocktails and spirits to the app?
KR: Our cofounders, Mel and Jeff—from the beginning they saw starting with beer but would love for the app to be your source for finding everything beverage. Wine is coming up next, we'll have wine definitely within the year, and we're looking into adding kombucha and coffee so that it will be your source to find all beverages. Mel and Jeff have always seen that as their goal. They've even toyed around with the idea of having a Cheese Hunter, a Stogie Finder—anything craft or artisanal.
FDF: What led to the decision of adding spirits and cocktails to the app first, before implementing a wine program?
KR: The whole mixology trend going on right now is huge, and honestly we've just been listening to our customers. For a long time they've been asking for spirits tools, and with spirits comes cocktails. So that's kind of why we went with that angle first. Then also because wine is very complex, so we wanted to make sure we got our spirits and cocktail tools down before we started into the wine world. But now all of our customers are asking for wine so we're moving in that direction. We really pride ourselves in listening to our customers as well as listening to our fans and taking in their feedback and their consideration. That's how we get the best changes to our tools and our app. 
Another cool thing that we're proud of is that we have a 99 percent retention rate among our bar customers. So we're super proud of our customer support team and how happy our customers really are.
FDF: That's a great statistic, what do you attribute that retention rate to?
KR: It's definitely our customer support. We don't want to just give them these tools and have them freak out and not know what they're using. So when we sign somebody up for the tools, we will have somebody actually call them and do a screen share with them, go through all of the tools, integrate everything for them, get everything set up for them and make sure everything is working to the best of their ability, and won't let them off the phone until all of their questions are answered. So that's huge.
Then we're here 9-5 and a lot of times on the weekend just answering questions if anybody needs anything we're really happy to help. We love our customers who are really stoked on our brand, because we are. Turning all of those customers into that stoked super happy customer is kind of our dream. 
Let's Connect!