Sysco business adopts its first electric delivery vehicle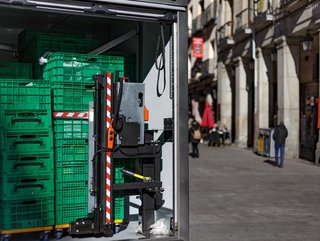 Sysco business Brakes adopts electric vehicle to begin decarbonising its foodservice deliveries, expecting to build an all-electric fleet by the year 2030
The foodservice industry is slowly catching on to the benefits of electrification, particularly among consumer-focused organisations and takeaway delivery services. But the most impact is bound to come as electrification takes place in the food supply chain.
The global wholesale food retailer, Sysco is a US company with a sense of what needs to be done to allow cross-industry collaboration that benefits the planet.
As a result, the company launched a new electric vehicle (EV) that was built in partnership with Brakes, and it hopes to become a catalyst for environmental action through electrification of food delivery.
"Food and transport are two of the most carbon-intensive sectors. We have a huge responsibility to tackle climate change through our operations and inspire our customers to do the same," says CEO of Sysco Great Britain, Peter Jackson.
"We are on a journey to create a future where a delivery of sustainable produce arrives on an electric vehicle, charged with solar panels at the zero-carbon depot. This is an important step. But we cannot do this alone and we need to work in partnership with customers, manufacturers, government and the rest of the foodservice industry."
The electric foodservice vehicle will be recognised with the 'Climate Stripes' graphic, representing its impact against the rising temperatures globally. The initiative was created by Professor Ed Hawkins at the University of Reading, UK, and is designed to instantly showcase an organisation's commitment to climate activity.
"Our position in the food system creates an opportunity to inspire our customers to transform their menus and the food that they buy—by far the biggest portion of our own carbon emissions," says Jackson.
"We hope that the Climate Stripes on this vehicle will raise awareness of the challenge."
The vehicle is provided by DAF Trucks and will showcase the use of electrified transport with its 280 km range and two temperature functions, allowing it to carry either frozen goods or chilled.
Brakes is a heritage business adjusting to electrification
With more than 6,500 employees on its books, Brakes is a business with a 60-year heritage of delivering food goods to retailers. Founded by Peter, William and Frank Brake, the business went from conversations in the pub to supplying food across the UK.
In mid-2016, Brakes was acquired by Sysco Corporation, which is responsible for a global supply chain involving goods and services for food retailers, restaurants, healthcare, and educational institutions. As a result, Brakes has become part of its larger network of goods provisions for all areas of hospitality and catering, combining to build a workforce of 71,000 employees globally across 333 distribution centres.