The Suja Juice Solution: Changing the Fad Diet Mentality [Recipe Sneak Peek]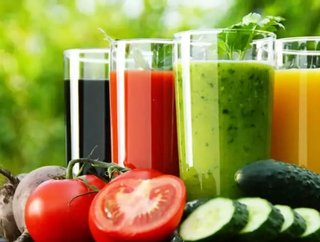 Crash diet fads are a thing of the past, this much we know. Todays most successful diets and cookbooks arent about drastic (but ultimately temporary) so...
Crash diet fads are a thing of the past, this much we know. Today's most successful diets and cookbooks aren't about drastic (but ultimately temporary) solutions—they're about making smarter choices and holistic lifestyle changes that readers can carry with them for years. Juicing is a diet type that can frequently be extreme and unsustainable. (Master Cleanse, anyone?) But new diet guide The Suja Juice Solution shows all the signs of embracing this newer era of diet trends that aim to go the distance.
The book is a natural extension of SUJA Juice, a San Diego-based organic cold-pressed juice brand that has been picking up a lot of momentum since arriving on the scene in 2013 (it was named one of Forbes' Most Promising Companies for 2015). The Suja Juice Solution positions juice at the center of a shift toward a healthier and sustainable lifestyle, cutting out "out crowd" foods like dairy and starches (to name a few) and focusing instead on "in crowd" foods like leafy greens, lean proteins, whole fruit and good fats (think avocado oil or ghee). After a 7-day "reset" period, the cookbook takes readers through an additional 21 days to break down old cravings and habits while building new ones.
As the title suggests, The Suja Juice Solution is packed with dozens of juice recipes to fit every taste, from light thirst-quenchers and citrus-forward morning elixirs to creamy superfood milkshakes and indulgent sweet treats. But the most important part of The Suja Juice Solution is that it's not all juice. While Suja juice brand does offer 3-day just juice cleanses, its Juice Solution book is focused on a long-term health plan that integrates juices along with a traditional three meals a day. Along with plenty of mix-and-match recipes, the guide also provides recommendations for creating your own meals based on formulas of protein, greens, and fats, ensuring that readers can stick with the program even if they're craving something not offered in the book itself.
The book also provides conversions so that many of the juices can be made in either a juicer or a blender, giving readers options and conveniences that make sticking with the program less daunting. Further support includes reminders that it's about health, not calorie counting, and that one "bad" meal or day doesn't ruin the plan. Instead of being a restrictive and rigid regimen, destined for derailment, the book makes it clear throughout that it's rooting for long term overall success.
 "The Suja Juice Solution is a program to teach people how to eat the right way while incorporating the power of juices in a sustainable and non-depriving way," explains Annie Lawless, co-founder of SUJA Juice and co-author of the book. "This plan is not meant to be a quick-fix unsustainable 'diet,' but rather a lifestyle​that people can stick with for a lifetime. Before starting the detox, we want readers to change their mentality from the 'cleanse' perspective of juice fasts and deprivation to the 'health' perspective of feeling good and forming new long-lasting habits. This book gives them the tools to make that shift in their lives and enjoy this way of living."
The Suja Juice Solution launches tomorrow, April 7. But here's a sneak peek featuring a bright wake-up call juice for the morning and one of our favorite Week 1 ideas—a crisp and citrusy breakfast salad.
Brighten Up
Ingredients:
3⁄4 honeydew melon (remove rind and seeds)
1 lemon, peeled
1⁄2 inch unpeeled gingerroot
1 tablespoon apple cider vinegar
Pinch of cayenne pepper
Stevia, to taste (optional)
Directions:
Juice the melon, lemon, and ginger. Stir in the vinegar, cayenne, and stevia to taste.
Sunrise Grapefruit and Avocado Salad
Ingredients:
1 ruby red grapefruit
1⁄2 avocado, cubed
1⁄2 Persian cucumber, cubed,or 1 cup cubed jicama
Cinnamon, to taste
Stevia (optional)
Directions:
To segment the grapefruit, cut the top and bottom off so it stands upright on a cutting board.
Using a knife, slice from the top to the bottom down the length of the grapefruit along the flesh, removing the peel and white pith.
When this is completed on all sides, hold the grapefruit on its side over a bowl with your hand and cut along the white membrane lines into the center of the fruit, yielding V-shaped segments of grapefruit.
Set the center and membrane scraps aside.
Gently halve the grapefruit segments and place them in a bowl.
Add the avocado to the bowl.
Take the grapefruit membrane scraps and squeeze over the salad.
Add the cinnamon and stevia, if desired, and mix everything together well.
VARIATION: Instead of cinnamon, use cayenne and sea salt for a savory twist.