[RECIPES] Spirits Brands Get in the St. Patrick's Day Game with Classic Cocktail Twists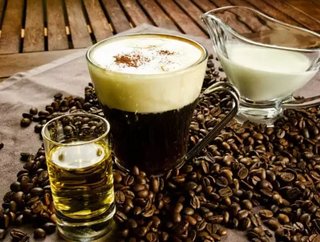 It comes as no surprise that the week surrounding St. Patricks Day is a great time for alcohol sales in the United States—according to recent repo...
It comes as no surprise that the week surrounding St. Patrick's Day is a great time for alcohol sales in the United States—according to recent reports, total spending on the holiday is expected to reach $4.6 billion, with 2 out of every 5 adults expected to patron at least one bar or restaurant. "It's great, everybody gets into the mood for St. Patrick's Day, so for brands like Jameson it's a critical part of the year," Pernod Ricard USA CEO Bryan Fry told Fox Business.
It's not just consumers getting in the mood for St. Patrick's Day. Spirits brands of all stripes, from traditional Irish whiskies and beer to types that fall outside of strict Irish heritage, are getting into the spirit and offering up personalized twists on classic cocktails. These are a few favorites we've come across during this festive whiskey-fueled week.
EASTSIDE DISTILLING: DROPKICK MURPHY COFFEE
"With each successive year, consumers are getting more sophisticated in their beverage choices – they want quality and variety," says Steven Earles, CEO of Portland-based craft distillery Eastside Distilling. "These days women make up a much greater share of the whiskey market, which experienced an increase in sales by half a billion dollars from 2013 to 2014. Much of this new market is looking for a new direction."
Eastside Distilling's St. Patrick's Day contribution (inspired by the Celtic punk band Dropkick Murphys) is an example of that quality and variety, using a bold coffee-flavored rum and vanilla simple syrup for a subtle twist on the classic Irish Coffee.
1 ½ oz. Burnside Bourbon
½ oz. Below Deck Coffee Rum
2 tsp. vanilla simple syrup
Coffee
Whip Cream
Ground cinnamon
Method: In a coffee glass add Burnside Bourbon, Coffee Rum, and vanilla simple syrup. Fill glass with coffee leaving about 1/4 room. Top with whip cream and then a few dashes of ground cinnamon. You can garnish with lucky clovers!
2 GINGERS: BIG GINGER®
The Big Ginger comes to us via 2 Gingers Irish Whiskey, founded by Minnesota-based former pub owner Kieran Folliard. "Unlike other Irish whiskeys, 2 GINGERS was distilled with mixability in mind," states the brand, offering its signature Big Ginger cocktail—a citrusy take on the traditional whiskey ginger combo—as proof positive. 
2 parts 2 GINGERS® Irish Whiskey
Ginger Ale 
Lemon Wedge
Lime Wedge
Method: Pour the 2 GINGERS® Irish Whiskey into a pint glass with ice. Top with ginger ale, followed by a wedge of a lemon and lime.
PINNACLE VODKA: THE BLARNEY STONE
The only thing more traditional than whiskey on St. Patrick's Day is beer. But we'll pass on cheap green beer, thanks. Give us a hearty dark beer any day of the week (but especially today). Pinnacle Vodka agrees—but why stop there? By turning your beer into a beer cocktail, Pinnacle's St. Patrick's Day contribution brings out the malty richness of that dark beer with the complementary flavors of chocolate and whipped cream.  
1 part Pinnacle® Chocolate Whipped® Vodka
1 Dark Beer
Method: Add shot of Pinnacle® Chocolate Whipped® Vodka into your beer for a true creamy taste.
PRAIRIE ORGANIC SPIRITS: PRAIRIE'S LAST WORD
The Last Word is one of our favorite cocktails on the craft scene, a Prohibition-era creation that is just now seeing a resurgence. Prairie Organic Spirits offers this cocktail as a pretty St. Patrick's Day treat, tinted green by the presence of vivid chartreuse liqueur.
2 oz Prairie Organic Gin
1 oz maraschino liqueur
1 oz green chartreuse liqueur
1 oz lime juice
Method: Shake and strain into stemmed white wine glass with ice and top with soda water.