The rise of the posh burger: Interview with GBK CEO Alasdair Murdoch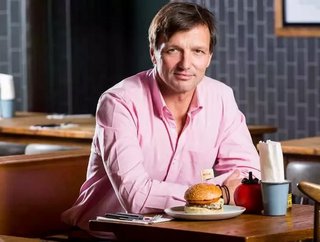 "I'm a big fan of a medium-rare small cheeseburger with Red Leicester, and I might just add a slice of bacon onto that," reveals Alasdair Murdoch...
"I'm a big fan of a medium-rare small cheeseburger with Red Leicester, and I might just add a slice of bacon onto that," reveals Alasdair Murdoch, CEO of Gourmet Burger Kitchen. "It's a close call between the Red Leicester and Smoked Applewood at the moment."
Having just completed a run on a glorious morning on the UK's south coast, Murdoch's appetite to talk about all things burgers is gluttonous. The boss's flavour of the month, he is keen to stress, changes periodically, but for now he is championing simplicity. 
And it is a rather simple upwards trajectory that tells GBK's story since 2010 when Murdoch and new leadership arrived. From what was still a successful business turning over up to £40 million, the casual dining chain now generates revenues closer to £100 million, a milestone in reach thanks to 23 consecutive quarters of sales growth.
The journey has been based on three major principles, the first being the food and the quality of GBK's burgers. Murdoch describes how in his first year quite a few elements were changed, with food and drink offerings continually evaluated and tweaked if needed. Motivated people and restaurants that match the quality of its burgers form principles two and three.
"One tiny example of the latter is looking at our knives," Murdoch says. "We invested an extra £100,000 on improving the quality, which customers can feel when eating their burger. There are so many small touch points that we work on that add up to make a big difference."
Delivering expansion
With new owners at the helm since October last year, the aim is very much to continue the growth drive. Currently there are around 90 Gourmet Burger Kitchens in the UK and Murdoch plans to hit 200-250 by opening a steady 10-12 new restaurants annually. Further afield, the company has recently opened up in Ireland and also operates in the Middle East. South Africa is another target for the new ownership.
Away from restaurants, customers are increasingly enjoying gourmet burgers in their homes and offices, in no small part thanks to the explosion of Deliveroo into cities around the country. For GBK, this has been a lucrative disruption of the market.
"We think that delivery is a trend that's here to stay," Murdoch adds. "We were Deliveroo's first branded partner and are still one of their biggest partners today, and hope our work will continue to grow.
"Deliveroo has launched something called Deliveroo Additions, which is an out of home concept where lots of operators share the same space. At the moment we are working with them on one of these sites in Camberwell, and I imagine we'll go into two or three more of these this year. The consumer will notice no difference, but it allows Deliveroo and operators like us to deliver on a bigger scale."
Congestion
Murdoch is the first to acknowledge just how competitive the posh burger space has become in recent years. The likes of Five Guys and Byron, among many others, are popping up alongside GBK in many towns and cities, forcing it to continually up its game.
The CEO welcomes the challenge, and is confident his company can differentiate itself from the rest, ultimately because of its quality.
"You will have seen a couple of our key competitors open in your hometown Norwich recently," he points out. "And you will probably go along and try it but we eventually expect you to come back to us. We inherently believe our quality is better than some of our key competitors and our numbers appear to back to this up, but we cannot afford to be complacent."
Market congestion also poses a challenge for the likes of GBK to differentiate through its marketing messages, something which Murdoch is all too aware. Indeed, a decision was taken some four years ago to channel the vast majority of GBK's marketing budget into technology, a move which has given the company a massive head start with its app.
Connected   
Loyalty rewards, referral schemes and click and collect functions have allowed 1.5 million users to connect with GBK via their smartphones. Murdoch explains that one million of these are active customers who are on average 25 percent more loyal than those without the app.
It has clearly worked, and new functionality is being developed as we speak. A trial is currently taking place which is allowing customers to order from their tables via the app, saving a trip to what can be busy counters. Pre-ordering could also be rolled out at the push of a button, but Murdoch highlights operational challenges associated with doing this, not least on a financial level as it is not certain whether this would deliver much benefit, especially during busy walk-in periods. 
Gourmet Burger Kitchen also offers something different when it comes to other means of marketing. While many casual dining chains offer vast amounts of vouchers to entice customers, GBK is reaping the rewards from periodic, all out freebies.
"Every now and then we put a free burger in your pocket," Murdoch says. "All you need to do is go in and spend £6 on other stuff and you have a free burger. We've seen redemption rates on this at around 10 or 11 percent, which is really unheard of in this kind of field. It is targeted and not carried out very often, but it has worked extremely well."
Laughter is good
Our conversation turns to the human side of the GBK business. So often cited by companies as their lifeblood, and rightly so, Murdoch is keen to demonstrate that Gourmet Burger Kitchen is walking the walk when it comes to valuing staff.
He explains how the core value 'laughter is good' forms a key component of this, and then goes on to provide numerous examples of how GBK is a fun place to work.
"I can give any number of examples," he says. "Every restaurant has what we call a fun fund built into its P&L, and every quarter we will give them money to help take their teams out. We have family days and Christmas parties for all employees, whether they work one hour a year or a thousand."
If an employee completes five years of service, GBK will pay for a two week sabbatical, and four weeks for when a decade milestone is reached. "You may think this is quite an expensive cost," Murdoch continues, "but in reality the benefits this brings for morale and staff loyalty offsets this."
That GBK pays above minimum wage and offers an array of leadership courses and pathways to progression provides further evidence of the company walking the walk. Recruits at new restaurants are also treated to a special 'grill warming' prior to public opening.
Legacy
Ultimately, the longevity of GBK in both the UK and internationally is down to a combination of the work of dedicated personnel and a continuing public hunger for quality burgers.
But is the rise of the posh burger just a small phase in our dietary history? "Gourmet burgers are undoubtedly here to stay," Murdoch answers. "There is a lot of competition out there, and while I think we can shake some of that competition out, there is always room for new entrants."
The CEO points to the success of other cuisines whose chain restaurants have firmly cemented themselves onto the UK palette. For Murdoch, this is only the beginning.
"If you look at the Italian chains like Prezzo, Ask Italian and Zizi's, there are loads of them and they are still expanding. There is significant room for growth for us too."
This interview was featured in Business Review Europe July 2017