Exclusive: Interview with Mövenpick Hotels & Resorts CEO Olivier Chavy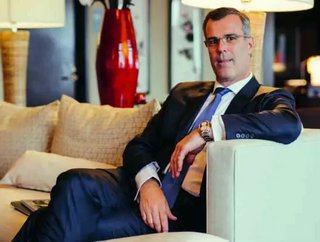 "I have been on fast-track mode ever since I started in September last year," says Olivier Chavy, CEO of Mövenpick Hotels & Resorts (MH&R...
"I have been on fast-track mode ever since I started in September last year," says Olivier Chavy, CEO of Mövenpick Hotels & Resorts (MH&R). "The traditional 90-day settling in period was more like 90 hours. It has been fantastic, I have met some amazing talented and dedicated professionals."
Having opened 80 hotels either as a general manager or overall boss throughout his career, Chavy is perfectly placed to execute MH&R's bold plans for growth. "We have committed to 125 hotels by 2020, which means we have to sign one new property every other week or so," he explains.
Regions targeted for this growth comprise Europe, Africa the Middle East and especially South East Asia and the likes of Thailand, Vietnam and the Philippines. The most important thing for this growth to emerge successful, Chavy says, is finding the best hires in these new target locations. 
"Having the right front liners at the back and front of house to run the hotel from day one is key," he adds. "Factors like the hardware, location and design are also vital components, but more important is the ability to deliver an amazing experience, and people do this.
"I was in Sri Lanka at the start of the year to open a brand new hotel, the Mövenpick Colombo, which is the first new luxury hotel to open in the country for 25 years. The method for hiring staff there very much revolved around role plays rather than interviews. In groups of three or four management were able to assess charisma, grooming, professionalism among other things. As a result the mix of the new hire is amazing. I could feel the pride at every corner of the hotel during the opening, and this is because we went beyond looking at resumes and interviews. The hires I spoke to shared with me their experiences and how eye opening it was – it not only convinced the recruiters but also themselves that they are fit for the role and that the role is right for them."
Appealing to the 5 senses
The way Chavy himself experiences hotels as a user is evident in how he is developing MH&R's 'we make moments' ethos. "Nowadays clients are becoming less and less loyal to a brand, they are more attached to their five senses," he says.
Guest experience is more important than ever before, with a higher proportion of consumer reviews than ever focusing on the experience element ahead of other factors such as the bricks and mortar of a hotel. 
"Whenever I visit a hotel I always see what my senses are telling me on first impression," Chavy explains. "You will always see me trying to touch the wall, the tiles, breathing and smelling the air. It is almost like buying a new car – that smell is something you don't forget. The small details are the ones people remember, and can sometimes be the difference between a boring and a great experience."
A not insignificant detail launched in February in Germany and Switzerland is a brand new sleeping experience in the form of a smart mattress, the very first bed in the hotel industry where guests can alter its hardness. "It is amazing," Chavy affirms, "and even allows the left and right side to be different. We started with 600 beds and will roll it out across the board very quickly."
Energy
Chavy speaks with an exuberance that takes him back to the youthful age of 14. "I was taking cooking classes by then, and had already told my parents I wanted to work in the hospitality business," he says.
"Nobody in my family was working in hospitality at the time, but this is the sector I can remember wanting to work in. I love cooking, I always visit the chefs in our hotels. I then got to experience other parts of the hotel business and slowly moved into the management side."
And having worked his way to the very top of the industry, Chavy's leadership style is clearly moulded on a respect for transparency between all layers in the hospitality hierarchy. Each month he updates staff on his activities, while managers relay to him the ins and outs of the week.
"You need to adapt yourself," he insists. "It is not a halfway process anymore. I am very approachable and not in any way territorial. There are no walls. I don't like egocentric titles or positions, I don't like staff restaurants versus executive restaurants. We're in the same boat.
"This approach is driven by a passion, and there is no limit to what you can do with passion. I love my job and I love to feel this energy from the people around me, and I love to transmit this energy."
Chavy's love affair for the industry could be the start of a new family dynasty, for his 26-year-old son Michael appears to be following in his father's footsteps. He is currently working in Orlando and studying a Masters in Hospitality and Management, with dad Olivier on hand as mentor. "Michael calls me from time to time to tell me about any struggles and it's always work related with a heart-felt passion, and I respect this a lot," he says.
Switch off
With more than two thirds of his time spent travelling the world meeting Mövenpick owners and staff, there is no place like home for Chavy. A seasoned globetrotter, home ranks among his favourite places to travel.
"If I have to rank three places, first would be home because I spend so much time travelling, and time with the family becomes all the more precious," he adds. "Outside of home my favourite destination to travel is Southeast Asia, countries with so much culture, history and tradition. Countries like Vietnam, the Philippines, Laos and Thailand feel like they have something different in terms of family culture and values. More recently I opened a new hotel in Marrakech, and I loved my time there too. The culture, the energy, the spices, the smells are all wonderful."
The non-stop lifestyle of a global hotel and resort CEO leads one to wonder if there is such a thing as a work-life balance, which leads Chavy to explain a competency test ran by previous employer Hilton that has stayed with him ever since. The ability to switch off as well as remain switched on is, perhaps, an unlikely secret to his success to date.
He concludes: "I have a passion for my work so for me being at work is not like being in jail. But, during my time at Hilton one of the competencies they assessed was your resilience and ability to switch off. I do try to do this – for example yesterday I had a couple of tough meetings and I decided to leave early at 6pm and bike on the tracks here in Dubai until 10, and I had a blast. This is the way I can find some me time, and these times are so valuable to refuel the tank and my energy for the job. So yes, balance is key."