New Four Seasons and Red Sea Global resort in Saudi Arabia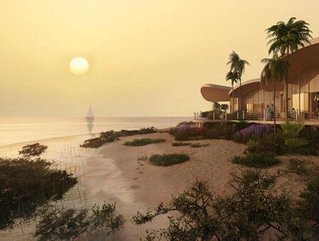 New Four Seasons resort.
New resort will be located within The Red Sea destination, stretching across 200 kilometres of coastline along the Kingdom's western coast.
Luxury hospitality company Four Seasons Hotels and Resorts and Red Sea Global (RSG), a closed joint stock company wholly owned by the Public Investment Fund (PIF) of Saudi Arabia, has announced plans to introduce a Four Seasons Resort as part of The Red Sea masterplan development.
The Red Sea will comprise of the idyllic natural islands and lagoons across 200 kilometres (124 miles) of coastline along the western coast of the Kingdom of Saudi Arabia, between the cities of Umluj and Al Wajh. The new Four Seasons Resort will be located on Shura Island, the hub of the development and also home to a yacht marina, leisure and lifestyle facilities, retail offerings, 18-hole golf course and more.
"As we continue to expand Four Seasons presence in the region, our new project in the Red Sea will be one of our first resorts in the Kingdom, blending the best of beachside travel with the natural and cultural wonders of Saudi Arabia," says Bart Carnahan, President, Global Business Development and Portfolio Management. "We are incredibly proud to be part of this impressive and visionary development by RSG and look forward to inviting guests to explore our new Resort within such a beautiful and storied destination."
The Red Sea destination is being built with sustainable practices and tourism at its core, with the masterplan being informed by an impressive marine spatial planning simulation to model the environmental impact of development and operations to minimize over-tourism while providing guests with an exceptional travel and lifestyle experience. The destination will also rely on renewable energy and will only develop a small portion of the islands with expansive dedicated conservation zones.
"This new destination provides the next generation of travellers with an incredible opportunity to discover what Saudi Arabia has to offer, building on its historic and cultural significance, while highlighting the exceptional natural beauty of the region," says John Pagano, Group CEO, Red Sea Global. "We are thrilled to have Four Seasons as a partner on this project, bringing their world-renowned service expertise to the beautiful Red Sea."
The new Four Seasons Resort, designed by Foster + Partners, will offer approximately 149 rooms and suites, all with uninterrupted views over white sand beaches and crystal clear waters. The property will also feature six restaurant and lounge outlets, meeting and events spaces, a marine discovery centre, and Kids For All Seasons space.