Euro 2016: Hosting the world champions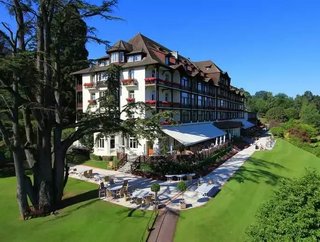 Not many French football fans will be hoping for a German run to the final of Euro 2016. The current World Champions are a formidable force in major tou...
Not many French football fans will be hoping for a German run to the final of Euro 2016. The current World Champions are a formidable force in major tournaments and held their nerve to defeat Argentina in the 2014 final in Brazil. Few would bet against them if they made it through again this year.
However, one Frenchman who will be encouraging Germany's progress through the tournament is Yannick Le Hec, General Manager of the Evian Resort, set in the stunning surrounds of Lake Geneva. His reason? The German team are staying at his hotel.
"If they make it through to the final they will be with us for over a month from the middle of June to the middle of July," says Le Hec. "If the final is going to be between France and Germany I of course wish for France to win. In sport you never know what's going to happen. Any team can win, although we know how good Germany is, and I'd love to see a Germany versus France final."
The likes of Manuel Neuer, Mario Götze and Thomas Müller will be occupying the entire Hotel Ermitage, one of two hotels in the Evian Resort. "Having the football world champions staying with us will provide some fantastic exposure for the resort around Europe," Le Hec adds. "For management this is a great project because it gives us the opportunity to plan something special and different, this is not our usual client and we will do our absolute best to deliver for them."
Sporting pedigree
Although hosting the best international football team in the world may not be your everyday hotelier's task, the resort has catered for famous faces in the past and has an excellent reputation for providing an ideal basecamp for sports teams.
Several French Ligue 1 clubs have stayed along with some of England's biggest teams, including Tottenham Hotspur and Stoke City.
"We create a perfect environment for sporting teams as we are rurally based and away from the likes of Paris and Bordeaux, can deliver privacy and have all the facilities they need," Le Hec explains. "The resort is also very close to the training facilities. Many of the players walk, run or cycle from the hotel to the pitches."
Golf, a footballing pastime favourite, comes no better at the Evian Resort. The German players will have access to the same course which hosts the annual Evian Championships, one of the biggest female golfing events in the world.
Business as usual
Having agreed a contract last year to let out the entire Hotel Ermitage, Le Hec and his team have had a long time to prepare for Germany's arrival, although for them it is much a case of normal service continuing.
"In terms of our preparation we don't actually need to do anything particularly special," Le Hec says. "We will be flexible to meet their requirements and do our best to respect what they want – that's all there is to it.
"We don't need to upgrade or update the hotel because everything at the Ermitage is brand new. We must respect their need for privacy and try not to get in their way too much – we are effectively giving them the key to the hotel for a month or more."
In terms of food, Hotel Ermitage's brigade of top-class chefs will be preparing meals to meet the German team's specific requirements, which during high intensity tournaments with several matches in quick succession must be carefully planned.
Evian Resort's other hotel, the Royal, will be open as normal throughout the tournament, with regulars of the Ermitage being offered special upgrade packages to compensate for the lack of availability through June and July.
Fan fever
Having another hotel open so close to the German team's basecamp present obvious challenges regarding the need to respect privacy, something which Le Hec is well aware and prepared for.
He adds: "Hotel Royal is going to be very busy during the tournament. I'm sure we're going to have people staying there who want to see the German team, which will be difficult for us as we have to shut the Ermitage off. Fans are wanting to stay near the players, which is understandable."
While the exposure created by hosting such high profile guests no doubt provides a marketing boost, a careful balance needs to be struck in order to satisfy the German players' need for privacy and security, and thus maintain the reputation for being an ideal base for major sports teams.
"We need top class security for the hotel regardless of who is staying," Le Hec says. "However, physical security measures such as new fences, gates and cameras were upgraded earlier this year in anticipation of this summer and the arrival of the German team.
"The French government and UEFA will be working with the German football team who will bring their own security people. We don't directly get involved in this way but have made sure our hotel is as secure as possible. We are in Evian, not a big town, so generally this area is very low risk."
For the Evian region, the feel good factor created by Euro 2016 is already starting to have an impact on its hospitality sector, and Le Hec believes it will leave a lasting legacy. "It is fantastic for the region's bars, hotels and restaurants and we hope that tourists will come back for many years to come after the event. We can see the impact with German tourists simply because the football team is staying here, and this should boost future business."