Grinding it out – the Canadian coffee shop targeting the UK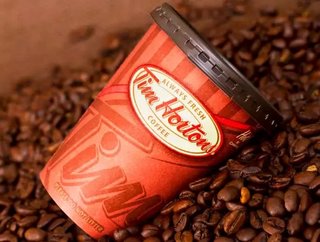 Kevin Hydes from Tim Hortons explains how the friendly Canadian coffee shop giant plans to charm its way into the UK market There is certainly no short...
Kevin Hydes from Tim Hortons explains how the friendly Canadian coffee shop giant plans to charm its way into the UK market
There is certainly no shortage of coffee shops in the UK and Ireland. It's impossible to walk down any high street without passing several, and the market is dominated by well-known brands. The biggest three (Costa Coffee, Starbucks, and Caffé Nero) have 53% of all the outlets in the UK between them according to Allegra World Coffee's Project Cafe2017 report.
It is a tough proposition for a national coffee chain that is completely unknown in the UK to try and break into this overcrowded market. But Tim Hortons, Canada's iconic coffee restaurant brand, is a little different. Founded in 1964 by professional ice hockey player Tim Horton, it has a cheerful retro logo, and red and white branding that reflects the era. Tim Horton wanted to create a friendly café where people would feel at home and it would seem he achieved that. The chain is an institution in its home country, and its customers are dedicated and loyal folks.
The first UK restaurant opened in the centre of Glasgow in June. And that's all there is for now. The company plans to focus on the key areas and conurbations where its research shows it has the greatest chance of success. Its Facebook page is full of posts asking when Tim Hortons will open a store in their locality. A second rollout is underway, with restaurants in Cardiff, Manchester and Belfast due to open before the end of the year, along with a second one in Glasgow. It seems that Edinburgh residents will have to wait for their franchise, whose parent company Restaurant Brands International Canada is headed by Clydebank-born David Clanahan, and is one of the world's largest quick service restaurant companies. As well as Tim Hortons, the multinational also owns Burger King and a New Orleans-style chicken business called Popeyes. "I can't confirm Edinburgh soon, but what I can say is that we will continue to open a store network around the Glasgow area," says Hydes.
Kevin Hydes joined Tim Hortons as its Chief Finance and Commercial Officer in July shortly after the Glasgow launch. "The first store was a rip-roaring success for us. We are right in the heart of the city just off one of the major routes to the railway station. For the launch, people were camping out overnight. There were people who queued 15 hours to get hold of Tim's coffee. For us it was phenomenal and gave us really great confidence in the brand."
Hydes acknowledges the challenge facing the company breaking into the marketplace. "We are operating in a competitive environment. British customers have a growing affection for out of home eating. And drinking. People really love great coffee."
RELATED STORIES:
The market is certainly growing. According to figures released by Mintel Research, this is the biggest period of growth since 2008. From £2.4bn in 2011 to £3.4bn in 2016. It forecasts that the coffee shop market will grow another 29% in the next five years, jumping to £4.3bn. One of the most successful markets in the UK, by 2030 coffee shops are expected to outnumber pubs. Soon, going for a flat white will be the equivalent of popping out for a quick half.
The company plans to build its network as quickly as it possibly can. From a starting point of one outlet, it has a long way to go to catch up with the major players. In 2016, Costa had 2,121 outlets in the UK, Starbucks had 898 and Caffé Nero had 650. "Our proposition is relatively unique here - putting together the freshness of coffee and the freshness of prepared food. We serve a small cup of brewed coffee for £1.19 - you will struggle to find a better cup of coffee anywhere near that price anywhere else in the country. We are really proud of that and we want to make sure we can bring that to more and more people."
Having worked for the Whitbread Group for around 17 years before moving to Costa Coffee, Hydes has plenty of experience when it comes to knowing his coffee. His last role at Costa involved working in international markets and bringing new territories to the Costa brand through either joint-ventures or franchising.
"I love being part of building businesses, and I really believe in the products. I have worked in the coffee industry for some time so I think I am a fairly good judge of that. The thing that Tim Hortons is bringing that is different to the rest of the market in the UK is the variety of choice and freshness. That's freshly prepared food made for you, such as sandwiches, or breakfast, or fresh-baked doughnuts that we cook throughout the day."
They are bringing the concepts behind Tim Hortons directly to the UK, with just a few adaptations. The coffee, the baked goods and the menu will be familiar to any Canadians. However, the odd change here and there has been made to reflect the difference in tastes. Brioche replaces the type of scone Canadians call biscuits for the breakfast sandwiches, for example.  
Recruitment and training are the two areas that the company focuses on. The managers and shift leaders for the new stores are already recruited and in training so that once construction is finished on the stores, they already have the basic fundamentals. According to Hydes: "What makes us different is that we are not just a coffee shop, but a restaurant that offers great coffee and a fantastic range of foods. Also, our ability to serve products at speed, and the friendliness of our team members.
"It's not an easy thing running a coffee shop and restaurant and we have to make sure that we recognise and support them in the right way, because I want to make sure we get it right for the customer every time."
One aspect of the Tim Hortons concept in Canada that particularly interests Hydes is the way it has grown and developed there to become a part of the community and neighbourhood it serves. "That is something we are really keen to replicate here in the UK. It's not just about selling and serving products, it's about how we engage with the community."