EXCLUSIVE: Interview With Arby's CEO Hala Moddelmog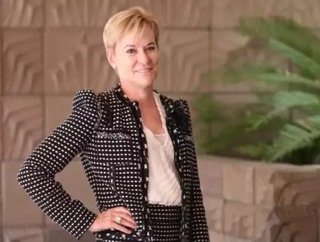 Arbys® restaurants are an American institution, renowned for their fresh approach to ingredients and product innovation. Founded in 1964, the brand...
Arby's® restaurants are an American institution, renowned for their fresh approach to ingredients and product innovation. Founded in 1964, the brand has enjoyed nearly 50 years of success, due to its ability to change and modernize without losing touch of its core values. Hala Moddelmog took over as President in May 2010 and Food Digital had the opportunity to speak to her about her inspiring career to date and her plans for Arby's going forward. We spoke about the famous restaurant's latest advertising campaigns, its product innovation and Hala's leadership strategy, which have all helped put the brand back on the fast food map.
Food Digital:Hala, tell us about you career to date. How did you become the President of Arby's?  
Hala Moddelmog:"It's funny because Arby's was my very first job out of grad school. I began my career here in 1981 as a Sales Analyst working on product development and marketing and stayed with the company for three years. I wanted explore my options so went out into the world and did a few other things; I worked in telecommunications for a short time, however after a few years I received a call asking if I would come back to Arby's as Vice President of Product Development and Strategic Planning. I took the role and stayed with the business for another three years."
Hala worked at Churches Chicken as Vice President of Marketing for two years and then went on to become President of the Group – a role she held for more than 10 years. She also spent a small portion of her career within the non-profit world, as the President and CEO of the breast cancer foundation, Susan G. Komen for the Cure.
Hala left the foundation after three years and returned to her hometown of Atlanta.
"I took some time out, to see what was out there and the role of President at Arby's became open. Immediately I was interested and then just a few days later I got a call from the headhunter who was working on the search. I took the role and now I will have been back at Arby's for three years this coming May."
FD:So what is it that keeps bringing you back to Arby's?
HM:"Arby's was my first exposure to the quick service industry, and there is no doubt that's where my passion lies. I have spent the majority of my career in the food service industry, and I love the Arby's brand. Its definitely iconic – but it's a brand that had lost its way a little bit before I came back.
"The recession disproportionally hit Arby's, and the brand that in the past was very heavily influenced by innovation and product development, had let that side of the business slide. I felt very compelled to come back this last time because I felt if Arby's could get back on track with new product innovation then the sky was the limit. The brand just needed a little extra strategic thinking."
When Hala re-entered the business she realized that Arby's needed a new management team to turn its ailing fortunes around. Immediately she recruited a new Chief Operating Officer (COO) and Chief Marketing Officer (CMO) who were tasked with taking a deeper strategic look at the business. Hala was adamant that Arby's needed to re-understand who its core customers were and what they wanted, and then develop new products accordingly.
Hala has already achieved phenomenal success since coming back to Arby's, reporting nine consecutive quarters of same-store sales growth. Arby's has also experienced 85 percent growth in profits year-on-year since 2010. 
FD:Since you have been President, what are you greatest achievements at Arby's?
HM:"I am really proud of the team we now have in place at Arby's. I am also pleased that we have tripled the number of products in our product development pipeline. We have also unleashed a new advertising campaign based on targeted research into our core customer, something that we refer to as our design target. We went into about 100 of our heavy users' homes and really obtained a  deep understanding of who our consumer is and what values they share.
"The values our consumers share go reach across many different age groups, many different ethnic groups and many different types of families – and if there is one thing that many of them have in common, its being time-starved and loving the brand. Understanding our core customer has really influenced what direction we take at Arby's.
"However, the main thing I am proud of is the Arby's Foundation. The Arby's Foundation has been in existence for about 25 years but we have revitalised it in recent years. We adopted the 'No Kid Hungry' campaign, which is a division of 'Share Our Strength,' and we decided to become part of the movement in America to end childhood hunger. This really resonates with our group and in less than two years, we have raised over $5 million for the cause."
FD:Talk to us about the Arby's rebrand and logo update.
HM:"We felt like the logo needed a little bit of updating, but when we spoke to our design target they said: 'Okay you can change your logo, but don't change it too much and don't change that hat!' In America 96 percent of people recognised the hat as Arby's even without the word 'Arby's' in it, so we listened to our consumers and simply modernised the existing design."
"Our new advertising campaign is called 'Slicing Up The Truth About Freshness'. Our research indicated that only about 50 percent of people actually knew that Arby's slices its meat fresh in the restaurants every day. Furthermore it also indicated that a little over 50 percent believes that Subway slices their meat fresh, which we know they do not.
"We compared ourselves to Subway quite a lot during the first round of advertising; however, the adverts coming out now are going to be more focused on our products vs. the fact that Subway doesn't slice fresh in-store. That is our thing right now, we want to make sure that everyone who goes into an Arby's knows they are going to get a freshly prepared sandwich."
Arby's rebranding exercise has been very popular with customers
FD:Have you found social media to be an asset when reaching out to consumers?         
HM:Absolutely and let me tell you, when I first came here, back in May 2010, we literally only had 42,000 Facebook fans, I mean I was aghast, and now we have recently reached our two millionth Facebook fan. So we have really come on leaps and bounds in this area. Importantly, our fans are also talking about our 'No Kid Hungry' partnership and even though the vast majority of our money is raised in the restaurants, customers can also donate to the campaign via the web and social channels, including Four Square.
FD:What new changes and products can we expect in the future?
HM:"Last year we rolled out our Hot Turkey Roasters platform, and we would like to be to turkey, as we are to roast beef! Turkey is a growing protein and we slice our turkey fresh in the restaurant every day. Our new Hot Turkey Roaster Turkey products are doing well in tests so I expect to see a lot more turkey products available at Arby's this year; probably a Hot Turkey Roaster and a new turkey product within our Market Fresh®line. The new products will also feature freshly slices salad and vegetables because if our meat is fleshly sliced then the same should be said of our salads. We want to send out the right messages to people."
"The other two areas that we are working on are the Snack 'N Save menu and our beverage line up."
FD:Sum up what is key to success at Arby's
HM:"Our overall goal is to grow profitable transactions, and that is a very clinical thing to say, but that is what we work on every day, day-in and day-out. However, having a solid understanding of our design target and their values, as well as focusing Arby's innovation, is really the key to our complete turn around and growth of those profitable transactions."