Burger King Acquires Tim Hortons to Form Third Largest QSR Company in the World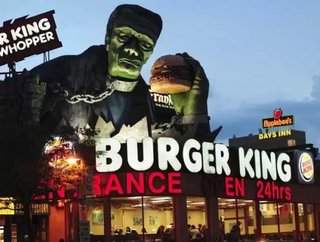 Its all happening: today an agreement was reached between Canadian coffee chain Tim Hortons and American burger icon Burger King. The agreement will res...
It's all happening: today an agreement was reached between Canadian coffee chain Tim Hortons and American burger icon Burger King. The agreement will result in the two franchises merging into one single entity with 18,000 locations and $23 billion in system sales, making it the third largest quick service restaurant (QSR) company in the world.
As the leading coffee brand in Canada, Tim Hortons is an iconic brand in its own right and acquisition didn't come cheap. Burger King is putting $12.5 billion in cash into this deal, securing $9 billion in equity financing commitments from JP Morgan and Wells Fargo plus an additional $3 billion from Warren Buffet via Berkshire Hathaway. The newly formed third entity will be 51 percent owned by Burger King parent company and Berkshire Hathaway collaborator 3G Capital (also the parent company of Burger King ketchup supplier H.J. Heinz Company).
Yesterday, as industry talk about this potential merger started to crystallize, there was a lot of talk about the realities and the ethics of the tax inversion that would occur as a result of a Burger King-Tim Hortons merger, with BK effectively becoming a Canadian company and moving its $9 billion business across the border. In the joint press release issued by the two companies, there was zero mention of this side effect, with both companies focusing on the merger as a mutually beneficial and strategic action that will enable both brands to accelerate their growth.
And indeed, as predicted, the boost for Tim Horton's will be enormous in terms of growth potential. While Tim Hortons CEO Marc Caira is assuring media and consumers that the core of the brand will stay the same, he also explains that this partnership with Burger King and 3G Capital will give the franchise the backing it needs to rapidly expand throughout North America and even internationally:
Marc Caira, President and CEO of Tim Hortons, said, "We are very proud of the great history of our organization and the progress we have achieved in creating value and delivering the ultimate experience for our guests. As an independent brand within the new company, this transaction will enable us to move more quickly and efficiently to bring Tim Hortons iconic Canadian brand to a new global customer base. At the same time, our customers, employees, franchisees and fellow Canadians can all rest assured that Tim Hortons will still be Tim Hortons following this transaction,  including our core values, employee and franchisee relationships, community support and fresh coffee."
Meanwhile Burger King is focusing on highlighting the brand revitalization that will take place under this merger – we're betting that BK will be taking advantage of Tim Hortons' strengths to get involved in the U.S. fast food industry's Breakfast Wars after all:
"Over the past four years, we have transformed Burger King into one of the fastest-growing and most profitable QSR businesses in the world, through successful international growth, a consistent focus on brand revitalization and strong commitment to our franchisees," said Daniel Schwartz, CEO of Burger King. "We are excited to build on this progress as we continue to expand Burger King around the world and look forward to working with and learning from Tim Hortons as we together create the world's leading global restaurant business."
Once Burger King and Tim Hortons finalize their unification under one 3G Capital majority-owned entity now, Burger King Executive Chairman and 3G Capital Managing Partner Alex Behring will take the reins as Executive Chairman and Director. Tim Hortons CEO Marc Caira will move into a role as Director and Vice Chairman in charge of global business development, while Burger King CEO Daniel Schwartz will serve as Group CEO and manage day-to-day operations.
Despite the merger, businesses claim that they will be holding onto their own unique identities – while the new entity will be based in Canada, Tim Hortons will continue to be headquartered in Ontario and Burger King will retain its own headquarters in Florida. The new company has also expressed a "Commitment to Canada," asserting that it will maintain its community involvement and will make no changes to its current franchise model or employment at the restaurant level; on its own end, Burger King has made a similar commitment to its own local communities and philanthropy.
Upon completion, Tim Hortons shareholders will receive C$65.50 in cash and 0.8025 common shares of the new company for each Tim Hortons share. The new entity will be listed on both the New York Stock Exchange and the Toronto Stock Exchange. The deal is expected to complete once Tim Hortons shareholders vote to approve the deal and it passes antitrust and regulatory approvals in both the U.S. and Canada.
For more information, check out the full press release here: http://investor.bk.com/conteudo_en.asp?idioma=1&tipo=43682&conta=44&id=166086