Why Are Bacon Wrapped Tater Tots Trending on Twitter?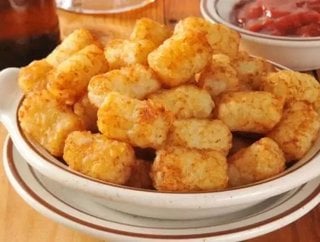 The algorithms of Twitter can be awfully inscrutable sometimes. Take today, for example: today the term "bacon wrapped tater tots" is trendi...
The algorithms of Twitter can be awfully inscrutable sometimes. Take today, for example: today the term "bacon wrapped tater tots" is trending worldwide. It's not a hashtag, either. It's just a phrase that has most of the Twittersphere either scratching its collective head in wonderment or nodding in bemused approval:
It doesn't seem like any massive event has occurred revolving around bacon wrapped tater tots that would lead to such a boost in its social media presence. If anything, it looks like the answer is probably as simple as food porn: images of bacon wrapped tater tots are spreading like wildfire right now.  
But even if no one ever finds out exactly why bacon wrapped tater tots are trending on Twitter, that doesn't mean that there's not an opportunity to be seized in such a moment. Here are some brands who could really benefit from trends like "bacon wrapped tater tots" descending upon social media more often:
Ore-Ida
Did you know that the Tater Tot is a registered trademark? That trademark belongs to Ore-Ida, the H.J. Heinz-owned potato brand that invented the crunchy snack. If anyone has something to gain from tater tots trending worldwide, it's the brand that first put tater tots on the map.
Hormel Foods
Of course you can't have tater tots without bacon—and when it comes to bacon, you've got options. Hormel Foods makes a lot of foods under several different brands, but one of the food processing company's key claims to fame is its pork products from SPAM to Cure 81 ham to its own highly rated bacon.
Oscar Mayer
Oscar Mayer isn't just a leader in sliced bacon, it's also a master of the bacon arts—the Kraft-owned brand also produces bacon hot dogs and bacon bologna in addition to its traditional bacon, thick cut bacon, and turkey bacon. Any of those would look ideal wrapped around tater tots and put up on the internet.
Sonic Drive-In
Not many fast food franchises trade in the sale of tater tots, which means that this is Sonic Drive-In's time to shine. Consumers already have their choice of cheese tots and chili cheese tots—this might be a sign for the chain to a cue from its Cheesy Bacon Pretzel Dog and give those tater tots some extra love.