From raves to Ocado: How Gusto Organic is energising the market with organic, Fairtrade drinks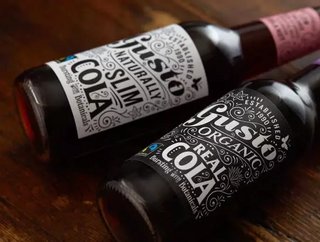 Natural, organic, and Fairtrade: this is the three-word mantra behind Gusto Organic Drinks. We talk to CEO William Fugard and discuss sourcing ingredien...
Natural, organic, and Fairtrade: this is the three-word mantra behind Gusto Organic Drinks. We talk to CEO William Fugard and discuss sourcing ingredients, the sugar tax, and the importance of the Fairtrade movement…
The origins of Gusto Organic Drinks can be traced back to a party. In the summer of 1987, Craig Sams – the entrepreneur behind Whole Earth and Green & Blacks – was preparing for a big celebration at the Groucho Club in London. He wanted to concoct something for his alcohol-free drinkers and so he mixed together a natural energy drink with ingredients like guarana, cola nut and ginseng, flavours that were reasonably uncommon in the UK at the time. Needless to say, it was an instant hit.
Spotting the drink's potential, Craig's children Rima and Karim encouraged him to bottle the drink for the masses and later took over the firm, naming it Gusto Organic Drinks. Looking back, it seems the UK-based firm has been on an upward trajectory ever since. In the late eighties, the energy drink was a roaring success amongst clubbers in the rave scene, offering a natural and energising way for party-goers to keep dancing throughout the night.
SEE ALSO:
Fast-forward to today and Gusto Organic is now a rapidly growing brand, with products found in Ocado shopping bags, the Tate Modern museum, and more. CEO William Fugard describes how consumers are savvier than ever before and are searching for products that do away with synthetics in favour of organic, Fairtrade ingredients. This has allowed Gusto the space to make its mark as one of the first natural energy drinks in the market.
"The consumer movement away from alcohol and towards craft beverages has been explosive," he says. "We've seen how craft beer and gin have dominated the shelves of supermarkets, and I think now we're seeing a similar approach to fizzy beverages. They're no longer viewed through a lens as a children's drink, they're increasingly entering the premium adult market.
"At Gusto, we're seeing a growing demand for drinks that have complex flavours and a well-being perspective," he adds. "I think it's a hugely exciting time to be in the market and we haven't even scratched the surface in terms of all the drinks we want to bring out."
Gusto's portfolio has diversified rapidly since that first energy drink – now offering unique flavours like Lemon Energy, Sicilian Blood Orange, Real Cola, among others. Getting the right flavour is perhaps the most important step for food and drink businesses. Fugard contests that the secret to this challenge is creating flavours that the team themselves want to drink, using only the best ingredients to offer a taste of the provenance. 
"We create drinks that appeal to an adult palate; they have complexity, they champion ingredients and really focus on provenance," he notes.  "We have diversified our portfolio and now produce both energy drinks and soft drinks with a similar Gusto perspective." For instance, worried about the excessive use of refined sugar and additives in colas the firm set about creating its own organic, natural alternative - Gusto Real Cola.
"It was a real lesson in the importance of getting the look right, getting the flavour right and being able to sell it correctly," he continues. "I think we hit the mark as we've created drinks that have been immediate successes and which have even unseated big brand names from the like of the Tate Modern and Tate Britain museum."
When sourcing its vanilla from Madagascar or even its blood oranges from the slopes of Mount Etna, Gusto's commitment to organic produce has been unwavering. This has also become a pressing priority for consumers too who are increasingly backing the organic market with their wallets. In the UK alone, sales of organic food and drink rose by 6% last year to a record £2.2bn (US$2.8bn). Yet, as Fugard highlights, this is not just a financial advantageous proposition, it also a key part of the company's ethos.
"There are no two ways about it, organic is part of our DNA," Fugard says. Today, the firm is heavily overseen by bodies like the Soil Association to uphold this organic certification and it also doesn't use unnatural flavours or ingredients like phosphoric acid. This gives consumers a strict level of confidence that they know exactly what they're drinking.
"To put it simply, the organic certification mark is the most credible sign you can get that ensures a customer is going to get a product that has been treated with as few pesticides and fertilisers as possible," comments Fugard. "It ensures the ingredients come from land that is farmed with proper land stewardship."
"I think consumers are getting more sophisticated," he adds. "They're much more aware of issues around wellness and they understand the labels on the foods they buy. Today organics are intertwined with people's perceptions of not just their wellbeing but also their perceptions of land stewardship and to a certain extent to their ethics. That's really been a game changer for us. This demand for organics has been driven by the consumer."
On top of this, Gusto has also positioned itself as a Fairtrade company, with oversight from the British Retail Consortium, the Soil Association as well as the Fairtrade Foundation, Gusto Organic. This may involve extra care, but for Gusto Organic, it's not questioned:  Fairtrade is now hardwired into the company culture. Whilst he is proud of this certification, Fugard is keen to point out that this shouldn't be an anomaly in the sector, it should be the norm.
"There are so many brands in the market who often practice virtual signalling, whereby they make a big deal about their ethical footprint." reflects Fugard. "It sits a little uncomfortably with me because I think in reality we should all be looking through a Fairtrade lens." Although it may prove challenging, this oversight ensures that when Gusto Organics sweetens its products, for instance, it uses Fairtrade agave which supports a cooperative in Jalisco, Mexico.  The cooperative pays two and a half times the average local wage to its farmers and it's committed to issues like indigenous rights and gender equality.
"I think Fairtrade is an important issue," he adds. "It's a logical thing to do and it should be seen to be a normal progression for a business, rather than an exceptional activity."
Changing consumer habits have sent waves throughout the UK drinks' sector, but none have delivered quite the same impact as the British government's Soft Drinks Industry Levy which came into effect in April. The levy charges manufacturers for their sugar use in the hope that they'll reformulate their products. With the organic sector unable to use artificial sweeteners, Fugard contends that the policy may have been a hasty one.
"As an organic business, we have few ingredients in our toolbox that we can use to reformulate our drinks," Fugard observes. "I think the sugar tax has been a very blunt tool. It's an effective way of the government raising revenue, but I would argue that a minimum pricing model would have been better as it wouldn't have encouraged drinks brands to rush in the direction of artificial sweeteners. It also would have removed cheaper, sugary drinks from the shelves."
Nonetheless, Gusto Organic has tackled this challenge head-on. The firm has grown rapidly since it concocted its first energy drink in the eighties. These days, you'll find the brand in 10 different countries, from Holland to Japan, as well as in over 200 UK stockists worldwide. In the last year, the firm has also doubled its production capacity and, looking forward, Fugard hints at some exciting new flavours in the pipeline.
"We've got a lot of stuff bubbling away at the moment," alludes Fugard. "We have a natural sports nutrition project in the pipeline as well as an upcoming project around gut health. We've also been looking at whether we could grow some of our own ingredients and are working with some more British flavours. I think we have an enormous part to play within this country, so watch this space."