Constellation Brands acquires Texas craft beer brewer Four Corners Brewing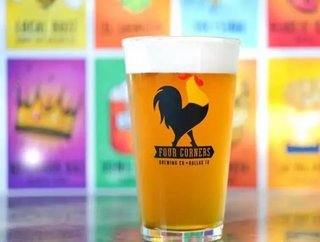 Constellation Brands has acquired Texas-based craft breweryFour Corners Brewing for an undisclosed sum. The owner of beer brands including Corona and P...
Constellation Brands has acquired Texas-based craft brewery Four Corners Brewing for an undisclosed sum.
The owner of beer brands including Corona and Pacifico said that the acquisition hoped to reinforce "its strategy to lead the high-end in the US beer market."
Founded in 2009 by friends George Esquivel, Greg Leftwich and Steve Porcari, Four Corners will join California's Ballast Point Brewing and Florida's Funky Buddha Brewery in Constellation's growing craft and speciality beer division.
SEE ALSO:
Sales at Four Corners have "grown five-fold since 2014" and the craft brewer has also expanded its capacity form 8,000 barrels in 2016 to 25,000 barrels in 2017, according to the announcement.
The Texas-based firm says that the standard of brewing will remain unchanged, with both the management team and existing staff members staying on at the brewery.
"We like to say that Four Corners Brewing is our collective beer journey, and partnering with Constellation continues that journey by opening amazing possibilities of where our brand and company can go," said Four Corners co-founder George Esquivel.
"We're proud Texas brewers, and we've always had intent of sharing our brews and our story with as many people as possible. We know Constellation Brands is the right partner to help us do that."
President and chief operating officer at Constellation Brands, Bill Newlands, added: "Four Corners brings a culture that mixes adventure and innovation with elements of heritage and tradition.
"It's a compelling opportunity for Constellation because Four Corners' bicultural inspired flavours and branding capitalise on one of the hottest trends in beer – Hispanic influenced products.
"George, Greg and Steve have created beers that are big on flavour, refreshing and pair well with bold Texas cuisine, while creating a brand that embraces and reflects the diversity of its people. We're excited to help them take the brand further."
The purchase of Four Corners is the latest in a string of investments by Constellation Brands in recent years.
In October last year, the Fortune 500 company bought a 9.9% stake in Canadian marijuana company Canopy Growth Corp for £141mn ($187), with the aim of producing cannabis-infused drinks.
Last August it also bought Florida -based craft brewery, Funky Buddha Brewery, and in October 2016, it agreed to buy Obregon Brewery from Grupo Modelo, a subsidiary of AB InBev, for $600mn.