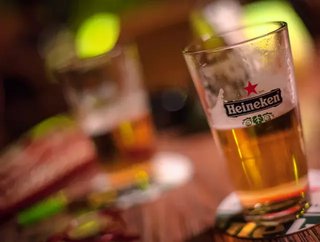 Dutch brewing company Heineken is heading for carbon neutrality with wind farm power
By January 2022, Dutch brewing company, Heineken, will make the switch to 100% green purchased electricity, as the company marches towards carbon neutrality by 2030.
With a revenue of €21b, Heineken is the second largest brewer in the world and is one of many beverage companies with sustainable net-zero targets.
Renewable energy for Heineken
In 2020, the company signed Power Purchase Agreements (PPA) with:
Windpark de Rietvelden

(Pure Energie), a wind farm with

Nordex

windmills. The four wind turbines are expected to jointly generate approximately 38.6 million kilowatt hours of green electricity per year.

Windpark Fryslân

(Eneco), in another wind farm, on the coast. The generated clean energy will be the equivalent to roughly 1.2% of the electricity consumption in the Netherlands.
The two Power Purchase Agreements will provide 95.000 MWh of green electricity each year to Heineken breweries.
When combined with all of the already existing green electricity, Heineken will use a total of 124.900 MWh of green electricity per year, this is the equivalent of 41.300 households, in the Netherlands.
"We are extremely proud of the uniqueness of this achievement, in Europe there are 30 to 40 PPA's per year, and we have secured 2 PPA's in one go", said a Heineken representative. 
Red, white and green wine: renewable energy powers the beverage industry
Accolade Wines Europe, whose portfolio includes Hardys, Mud House, Jam Shed, Grant Burge, House of Arras, Banrock Station, Echo Falls and Kumala – was certified by the Carbon Trust as carbon neutral in September 2020. The independent organisation encourages businesses to move towards a sustainable, low carbon economy.
The company sells over 150 million bottles of wine in Europe per year and is still investigating ways to reduce its carbon footprint. Glass bottles of a reduced weight for some products were introduced this year, decreasing the glass related CO2 brand footprint. Solar panel installation has also been implemented. 
"We know that there is demand from shoppers for greener products, with 84% of wine drinkers believing brands have a responsibility to look after the planet", said Caroline Thompson-Hill, Managing Director for Europe, Accolade Wines. "Companies have to act on their carbon footprint for the sake of the planet and we want Accolade Wines Europe to set a positive example that we hope the rest of the industry follow."