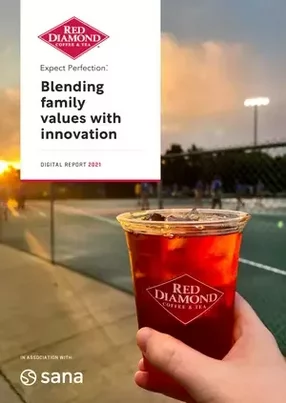 RED DIAMOND: Blending family values with innovation
RED DIAMOND: Rolf van Rijn, SVP of IT, reveals how the coffee and tea business combines the family traditions with leading edge technologies
Red Diamond is one of those companies that think in a modern way, yet stick to the traditions of its founders when it comes to the product. The company manufactures its own high quality coffee and tea, roasting the coffee products and grinding and blending them; and it's all done in-house on a small campus in Moody, Alabama.
But the key to Red Diamond's success, alongside its high quality product benchmarks, are its distribution tactics and ability to integrate new technologies, which have made them industry leaders.
Red Diamond knew they needed someone who could meet its grand ambitions and also fit in with the company's culture of a family-run business. This led to the appointment of Rolf van Rijn, SVP of Information Technology and Red Diamond Inc., who now manages the IT department including all the infrastructure and software development.
Making a difference from the ground upwards
Since he joined in January 2011, Van Rijn has helped spearhead the digital transformation of the business. As part of the IT group, Van Rijn took up the position of Enterprise Resource Planning (ERP) Developer/Analyst, helping to implement Microsoft's AX2009 (focusing on the interfacing of multiple 3rd party add-ons, including a custom Italian roasting and grinding system.
This custom roasting system used by Red Diamond is from Milan-based Scolari Engineering. Scolari's technological expertise in plant design and development of new products along with their ability to integrate ERP systems has helped Red Diamond to benefit from predictive maintenance. Predictive maintenance determines the condition of in-service equipment in order to estimate when maintenance should be performed. This approach promises cost savings over routine or time-based preventive maintenance, because tasks are performed only when warranted.
According to Scolari themselves, the company is "able to detect and flag over 1000 machine faults, frequently before anyone is aware that a problem exists".
But it wasn't the first project Van Rijn was tasked with when he came through the door, as he explains: "When I first joined, the team was in the middle of an ERP upgrade. I came on board as a developer and was thrown into the mix. It was hands-on for a long time, and so we went from one homegrown ERP system to Microsoft Dynamics.
"Red Diamond implemented a reporting system to move employees away from manual spreadsheets to full automation," he continued.
As well as supporting some significant changes such as the introduction of software solutions, Van Rijn explained how the business has "integrated every aspect of the business into the company's ERP system, so they can report on data and make educated business decisions."
A project that really piqued Van Rijn's interest was the development of a custom robotics program that could interface with the warehouse robots that stack the products. 
"That was one of my favourite projects here, it was fun. I had to be on the floor to deal with the robots and the software. It was great," he added.
The rise of Van Rijn has been rapid at Red Diamond, moving to a Director position before Vice President and eventually Senior Vice President, but his humble nature keeps him as grounded as the coffee beans he dedicates so much time to.
"I still see myself as the little guy, I do whatever is required. To get us moving into the right direction, I will still answer calls to solve any troubleshooting issues. It can be an employee issue with excel or an executive project, I will take care of it," he said.
The push for sustainability
One of the primary goals within IT environments is to achieve greater sustainability. As important as it is that the sourcing of Red Diamond's ingredients follows strict ethical guidelines, then the same applies to its infrastructure too. 
As Van Rijn explains: "As an IT department, we create a lot of electronic waste. We recycle as we should, but we also incorporate other initiatives. For instance, in our manufacturing facility, we use a lot of corrugated cardboard and typically after those have been used, they would be thrown away. We've invested in the materials and equipment to convert that corrugated material to a packaging material. So instead of throwing it away, we're using it to package our products."
Coffee and tea, as natural products, rely on a healthy environment from the initial source all the way through to their eventual disposal. With expectation increasingly among customers that the brands they buy are green, eco-friendly and sustainable, it's something Red Diamond is wholly committed to at its Alabama campus.
"We signed our first sustainability commitment in 2013, so we have worked to reduce fertilizer usage on the company grounds. We have 73 acres and we've reduced our water usage by 20 million gallons a year by using sustainable technologies," continued Van Rijn.
"We went from fuel based equipment to electric equipment. We also have strong relationships with our growers and we support communities economically through consistent and reliable purchases," he said.
An area that you may not expect a drinks company to branch out into is social sustainability. Van Rijn insisted this was a key part of the company's strategy:
"One example is our ongoing support of Grounds for Health, which is an organization that focuses on providing critical cervical cancer prevention services in our coffee origin countries."
Last year's pandemic presented another opportunity to reaffirm Red Diamond's dedication to its local community in Birmingham, Alabama, with The Great Grocery Giveback - a program established to provide a full week's worth of groceries every week to those who have been laid off or furloughed as a result of COVID-19. "The people of Birmingham have always been a huge part of the Red Diamond family" says Emily Wood Bowron, VP Strategic Marketing.
Ethics play a key role in the brand's identity, according to Van Rijn: "We always look for ways to improve like this. We want all of our customers to know that when they purchase our products, they're supporting a company with high ethical standards and vision for a sustainable future."
Quality products from quality relationships 
As is often the case with coffee, Van Rijn goes on to explain that "we deal with countries all over the world; so to consistently source the highest quality beans, we must work very closely with our growers and importing partners."
Freshness is often the currency in this trade. We prefer the beans that have been recently cultivated, to get our products out as fresh as possible." said Van Rijn.
Long-term relationships matter in Red Diamond's world, as Van Rijn explains: "We have employees who have worked here for decades. Partnerships with our importers and suppliers that have lasted for generations."
Reputation goes a long way for Van Rijn when choosing who to do business with too: "Our partner relationships are built on trust. When we build a relationship, we look for the most competent vendors and suppliers possible to get the finest product available. This includes our IT infrastructure vendors as well. That is all part of our core guiding principles."
The future is automated
When pressed on what lies ahead for Red Diamond, it's fairly clear from Van Rijn's perspective: "We're currently streamlining all our current business processes and implementing smaller projects to prepare for a major upgrade of our ERP system, as well as other software suites". 
Unsurprisingly, given the success of his automation projects, the Senior Vice President of Information Technology says he "would like to automate as many processes as possible - to mitigate the risk of error. The recent advances in artificial intelligence will help a long way in streamlining these processes." 
2022 will be a busy time for Van Rijn and his team. He added: "Our core message from the IT department is to streamline as many business processes as possible in order to help the company operate as efficiently and effectively as we can. All of this is done to better serve our customers. After all, the cornerstone of Red Diamond has and will always be our commitment to unparalleled quality, innovation, and customer service"