Top Ten Western Regional Chains the Rest of the U.S. Needs Now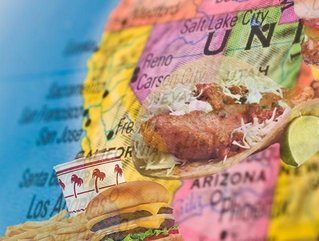 There's nothing like moving away from home and discovering that your favorite comfort foods are now unbearably out of reach. There's also...
There's nothing like moving away from home and discovering that your favorite comfort foods are now unbearably out of reach. There's also nothing quite like coming home again, visiting those regional chains you've missed, and realizing that they're just as good as you remembered.
Everyone has their own favorites, dependent on where you were raised and what was available at the time. Last month we visited 10 regional favorites from the South. In this edition, we're taking on 10 regional chains with diehard followings that got their start in the Western United States.
1. In-N-Out Burger
What else? Known for its quality burgers, friendly and well-treated staff, and no-longer-so-secret menu full of swirled Neapolitan shakes and gooey grilled onion-topped Animal Style fries, In-N-Out continues to rule the school as the poster child for the unattainable West Coast regional chain. While it now reaches as far east as Texas, In-N-Out is both notorious and respected for its reluctance toward rapid expansion, choosing instead to open new stores only where it can keep its supply chain compact and confidently source fresh ingredients up to its rigorous standards. Still, the burger chain has made steady strides toward growth—the brand has surprised burger fans around the world with pop-ups from London to Singapore, and this year it reached a new milestone by celebrating the opening of its 300th location.
2. Umami Burger
Launched in 2009, Los Angeles-based Umami Burger is a relative new kid on the block on this list. But it has grown quickly thanks to its unique twist on the Better Burger trend—playing up savory umami flavor elements like mushrooms, cheeses, anchovies and truffles—and its dedication to quality. "Umami Burger produces all of its own condiments [and] cheeses, and grinds its meat in-house throughout the day—all of the beef burgers are made with hand-ground, hand-formed premium steak," the company states. "The result is a sophisticated, tightly edited selection of burgers, side and accompaniments." Further results: a devoted cult following, accolades like a "Burger of the Year" award from GQ Magazine, and 24 locations across five states.
3. Rubio's Fresh Mexican Grill
Once upon a time, Ralph Rubio went on a surfing trip to Mexico and came back with an idea to bring their fish tacos to California consumers. In the 1980s he made that idea a reality, and ever since, San Diego residents have been able to enjoy Rubio's crunchy white sauce-topped fish tacos, langostino-stuffed burritos, and other bites of coastal cuisine. Today Rubio's has almost 200 locations, spreading steadily throughout the West from California to Arizona, Utah, Colorado, and Nevada—and even with this limited reach, its passionate fan base helped Rubio's win the title of Best Mexican Chain in Consumer Reports last week, beating out major national chains in the process.
4. The Habit Burger Grill
Established in Santa Barbara in 1969, The Habit Burger Grill (known to its fans as simply "The Habit") has been spreading across the West Coast for years, but it exploded into the national eye in 2014 when it was named "Best Tasting Burger in America" in Consumer Reports. The chain is now on its way to taking its simple menu—offering shakes, sandwiches, and salads along with its signature open flame-cooked Charburger—nationwide, signing franchising deals that will put Habit Burger Grills in Las Vegas, Seattle, and New Jersey.
5. Jack in the Box
From its seasoned curly fries to its mind-bending Muchie Meals (a chicken bacon and hashbrown sandwich with halfsie fries, yes please) and fearless use of jalapenos at every opportunity possible, Jack in the Box is such an innovator that it's hard to believe the San Diego-based burger chain isn't already national. But with locations in only 21 states, this quirky burger joint still has a long way to go.
6. Original Tommy's Hamburgers
California may not be famous for its chili like Texas or Cincinnati, but as it turns out its residents are awfully passionate about using it as a condiment. The burgers are massive and cooked to order, and everything from cheeseburgers and hot dogs to fries and tamales come piled high with thick-cut tomatoes, pickles, mustard, and a generous layer of chili con carne so iconic you can even buy it in tubs to-go.
7. Burgerville
Fresh local ingredients from a fast casual burger chain? It seems rare, but for diners in Washington State and Oregon it's only as far away as the nearest Burgerville. The Vancouver, Washington-based chain prides itself on premium ingredients from the Pacific Northwest, from Tillamook Cheddar-topped burgers to Walla Walla onion rings. That's the kind of commitment to quality that will earn your brand a cult following.
8. Blake's Lotaburger
The Southwest has flavors all its own, and Blake's Lotaburger uses those flavors to take the burger joint concept to the next level—its biggest claim to fame is its liberal use of Hatch green chiles, a type of chile native to New Mexico, as a topping for its burgers and hot dogs. In 2013 the Albuquerque-based chain ventured outside of New Mexico for the first time with two new locations in Texas. This could be a sign of good chile-topped things to come for the rest of the country in time.  
9. Wienerschnitzel
West Coasters of a certain age might remember when this was called Der Wienerschnitzel, but everybody can recognize the A-framed architecture of the Los Angeles-based hot dog chain's original stores—not to mention the mountains of chili cheese dogs and Polish sausage sandwiches on rye cooking up inside. While Wienerschnitzel is touted as the World's Largest Hot Dog Chain, the chain is currently only operating in about 10 states. But under the guidance of J.R. Galardi, Chief Visionary Officer and son of founder John Galardi, the chain has its sights set on growth.
10. Del Taco
When you can't decide between burgers or burritos—but you know you need some crinkle cut fries and superior fast food hot sauce in your life—there's really only one place to go: Del Taco. Founded in California's San Bernardino County, the fast food chain seamlessly blend's the state's two most popular types of fast food cuisine and has taken that concept up the West Coast and into 17 states.