Top 10 southern chains the rest of the US needs now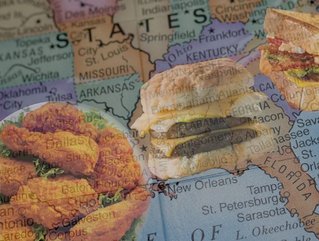 Check out the latest edition of...
There's nothing like moving away from home and discovering that your favorite comfort foods you grew up with are now unbearably out of reach. There's also nothing quite like coming home again, visiting those regional chains you've missed, and realizing that they're just as good as you remembered.
Everyone has their own favorites, dependent on where you were raised and what was available at the time. In this edition, we're taking on ten regional chains with diehard followings that got their start in the South.
1. Chick-fil-A
"While Chick-fil-A started as a regional brand, the company now has more than 1,850 restaurants in 41 states and Washington, D.C., and is regularly opening new restaurants in new communities," says a Chick-fil-A spokesperson. But the Atlanta-based chicken chain is making sure that as many people as possible have access to its waffle fries, spicy chicken biscuits, and Chick-fil-A sauce. "In 2014, Chick-fil-A will open 93 new restaurants and 27 licensed locations across the country. Next year, we're looking forward to opening approximately 90 more restaurants and 25 licensed locations across the country, including joining new neighborhoods in New England and the Seattle area."
2. Biscuitville FRESH SOUTHERN
What's better than biscuits? Fresh, high quality, house made biscuits—and those are Biscuitville FRESH SOUTHERN's claim to fame. "The company's scratch-made biscuits are made fresh in front of guests every 15 minutes," the chain explains. "The delicious family biscuit recipe and commitment to local ingredients put Biscuitville on the map of top Southern restaurants, and the recent addition of its new chef-inspired lunch menu has inspired a new generation." At the moment, the family-owned chain operates 54 restaurants within North Carolina and Virginia, but with plans for future expansion in the works, other states might get the chance to sample its extensive breakfast menu and new lunch menu soon enough.
3. Waffle House
To know Waffle House is to know the majesty of a waffle the size of your plate and the restaurant chain's intricate language—read up on the difference between having your potatoes covered, smothered, peppered, and all the way before you order. Waffle House has been growing, with more than 2,000 locations in 25 states, but the Georgia-based chain is still pretty much a bastion of the South. Until it decides to push outward to the North and the West, for the rest of us its iconic yellow tiled sign towering over the landscape will just have to remain a welcoming beacon on visits and road trips.
4. Bojangles' Famous Chicken 'n Biscuits
In a country full of nationwide and even global fried chicken chains, what sets Bojangles' Famous Chicken 'n Biscuits apart and makes it so famous? It could be its distinctive cayenne-heavy spicy fried chicken recipe with a flavor unlike anything else on the market. It could be the way that the chicken's prepared and marinated fresh every day. There are plenty of reasons for Bojangles to expand, especially since it's considered one of the most franchisee-friendly chains in the industry. The Charlotte, North Carolina chain has its roots in the south, but it's currently exploring opportunities from the Midwest to the Mid-Atlantic, where there's no doubt Bojangles' will continue to attract a loyal following.
5. Whataburger
This San Antonio-based franchise has made it as far west as Arizona and all the way to Florida in the east, but in terms of latitude you won't find one north of Oklahoma. That's a bummer for transplants far from home who find themselves missing Whataburger's Whatacatch fish sandwich, its Whatachick'n chicken sandwich, of course its signature Whataburger, and its line of housemade signature sauces so beloved by fans that they made it all the way into H-E-B and Central Market grocery chains.
6. Krystal
Southerners know that there's more than one chain in the United States serving up onion-topped steamed mini-burgers in little square boxes. Burger chain Krystal may not be as well known nationwide, but within its region it's a necessary treat for its square sliders, Krystal Chik chicken sandwiches, and its extensive breakfast menu. The chain has grown steadily over the course of its 82 years in business, expanding into ten states and recently moving its headquarters to Atlanta from Chattanooga, TN, but beyond that seems content to remain a Southern brand through and through.  
7. Zaxby's
Zaxby's is as well known for its Zax Sauce as it is for its crispy Fingerz and flavorful wings. First established near Georgia Southern University, the Athens-based chain has also earned a place in the hearts of many Southerners by making itself practically synonymous with college football. In 2013 Zaxby's struck a two-year deal with 25 Division I colleges, including eleven within the Southeastern Conference, and named itself "The Official Chicken of College Sports."
8. Raising Cane's Chicken Fingers
We've had Georgia fried chicken and North Carolina fried chicken, but where would a list like this be without some Louisiana-style fried chicken? Founded in 1996, the chain has already built up a strong base of fans who can't get enough of its crispy chicken fingers, Texas toast, and one-of-a-kind secret sauce. For now the Baton Rouge-based chain is primarily situated in the Southeast, but it is already starting to press forward into outlier states like Texas and Ohio—nationwide domination may not be far behind.
9. Cook Out
Cook Out takes the idea of an old-fashioned cookout to heart—its menu offers grilled burgers and hot dogs Lexington style barbecue, everything "cooked outdoors style," with a little bit of something for everyone. The chain was founded in Greensboro, North Carolina, and only started expanding out of state a few years ago after almost 20 years in the business. The chain has made its way into six states by now, but it might still be a while before fans can get their Cook Out Tray hushpuppies and corn dogs nationwide.  
10. Wingstop
Everyone loves good hot wings. Contrary to its name, Wingstop doesn't stop at just hot wings—it's the brand's range of sides and sauces from mild to atomic that keep customers coming back. The Dallas, TX-based hot wing franchise is strongest in the South by far, but it's on the move. In 2010Roark Capital Group, owner of several other successful chains including Arby's and CKE Inc, acquired the chicken chain with plans to help it grow. Today the chain is in more than thirty states and is even pushing into worldwide territory with locations in Mexico, Russia, Singapore, and China.
Let's Connect!