Why McDonald's and Panera Bread are Joining Forces with Apple Pay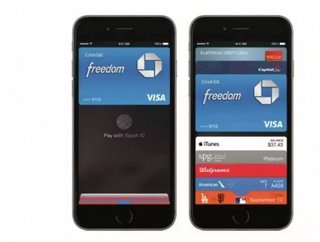 Apple had a lot more to show off than just the iPhone 6 and the Apple Watch at its annual Apple Live event today. Perhaps the most notable unveiling is...
Apple had a lot more to show off than just the iPhone 6 and the Apple Watch at its annual Apple Live event today. Perhaps the most notable unveiling is Apple Pay, a new service set to launch in October. The proprietary e-wallet payment system will allow users to make payments quickly and effectively, simply holding their device up to a reader while keeping a finger on their TouchID scanner to make a payment.
The new service definitely caught the public's attention in a huge way – Apple stock jumped several points when Apply Pay was announced. It has also caught the attention of major retail and franchise chains like McDonald's, Panera Bread, and Subway, all of whom have already signed on to offer Apple Pay as an accepted payment form for walk-in and drive-thru purchases.
Being an early adopter of new technology is always a risky proposition. What made these franchise pioneers decide to forge ahead and get involved with this new launch? It seems to have a little bit to do with being a savvy trendsetter, and a lot to do with injecting a healthy dose of added speed and convenience into the consumer experience.
According to Panera Bread, which will be integrating Apple Pay into its locations across the United States, the new service fits in seamlessly with the chain's continued efforts to move its customer service into the digital age. This effort already includes mobile ordering and a variety of payment options including Passbook, and Apple Pay should give consumers even more choice and convenience:
"We're proud to be one of the first retailers to accept Apple Pay using iPhone 6, iPhone 6 Plus and Apple Watch," said Blaine Hurst, Chief Technology and Transformation Officer. "For us, it's a natural extension of Panera 2.0 which brings together digital ordering, multiple payment options and improved operational processes to deliver an enhanced guest experience."
Reasoning is quite similar at McDonald's, which will be rolling out NFC-enabled payment scanners nationwide:
"Apple Pay enhances our global digital strategy and is a win for McDonald's customers who desire greater speed and ease," said Atif Rafiq, McDonald's senior vice president and global chief digital officer. "Apple's transformative mobile payments service brings a new level of convenience to McDonald's customers, allowing them to instantly pay and stay, or pay and be on their way. Our support of mobile payment options further demonstrates our commitment to be an influential leader in the retail digital space."
As we said, there is an element of chance involved whenever a brand puts itself in league with new technology – if delays or technical issues cause problems, consumer frustration can extend past the tech itself and reflect on your brand as well. But if Apple Pay takes off like it's predicted to, these restaurant chains will be in a very favorable position.