EuroShop 2017 – The world's #1 Retail Trade Fair - strong innovations in food retail.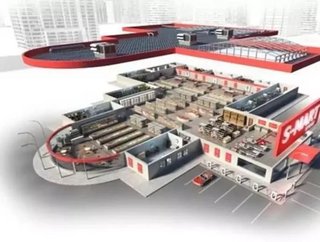 The 2017 edition of Euroshop, the worlds #1 retail trade fair, in Dusseldorf, Germany, is ending today. At glance, the fair received an estimate of more...
The 2017 edition of Euroshop, the world's #1 retail trade fair, in Dusseldorf, Germany, is ending today. At glance, the fair received an estimate of more than 100,000 visitors, and counted with 2,500 exhibitors over its 215,000 m2 of exhibition space.  It's been three days of intense presence of innovative solutions in the retail environment, including a few remarkable ideas in the food sector.
Danfoss exhibited systems and components for next generation food retail solutions to create sustainable supermarkets based on innovative concepts for improved operational and energy efficiency. As a market leader with more than 50,000 food retail installations worldwide, Danfoss leads the development of integrated Smart Store control solutions. 
The Danfoss Smart Store solution has been developed based on more than 30 years of close cooperation with the global community of food retailers, through ADAP-KOOL® solutions and more than 80 years in the HVAC industry. The Smart Store solution is currently running in more than 5,000 stores worldwide and the proven energy savings are up to 50 % per store.
The Smart Store solution enhances food safety and brings down the energy bill by integrated and smart control of refrigeration, HVAC, lighting and other applications, connecting and optimizing your supermarket from case to cloud. Every day, we are dedicated to make your supermarket just a little smarter.
Danfoss also presented the  next generation cold chain management system, Cool.it that offers seamless, cloud-based monitoring of the entire value chain. However, one of the special highlights will be the mobile training unit for carbon dioxide (CO2) refrigeration. The company had a few other surprises such as,  a compressor racks with heat recovery; variable speed drives and new ejector technology; digitalization solutions and electronic controllers for one-view store management and predictive maintenance; and a controller tray that handles up to 300 different control variants.
"With smart and integrated solutions for compressors, refrigerated display cases, cold rooms, heating, ventilation and air conditioning, lighting and connections to external grids we can prove energy savings of up to 50%," says Henrik Schurmann, VP Danfoss Food Retail.
Another  highlight was SES's imagotag, a specialist in Electronic shelf labeling systems that allows costumers on geo-localize products with precision, taking shopping for groceries to a whole new level, literally creating the supermarket of the future, as you could have seen on video.
SES-imagotag calculates having a growth of 176m euros on its sales in 2016, a 58% increase from the prior year. In France alone its sales are estimated to have risen in 56% against 60% growth in international grounds.
Thierry Gadou, Chairman and CEO of the SES-imagotag Group, commented as follows on the company's sales and outlook: "The excellent operational performance in 2016 was in line with our objectives and the ambition of our Leapfrog 2015-2020 medium-term plan. After an excellent year in 2016, both in signatures of new contracts and in structuring acquisitions, we are starting off 2017 with confidence. The reinforcement of our teams, particularly in our international subsidiaries, the quality of our products and our innovative solutions, endorsed by major international retail chains, confirm our ambition to establish our leading position on the American and Asian markets."
SES-imagotag confirmed its goal to exceed the €200m sales target in 2017; this is consistent with the Leapfrog 2020 plan, which set an average annual growth target of 30% between 2015 and 2020, to reach total sales of €400-500m by 2020.