Coca-Cola Resurrects Surge Online Because the Nineties are Back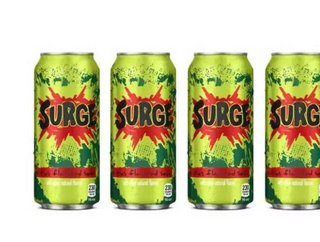 We all know that the 1990s are back, at least in terms of fashion and music trends. But for a true nineties kid, its never going to feel like the nineti...
We all know that the 1990s are back, at least in terms of fashion and music trends. But for a true nineties kid, it's never going to feel like the nineties if we aren't all getting hopped up and hypercaffeinated on the neon citrus soft drink bliss that is Surge, introduced in 1996 and tragically discontinued around 2002.
The Coca-Cola Company understands that. More importantly, it knows the kind of monetary force swelling behind the Millennial generation, between the younger Millennials reviving nineties trends today the older Millennials who lived through Surge the first time and still crave their nostalgic cult favorites. So in recognition of both sides of that lucrative coin, Coca-Cola is bringing back Surge after a twelve-year discontinuance.
Coca-Cola is citing Surge's enthusiastic online fan base, petitioning the company for years with Facebook pages and news articles and roadside billboards, as the catalyst for this relaunch. "They've inspired us," says Racquel Mason, associate vice president of sparkling flavors, Coca-Cola North America, in a press release for the Surge relaunch. "More than 128,000 people a dozen years after a brand left the market saying, 'Please bring it back!' That's the best compliment any brand could hope for. "This is the ultimate test… Can 128,000 fans build and sustain a brand? We'll see."
But that does raise an interesting point: when you're dealing with a niche product like this, it can be difficult to gauge true consumer demand. How many people really want Surge back, and how many people just like to talk about nostalgia items? How will the demand in one region compare to demand in another?
Instead of dealing with such logistics and putting stress on its supply chain over what could turn out to be a brief novelty offer, Coca-Cola has instead decided to take this launch online by partnering with Amazon to give its 1990s throwback a uniquely modern e-commerce rebirth.
"If expectations are met, this may be only the first of a variety of efforts we explore to launch niche products through e-commerce relationships," said Wendy Clark, president of sparkling and strategic marketing, Coca-Cola North America, in Coca-Cola's press release. "This will be a great learning experience for us and a refreshing opportunity for fans."
"In this new era of marketing, we're exploring segmented delivery of our portfolio to consumers," adds Mason. "Previously, a smaller brand would never have had a realistic shot at commercialization. Now with Amazon, consumers can order a product like SURGE and have it delivered directly to their doorstep. It's the democratization of demand."
With that, original formula Surge will be available through http://www.amazon.com/surge in 12-count case packs for an as-of-yet unspecified price. It's an interesting new frontier in retailing, especially from a major brand like Coca-Cola. If it pays off and Surge finds new sustained life in the digital retail channel, perhaps other companies will be inspired to do the same and revive some cult favorites of their own.