An in-depth look at the booming chocolate store concept: Q&A with the co-founder of Cacao 70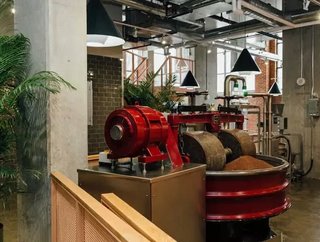 It's an exciting time for the chocolate industry. The global chocolate market is forecast to grow at a compound annual growth rate (CAGR) of 5.37% acc...
It's an exciting time for the chocolate industry. The global chocolate market is forecast to grow at a compound annual growth rate (CAGR) of 5.37% according to Technavio, and new R&D innovations are helping to boost consumer demand. We spoke with Co-founder of Cacao 70, Yingzhi 'Easy' Wang, to find out more about emerging chocolate trends, new eatery concepts and the company's plans for the future...
What is Cacao 70 and what makes it unique?
The core belief behind Cacao 70 is simple: chocolate has the power to take you places. A cup of hot chocolate can take you back to your childhood, a milkshake and you're transported to a 50s diner.
Cacao 70's quest to transform chocolate into an exciting flavour adventure has helped us carve our own path from cocoa bean sourcing, product development to new store concepts – all tracing back to the first store opening in Montreal seven years ago. Over the past several years, CACAO 70 has evolved into three unique store concepts – the Eatery, the Sweet House and the Dip Shop - which offer different chocolate experiences to its customers.
Currently, we source our beans from the Dominican Republic and Peru. By buying our beans at higher than the market value we also aim to better support local farmers.
How does the company go about product development and R&D? Why is innovation important in the chocolate sector?
In some ways, working with chocolate is similar to working with coffee beans. The flavour profiles will change depending on the region where the beans are harvested, the roasting temperature/time, etc. When we receive new batches of beans, we will test them out and adjust our recipes according to the beans. This is one of the reasons why the taste of different batches can differ as they have their unique profiles.  
Chocolate can be traced back thousands of years ago to the Mayans. Throughout the years, people have discovered different ways to work with cacao, from drinking to making chocolate bars. We believe that there are still some undiscovered ways of making chocolate. We are exploring new chocolate innovations so we can offer them to our customers.   
Could you tell us a bit about the Cacao 70 factory?  
Our factory is open to the public. People have the opportunity to experience the entire process of bean-to-bar chocolate making - from hand picking the cacao beans to the final tempering stage. We also have a monthly factory guided tour for people who are interested to know more in depth of each step of chocolate making. The factory also has a cafe which offers a full range of retail products and selected CACAO 70 items. In addition to that, our factory also acts as a testing ground for our newly created dishes and drinks before they become available in all the CACAO 70 Eatery, Sweet House and Dip Shops.
SEE ALSO:
Could you tell us a bit about you store concepts? Why is it important to offer different experiences? Is experiential dining something you're trying to tap into?
Nowadays, people are busy with their daily work and studies. Therefore, we created three store concepts to provide people with space to 'escape' their daily lives.
CACAO 70 Eatery is our original full-service chocolate-focused restaurant concept which offers most of the dishes, drinks and dessert items. This allows people to enjoy good chocolate together with their friends and families. CACAO 70 Dip Shop, on the other hand, is a counter style shop with no seating. If people just want to take a quick break in the middle of the day, they could just go in a grab an ice cream to go. If people want to sit down and only have 30 mins or an hour, they could visit our cafe style concept - the CACAO 70 Sweet House.
Cacao 70 started life as a drinking chocolate firm. Why did the company decide to expand its portfolio in a new direction? 
The chocolate drinking bar was the brand's starting point, it was the founders' initial idea. We always listen to our customers about what they like and soon found out our customers had an appetite for more chocolate goodies. We expanded our offering in the first few years of operating based on customer's requests and suggestions. We are also developed new chocolate recipes based on the beans we sourced from different places around the world. It is important to have unique products dedicated to each store concept as the three concepts also operate in their own way. Our factory and product development team have taken that into consideration and have developed products specifically for the store in mind.   
What trends are you seeing in the chocolate market today?
In general, people's eating habits are becoming healthier and healthier. This has aided the dark chocolate market. Chocolate with 70% or more cacao content has seen growing popularity. It contains less sugar than milk or white chocolate which makes it a healthier choice for consumers and it also allows people to taste the true flavour of the cacao beans.   
Cacao 70 is based in Canada – in what ways is this market unique?
Throughout the years, we have noticed that more and more people are interested in bean-to-bar chocolate concepts. People are more curious about how chocolate is made and the process behind chocolate making. We also noticed more and more chocolate makers were joining the chocolate industry in recent years. From Cacao 70's viewpoint, we believe the chocolate industry is growing as a whole. Also, at our Cacao 70 locations, we are seeing more and more people choosing dark chocolate over milk or white chocolate. The chocolate industry is certainly undergoing some interesting developments.  
Do you have plans for expansion? Where do you see as a potential new market?
We are trying our best become the first chocolate cafe brand in the world. We recently opened our first Chinese location in Tianjin and in the United States in fall this year. Chocolate is known everywhere in the world, and I believe there's a potential market anywhere if the people love chocolate there.