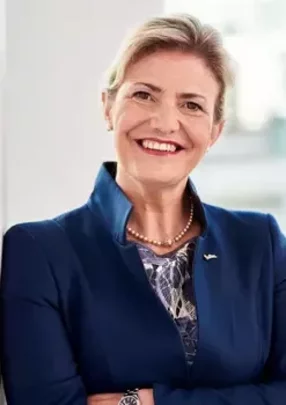 Inge Huijbrechts
Global Senior Vice President Sustainability
Inge Huijbrechts, Radisson Hotel Group looks forward to a sustainable future
Sometimes defining moments in a life and career are easy to pinpoint, while other executives have a less obvious path. For Inge Huijbrechts – Global Senior Vice President Sustainability, Security and Corporate Communications for Radisson Hotel Group – one moment stands out that encapsulates a passion for travel with concern for the planet. That 'moment' was a four-year sailing trip around the world, beginning in Belgium and ending with Inge first joining Toyota Motor Europe to lead sustainability and then Radisson Hotel Group. 
"The trip went from Belgium to Australia, it took four years and it had been a life dream of mine," recalls Inge, who embarked on the journey with her ex-husband.
"It seemed like the right moment, in our lives and our careers, to do it and actually it was. Once you get your mindset to a project like that, it's doable to give up everything, to sell your house, give up great careers and go. It's not a holiday, it's a different way of life. A journey like that is an exploration to yourself, to the nature around you, to the state of the world in very remote and pristine places."
Although Inge got to see some of those incredibly remote places, they were far from untouched by the now recognised scourge of plastic waste – something which clearly had a lasting impact on her and her later career choices.
"Nature is stunningly beautiful," she says, "but you see the impact of plastic pollution firsthand, even when you cross the ocean. You see plastic floating and on the windward side of all these remote islands, no matter where they are. So, luckily the topic is now on the global agenda."
Sustainability is not just on the agenda, it's arguably the number-one priority for organisations, governments and individuals as we begin to emerge from the COVID-19 pandemic. As was expressed in the recent IPCC report published on August 9, climate change is happening, and we need mobilise massively and decisively now that we still have a bit of time to turn the tide. 
Sustainability has been talked about for decades – ever since the Brundtland Report more than 30 years ago – and in the corporate world, has professionalised over the last 15 years. 
"After a career of 10 years as a successful executive in IT, when I came back I was lucky enough to get hired by Toyota to be their CSR manager for Europe," Inge recalls. "And that's still an amazing stroke of luck for me, but they needed someone who had the passion for sustainability, an understanding of the subject, and an engineering background, which I do have. Plus, they were looking for sales capabilities to sell sustainability and corporate responsibility internally – and that was my chance."
It is an opportunity that Inge grasped with both hands, leading the team at Toyota for close to four years before joining Radisson a decade ago.
"At Radisson Hotel Group we speak about responsible business in terms of Think People, Think Community and Think Planet," says Inge. "So that's the three elements we care about in our mission to be a responsible company. Our duty of care globally, in an organisation with 1,600 hotels in 120 countries, is to keep everyone safe: guests, team members and people in our supply chain."
Read the full story HERE