Taco Bell Launches New Mobile Ordering App with a Social Media Blackout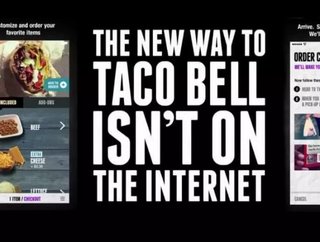 Taco Bell went dark today – in a striking amount of effort, the brands usually robust social media presence has been blacked out. Facebook posts f...
Taco Bell went dark today – in a striking amount of effort, the brand's usually robust social media presence has been blacked out. Facebook posts for the Yum Brands subsidiary are all hidden, Tweets have disappeared, and both along with Instagram and its home website point to a single dark text image stating that there's a new way to Taco Bell, and it isn't on the internet or social sites – it's on the app.
With that, Taco Bell launched its dedicated mobile ordering app, now available on Apple iTunes and Google Play. "You asked, we answered," reads the app's download page. "You can now order Taco Bell on your phone and skip the line inside the restaurant. Plus, find out about new items and get exclusive offers. You can thank us later… and you will."
They're probably right about that last part, because there's more to the app than just mobile ordering. The app also features unlimited customization – who knew you could add guacamole to anything for 40 cents, or myriad sauces or bacon – plus a patent pending "Rotate to Reorder" feature that will allow consumers to easily re-up on combos and custom creations with a simple wrist motion.
"Decades ago, your car keys were the ticket to convenience at the drive-thru. Today as food culture changes and generations grow up with smart phones, our customers seek restaurant experiences that fit their lifestyle," said Taco Bell Corp. president Brian Niccol, president in the brand's official launch statement. "We believe mobile ordering and payment is the biggest innovation since the drive-thru. Our new mobile ordering app is just the beginning of how we're using technology to break down the walls of our restaurants and become more transparent with our customers about our food."
Today may be the launch date, but Taco Bell has seen mobile ordering in the future for quite some time now – complex apps aren't usually made overnight, and this one is years in the making. "We began this journey two years ago because we knew it was important to listen and know exactly what the consumer wants in a mobile experience," stated Tressie Lieberman, senior director, digital marketing and platforms, Taco Bell Corp. "The Taco Bell mobile ordering app delivers location based ordering, a secure payment system and personalization – all while unlocking the Taco Bell kitchen and ingredients like never before. These features are just the beginning. We'll continue to listen to our community and evolve the app to meet their needs in a way only Taco Bell can."
It's all creatively interactive, and a strong way to knit its fan base together even closer in a new way. It will be back to business as usual on Taco Bell's normal social media channels sooner rather than later, but there's no way that today's blackout campaign will fail to make an impact. We look forward to seeing the first-day download numbers and following how this new play will change Taco Bell's game in the long run.