McDonald's India VP discusses the role of breakfast in the QSR industry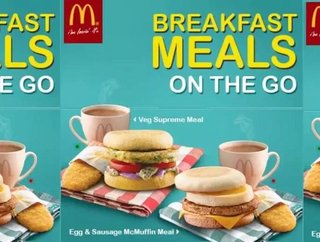 We know that McDonalds is thinking a lot about breakfast right now. In the United States, McDonalds has been locked in battle with Taco Bell and plenty...
We know that McDonald's is thinking a lot about breakfast right now. In the United States, McDonald's has been locked in battle with Taco Bell and plenty of other contenders to be the reigning champion of the breakfast day part. But the global burger chain is putting breakfast high on its list of priorities in other regions around the world as well. Ranjit Paliath is Vice President of Business Operations for McDonald's India, West and South. This week Paliath spoke to Rashi Bisaria of marketing magazine Pitch on Net to discuss the chain's renewed focus on breakfast in India and what it means for the country's consumers.
RELATED TOPIC: McDonald's Might Be Rolling Out All-Day Breakfast At Last
As Paliath explains, while breakfast is huge for McDonald's everywhere, it has even more significance here—in India, a country where the majority of consumers skip breakfast altogether in favor of later meals, McDonald's was the first fast food chain to offer a dedicated breakfast menu. Paliath believes that changing tastes and consumption patterns are paving the way for increased interest in breakfast menus in India and other emerging markets—and McDonald's is playing an important role in encouraging that trend further.
"As changing lifestyles see people being increasingly rushed for time, Breakfast is fast becoming a sweet spot for the QSR segment and for McDonald's not just in India but across the world," said Paliath. "We have been a leader in branded OOH breakfast category globally but we believe there's still room to grow."
RELATED TOPIC: Who's behind the new Go Breakfastarian viral marketing campaign?
McDonald's "National Breakfast Day" movement started in 2013 has not only helped raise the profile of the breakfast day part, but has also helped impart an importance to the concept of breakfast throughout the India market. Paliath notes that this is part of a bigger trend toward increased consumer interest toward QSR dining overall.
"Indian consumers have definitely become experimental and savvy in their taste and choice when it comes to dining out apart from expecting better quality and hygiene," Paliath said, explaining that annual spending among middle class households has more than doubled, and that people are now eating out around seven times a month (a significant jump compared to the three-times-a-month average that was the norm a couple of years ago). According to Paliath, restaurant chains like McDonald's must pick up on this and respond to its consumers' needs in order to grow.
RELATED TOPIC: Is McDonald's new simplified drive-thru menu the way of the future?
"Customer needs are always evolving and McDonald's keeps its ears on the ground, observing trends and constantly innovating our menu offerings accordingly," he said. "Today, McDonald's India is widely recognized for having successfully transitioned from being just another international brand to being seen as caring enough to cater to local tastes and cultural ethos, without having to tinker with core brand values."
Check out the rest of Paliath's insights in the full interview here.
Check out the latest edition of Food Drink & Franchise!
 [SOURCE: Pitchonnet]