Four Reasons to Follow Dunkin Donuts in Adding Almond Milk to Your Menu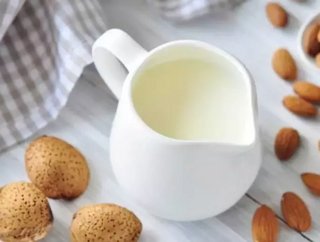 Dunkin Donuts has always had a handle on what its fan base want, and what they want is almond milk. This week Dunkin Brands is meeting those demands, an...
Dunkin Donuts has always had a handle on what its fan base want, and what they want is almond milk. This week Dunkin Brands is meeting those demands, announcing a partnership with Blue Diamond to offer Almond Breeze brand almond milk across three-quarters of its locations throughout the United States.
This announcement shouldn't come as any surprise. As WhiteWave Foods reported earlier this year, almond milk is a juggernaut in the plant-based milk category, with sales growing by as much as 50 percent year after year. It's not perfect in every way – just recently Tom Philpott wrote a series of scathing takedowns of almond milk in Mother Jones, citing both salient points about its role in California's drought and less salient points about its nutritional value compared to eating whole almonds. But nothing's perfect, and the fact is that almond milk is gaining a consumer following that cannot be ignored.  
So what does that mean for your chain? Should you add almond milk as an option to your menu as well? Well it's delicious, so it's got that going for it. But if that's not enough here are four other reasons to consider taking almond milk on. 
4. You'll Be Ahead of the Curve
Almond milk may be a fan favorite right now, but its availability is mostly relegated to small mom-and-pop coffee houses and chains. As Businessweek points out, not even Starbucks offers an alternative to the cow's milk or soy milk standards right now. You may not be the first to offer almond milk as a standardized alternative – Dunkin Donuts has already beat you to there – but you can still be one of the first, which can still be enough to set you apart from your competitors.
3. Consumers Want Non-GMO Options
Regardless of how you feel about genetically modified products, it's undeniable that a significant portion of consumers are pretty concerned with what they're putting in their bodies. It's also undeniable that the vast majority of non-organic soybeans grown in the United States are genetically modified, which can be a real turn-off for those consumers. On the other hand, there is currently no such thing as a commercially available genetically modified almond at the moment – while some consumers are shying away from almond milk for other reasons (see: the current shunning of thickening additive carrageenan), others will appreciate the ability to choose a milk alternative that is more likely to meet their standards.  
2. Consumers Want Low Calorie Options
There are plenty of consumers who are watching their waistline but still want a coffee drink to brighten their day. Those tend to be the consumers who order their coffee with skim milk, but what about those with food allergies and sensitivities? On average, almond milk contains significantly fewer calories and saturated fat compared to soy milk. By offering almond milk, you're offering consumers who want it a more weight-conscious choice that could sway them to order that larger espresso drink after all.
1. Consumers Want Options, Period
That's the heart of it, really. If you are the average omnivore with no allergies or food sensitivities, you may not have ever thought much about the milk that goes into a cappuccino or a latte. But to a rapidly rising degree, that's not an accurate depiction of the majority of consumers. We're seeing more and more consumers dealing with food allergies, not to mention those following voluntary dietary restrictions like a vegan lifestyle or the Paleo Diet.
For years, the standard non-dairy milk alternative has been soy milk. But only offering one alternative has its own problems. There are also plenty of consumers who don't consume soy products for a variety of reasons – they're allergic, it's not part of the Paleo diet, or they don't agree with how it's grown (as we mentioned above). In the end, it doesn't matter why they're trying to avoid regular milk or soy milk. What matters is that you want to offer products that will help them stay brand loyal no matter what restrictions they're facing. That means providing choices, whether it's rice milk, oat milk, hemp milk, or of course almond milk. Your customers will appreciate it. 
[SOURCE: Businessweek]