Denny's and Krystal step in after McDonald's rejects Burger King's Peace Day offer [UPDATED]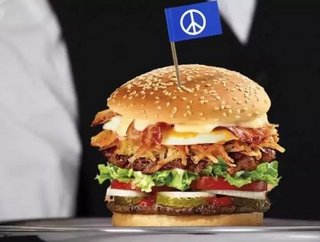 Last week it seemed like the sky was the limit and anything was possible: through a helpful informational video and website, plus full-page ads in the N...
Last week it seemed like the sky was the limit and anything was possible: through a helpful informational video and website, plus full-page ads in the New York Times and the Chicago Tribune, Burger King proposed a one-day "Burger Wars ceasefire" to raise awareness for the upcoming United Nations International Day of Peace. Burger King offered the concept of a one-day pop-up shop in Atlanta (the halfway point between McDonald's Chicago headquarters and BK's own HQ in Miami), where staff from both institutions would serve "McWhoppers" using an equal amount of ingredients from the Big Mac and the Whopper, with proceeds benefiting non-profit organization Peace One Day.
Of course it was a daring publicity stunt and a marketing tactic. But it was an ingeniously savvy one nonetheless, one that understood what consumers are looking for right now—lighthearted marketing, smart CSR campaigns, and a social media-worthy dining experience—and recognized the impact that the brief partnership could have. On the one hand, it could have been an undeniably fun pop-up with no strings attached. On the other hand, if McDonald's and Burger King could lay down their differences and make peace for a day, why can't everyone?
RELATED CONTENT: Taco Bell Launches Biscuit Tacos and Compares McDonald's to Cold War East Germany
It's not like McDonald's had an easy choice here. As Forbes contributor Will Burns pointed out last week, there was no option that allowed McDonald's to come out looking better than Burger King—agree and you're criticized as a follower, but decline and you're branded a killjoy at best and a warmonger at worst. Of course, of those two choices, opting to play along seemed to most to be a clear winner. Right?
RELATED CONTENT: [INFOGRAPHIC] Does Your Brand Have a Social Purpose? Here's Why It Should
Unfortunately, McDonald's went the killjoy route and put the kibosh on the proposal almost immediately. McDonald's CEO Steve Easterbrook posted to Facebook an ultra-serious dismissal that seemed to criticize the idea as frivolous while at the same time calling Burger King out for going overboard:
A disappointment for Burger King? Sure. But it's not over yet: while McDonald's was busy closing a door, notably media savvy Denny's and popular Southern burger chain Krystal are now attempting to open windows. On Monday Denny's posted full-page ads of its own in USA TODAY and the New York Times, picking up on the fun mood of Burger King's original ad and suggesting that the two join forces instead to create a Whopper-Grand Slam hybrid:
On a more regional scale, slider burger chain and Atlanta native Krystal took to social media as well to propose a partnership built on Southern hospitality and tiny square slider versions of a Whopper:
So far it doesn't appear that Burger King has responded to either offer, but there's still plenty of time and we hope they do. We hope they respond to both, and make something great happen from all of this attention and building momentum. Even without McDonald's participating, it could be a very inspiring Peace Day after all. 
UPDATE: Burger King has responded! In a new post via Tumblr the burger chain announced that, while it is still waiting patiently for McDonald's to come around, meanwhile it is taking Denny's and Krystal, plus U.S. regional chain Wayback Burgers and Brazilian chain Giraffas, up on their partnership offers and will be working with them to create a new Peace Day Burger featuring key elements of their signature sandwiches. With a pop-up shop already under construction, the next month should be exciting. Check out the full letter below: 
Check out the latest edition of Food Drink & Franchise!