Creativity Meets Collaboration in Arby's New King's Hawaiian BBQ Brisket Sandwich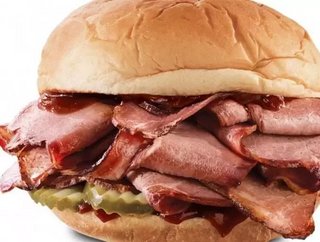 Theres strength in numbers. Thats a concept that has stood the test of time, and one that all fast food franchises should take to heart. Collaborating w...
There's strength in numbers. That's a concept that has stood the test of time, and one that all fast food franchises should take to heart. Collaborating with other like-minded brands draws on the biggest strengths and the consumer appeal of both to create a product that's even bigger than the sum of its parts. Collaboration is also a simple way to elevate consumer interest through brand recognition, and a successful launch means increased exposure and better sales on both sides of the partnership.
This season Arby's launched the King's Hawaiian BBQ Brisket sandwich, a new LTO building on the initial success of last year's collaboration with specialty bread brand King's Hawaiian. We sat down with Jim Taylor, Arby's Senior Vice President of Product Development and Innovation, to discuss the new sandwich and what it means for the franchise and its future.
Food Drink and Franchise: What was the inspiration for new sandwich and the collaboration with King's Hawaiian?
Jim Taylor: From a product development standpoint, a key to Arby's success has really been taking a look at what Americans love to eat and then trying to figure out how to put a unique twist on it that makes it even more craveable and of more value to our guests.
Great sandwiches are really centered around two things: really flavorful high-quality meat, and then bread that is equally delicious. We happened to have great tools for both of those things in our arsenal already when we launched our first step with King's Hawaiian back in May of 2013. It's just fantastic bread – the sweetness of it, the softness of it, the flavorfulness of it – and a lot of consumers are starting to recognize this brand across the whole USA. So that innovation, when we applied it to roast beef, was a big success.
In October of 2013, we launched our Smokehouse Brisket, which is smoked for 13 hours in a fantastic facility with hickory wood and these amazing pit BBQs, and so we felt like "wow that is the perfect way to elevate a classic American taste for BBQ, with this really premium high quality brisket meat that people quite frankly can't cook or don't want to cook at home and take that amount of time and care to do, with this amazing premium high quality bun and put those two things together.
FDF: How does this new sandwich reflect on Arby's overall product innovation strategy?
JT: We believe Arby's defines a unique position in the marketplace. We're starting to call that place "fast-crafted." What we are trying to do for our guests is deliver the quality and made-to-order with care aspect of fast casual within the convenience of QSR. This sandwich I think is a great example of that. This is really about slow food cooked with culinary expertise and care – 13-hour smoked brisket – but served within a minute or two through a drive-thru for under six bucks.
In addition to beef items, we are looking to continue reinforce the variety and quality of other proteins we carry on our menu.  Guests are starting to discover the Arby's is a lot more than just roast beef.
Again, I think it's a perfect representation of where we want to take the brand – to really knock people's socks off for the type of food they can expect to get at Arby's. It's always going to be about great high-quality meats and great bread as components to a great tasting sandwich, but within a price point and certainly within a type of time frame they've come to expect with the premium side of QSR.
FDF: Why partner with Kings Hawaiian? What is the benefit of partnerships for you and your partners?
JT: The foundation that our brand was built on, even when the Raffle brothers started it fifty years ago, was all around differentiated high quality premium products. So we want to partner with people from a brand standpoint that share that value of differentiated high quality premium food, but that also share the value of saying that it shouldn't be exclusive. I kind of like to say that we're about the "democratization of deliciousness."
In terms of partnering with brands, we can provide greater access to guests through our footprint and the million-plus guests we serve systemwide per day. In turn, for providing them access, we get access to unique differentiated high quality products and ingredients that help us build that brand culinary point of view that we want to carry in the marketplace that ties back to this fast-crafted positioning.
It's just a wonderful purpose and value to get up every day and think about what can we introduce a mass consumer to – what flavors, what ingredients that they may not have had a chance to try yet, but once they do they're going to be hooked.
FDF: How will this sandwich help Arby's maintain its steady growth?
JT: LTOs are the lifeblood of many QSRs, and that goes for us as well. This is just the latest chapter in what we're writing, which is a consistent steady stream of highly compelling, unique, differently-shaded LTOs that are going to motivate folks to drive past several other QSR choices to get something that they can only get at Arby's and can't get at home. We're finding great success with our sales this month as we've launched this sandwich, and we're just looking to keep that momentum rolling in the coming months with innovations that build on this success model that we think this sandwich certainly represents.
FDF: What does the future hold for Arby's as far as new upcoming LTOs?
JT: We're a brand that was founded on roast beef – we love beef and our guests love beef, and we're going to be introducing additional ways to enjoy beef, and one of those is coming up soon in December. It's not going to be brisket or roast beef, we're going to give people another way to enjoy a premium sandwich and bring that to the masses. We're excited about that one for sure.
Overall we're looking to have a portfolio of LTOs to keep things fresh each and every period and give people something to look forward to. We're confident that we can sustain the success that we have here in our product innovation pipeline because of the people we have in place, our partnerships we have in place, the process we have in place, and it's our key strategy for winning which is a consistent stream of menu innovations. In terms of what the brand can become – in terms of fulfilling this unique market positioning, this fast craft positioning of high quality made to order food within the convenience of QSR – we're just getting started.