Burger King Cuts Out the Beef for First India Location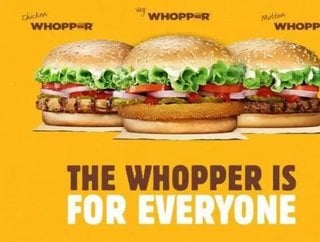 Burger King took a step forward this week, opening up its first ever location in India. On Monday, Burger King opened the doors to a spot at the Select...
Burger King took a step forward this week, opening up its first ever location in India. On Monday, Burger King opened the doors to a spot at the Select Citywalk mall in New Delhi. This marks the hundredth country to host a Burger King, and is just the beginning: according to India's Business Standard, the burger franchise plans to open twelve locations throughout the country within the next three months.
"It is fitting that the celebration of our 100th country is happening in India, a vibrant and exciting marketplace," said Elias Diaz Sese, president of Burger King's Asia Pacific division, in a press release announcing the launch. "I'm excited about our potential in India and believe we have the right partner and experienced team to make this market a success for the BURGER KING® brand."
As many North American and European fast food franchises know, opening in India can be a difficult maneuver for one simple reason: much of India's population practices Hinduism, which forbids eating beef. In other words, the usual hamburger patty is out and franchises have to think creatively about substitutes that are as flavorful and appealing as they are cost-effective.
On the plus side, this out-of-the-box thinking usually results in some inventive new menu items that become the envy of vegetarians (and even just consumers who like a change every now and then) around the world. Burger King is no exception: the franchise came out of the gate strong with the announcement of three non-beef alternative takes on the Whopper: a chicken Whopper, a mutton Whopper, and a veggie patty Whopper. Leading up to the store opening, Burger King gauged interest by teaming up with eBay to pre-sell Whoppers online (there was definitely consumer interest). Since then, BK has followed up with the launch a host of beef-free menu items like a Spicy Bean Royale, a Paneer King Melt (yes please), and a Tandoor Grill chicken sandwich.
Still, even with all these dietary conditions under control, not everyone is so excited about Burger King's entry into India. Dietary health has been an increasing concern in the country, and PepsiCo was criticized only recently for taking on a role in India's school lunch program. The Business Standard reports that some consumers have similar concerns about Burger King's growth plans:
Health experts are worried because obesity in India has reached epidemic proportions, with the country likely to surpass the US on the number of obese people it houses in the next 5 years. India's growing fad for junk food is a large contributor to this problem, which they believe can only be overcome by effective policy and regulation. 
Nevertheless, Burger King doesn't seem to be worried, and the fact that its Whopper online presale sold out in 36 hours makes a good case that there is a demand for its menu among India's consumer base. The franchise is looking forward to following in the footsteps of McDonald's and KFC and building a strong presence in this emerging market.
[SOURCE: Business Standard; Nasdaq; Forbes]