Taco Bell unleashes Cap'n Crunch Delights nationwide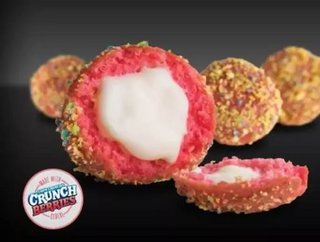 Its the Fourth of July—Independence Day, if youre within the United States. Taco Bell is celebrating Independence Day weekend by exercise its free...
It's the Fourth of July—Independence Day, if you're within the United States. Taco Bell is celebrating Independence Day weekend by exercise its freedom and unalienable right to create the most mind-bending crossover treats it can imagine: Cap'n Crunch Delights are now available nationwide, and every Taco Bell (or Cap'n Crunch) fan in the United States has the freedom to eat as many as they can handle.
RELATED TOPIC: Taco Bell launches new mobile ordering app with a social media blackout
Taco Bell started testing its Cap'n Crunch Delights at a single test market location in Bakersfield, California back in February. But the chain is certainly no stranger to out-there concepts—or to cross-marketing tie-ins, for that matter. Last year the chain turned to beverages, partnering with candy company Mars Inc. on a Strawberry Starburst-flavored Freeze. This April Taco Bell started testing Fritos Tacos and Chili Cheese Fritos Tacos as a potential new Frito-Lay partnership follow-up to its ridiculously successful Doritos Locos Tacos line.
There is also the perennial favorite Mountain Dew Kickstart, a partnership between Taco Bell and Frito-Lay parent company PepsiCo. Cap'n Crunch itself is owned by Quaker Oats Company, another PepsiCo subsidiary.  
RELATED TOPIC: Taco Bell debuts Fritos Tacos in test markets: are consumers ready for new rollouts?
Available as a side (in packs of two, four, or 12) the Cap'n Crunch Delights are similar to the fast food chain's already popular cinnamon and sugar coated Cinnabon Delights (also another cross-marketing tie-in with, of course, Cinnabon). The difference with these more adventurous and outgoing pastries is that they're bright pink and covered in a crunchy Technicolor coating of Cap'n Crunch's Crunch Berries cereal, then filled with a creamy "cereal milk" icing to tie the breakfast cereal theme together.
Taco Bell employs a lot of bold strategies like this. But more often than not, they pay off for both Taco Bell and the company it's working with to create these bold concoctions. If feedback is good, this could be another hit for the dynamic duo of Taco Bell and PepsiCo.