Smart food – how tech is transforming agriculture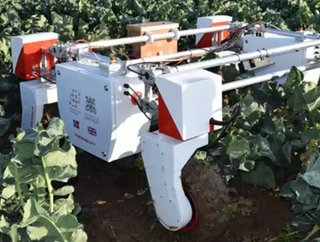 Technology is transforming the entire process of bringing food to our plates. The way we farm, distribute food and check for disease are all undergoing...
Technology is transforming the entire process of bringing food to our plates. The way we farm, distribute food and check for disease are all undergoing massive changes as agriculture gets smarter and smarter
Technology is everywhere. Everything we interact with in our daily lives has been integrated with the digital world in some way, most likely throughout its production. Even down to what we eat. Farms growing crops and dairy producers are two segments that are particularly under pressure at the moment. Difficulties in recruiting seasonal workers, and pressures to reduce pesticides and chemicals for farmers, while an increasing demand for dairy products at ever lower prices, is putting a strain on production resources. However, recent advancements in technology could solve these problems.
Professor Simon Pearson is the director of the Lincoln Institute of Agri-food Robotics (LIAT) at the University of Lincoln. Researchers here are collaborating with industry partners from across the agri-food chain to develop efficient, new robotic systems for farming and food production. Included among the university's partners are major global names such as Nestlé, Tesco, Bakkavor, Bosch, Produce World Group and BOC.
Robotics will be the next revolution in farming and food production according to Professor Pearson: "The food chain is worth £108bn GVA to the UK economy. It employs 3.8mn people and it represents the UK's largest manufacturing sector – bigger than the automotive and aerospace sectors combined – but it is currently experiencing a great deal of pressure. Innovation is absolutely key to easing this pressure and that is why so much of our research aims to find radical new ways of performing familiar tasks."
RELATED STORIES:
LIAT introduced its first agricultural robot to the farming world earlier this year. Thorvald is rather excitingly modelled on the Mars Rover, and looks more sci-fi than industrial with its square frame and iPod white chassis. It can be used to carry out items to workers in the fields – for example, trays of plants. The robot is also designed to control weeds, using ultra-violet light to precisely kill off mildew as it runs over the crop rows at night.
Making the robot sound like something even more out of Blade Runner than the English countryside, Thorvald has recently been retrofitted with meteorological and soil monitoring instruments. A spokesperson for LIAT explains: "These measure high energy sub-atomic particles that are generated by cosmic rays when they enter the Earth's atmosphere from both inside and outside our own Milky Way Galaxy." For farmers, this all means that Thorvald is able to determine soil moisture accurately, so soil irrigation can be regulated properly. LIAT now has a grant to initiate production of the first fleet of these robots.
Globally, the demand for dairy products is rising, and so is the demand for technologies to ensure safer and more efficient production and distribution, according to a 2017 report from Grand View Research. In 2016, the dairy processing equipment market was worth around $8.84bn. By 2025, that market is expected to expand to $14.84bn.
Simon Sheppard has worked as a freelance project manager for all the big dairy processing suppliers. Based in Sweden, he is currently working in the spray drying sector (powdered milk), liquid/fresh milk, and also fruit juice. Sheppard has seen recent technology, mainly through the use of Programmable Logic Controllers (PLC), transform production and efficiencies across lines as well as greatly reducing waste and improving safety, making it possible to create longer and more complex supply chains.
"Through sophisticated software we can now trace batches of product from the tanker it gets delivered in right through to which milk carton it gets sent out of the factory in," he says. "So, if there is a problem with the milk carton, in theory, there might be four or five tankers going into the one tank. You could trace back one carton to which piece of equipment it was processed on, which one in five tankers it came in on. There are samples from each tanker so you can identify the exact origin of the contamination." 
Food safety concerns aren't just limited to dairy. With improvements in this area it is increasingly possible for producers to reach markets around the globe. Market research firm Market Data Forecast predicts that the global food safety testing market will reach $17.72bn by 2021. This is growth of 7.6% CAGR from the $12.29bn it was worth in 2016. Driven by China and India, the Asia-Pacific market is expected to offer the greatest growth potential as improvements in testing technologies are made.
Food packaging giant Tetra Pak has introduced a management information system called CIP – cleaning in place. "You don't have to disassemble the whole factory; you can clean it while it's still in production," Sheppard says. "You can track all the temperatures, and make sure that all the mix water is clear of all the cleaners used to clean the tanks and pipes. That's very sophisticated now - it's manipulation of data. You can capture all the real-time data, put it into trends, put it into marketing material, and look at efficiencies, scheduling, that sort of thing."
Sheppard cites, as an example, a new filling and carbonating line installed for Coca-Cola, where the data that was then available to its internal systems could streamline the profitability and change all the shift patterns, resulting in longer run times and shorter downtimes. "Wireless is now the buzzword," continues Sheppard, "and discrete components like a valve or an instrument will now have some wireless technology, so the maintenance and interrogation of the instrument is done remotely and without the need for cabling. You can be limited with the data you can get through a cable, but with wireless you can absolutely have all the data out of the instruments. If it is a quality issue then this can be tracked, and transparently traced."
Back at the University of Lincoln, researchers are developing soft robotic grasping tools and manipulators for the handling of food, creating state-of-the-art 3D vision systems for use in the automated robotic harvesting of vegetables and in robotic weeding technologies. They are also working with external partners to create the first 'robotic chef' to work on large-scale food production. Called APRIL, the robotic chef can mix, load and cook ingredients like a professional, human chef. However, it can do this on an industrial scale using modern cooking and material handling technologies. Its creators expect APRIL to transform the way food will be manufactured, very, very soon.