Putting the Sizzle Back in Bacon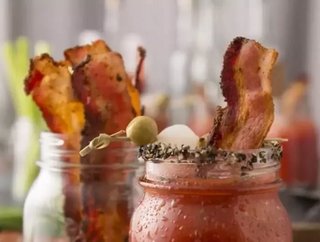 See this story and more in our monthly magazine edition of Food Drink & Franchise! The worlds appetite for bacon seems insatiable. Its hard to be...
The world's appetite for bacon seems insatiable. It's hard to believe that this versatile favorite, featured in sandwiches, sauces, stews, condiments and myriad of other food items, was at one time mainly a breakfast side dish.
Internationally, the burgeoning demand for sliced bacon began several years ago, when it became highly popular as a sandwich item in the U.K. The challenge of producing the rapidly growing volume was at that time met by continuous cooking in linear convection ovens.
As the demand of bacon continued to expand, processors soon adopted the linear microwave oven as a newer, faster technology for processing in high volumes. Although it had some drawbacks in terms of the taste and appearance of finished products, this system produced the required volume, and has remained prevalent until now.
Those taste and appearance drawbacks - as well as sizable capital investments, space requirements, and energy consumption - are encouraging many processors to look beyond the linear microwave oven to a more economical system that produces bacon (and other products) that looks and tastes as natural and delicious as pan-fried bacon – the spiral convection oven.
A Savory Solution
"I believe the spiral oven produces a superior product, in terms of bacon flavor, appearance and aroma – more like a home-cooked product," says Bartosz Psiuch, director of food processing equipment distributor Alimp (Mysłowice, Poland).
"Spiral oven technology features many controls that enable operators to regulate various parameters that affect how the product will be finished," Psiuch adds. "This allows you to cook bacon or a wide variety of other products in ways that really appeal to your customers' tastes."
"Taste and appearance were deciding factors in the purchase of our spiral oven. Both are important to the people who purchase our products," says Martin Croteau, plant manager at Olymel (Saint-Hyacinthe, Québec). Olymel produces bacon as well as a variety of other cooked and sliced meats, including gourmet products and the Smart Nature brand of healthful, natural foods. In November of 2012 the company purchased a spiral oven from Unitherm Food Systems to cook bacon bits, pizza toppings and flaked bacon.
Spiral ovens convey food upward by continuous conveyor belt that travel in multiple, circular tiers within a single oven enclosure. As bacon products cycle upward through the spiral oven, fat is rendered from the ascending meat and is dispersed onto the bacon on the lower belt tiers. In this manner, the bacon is basted and cooked in its own juices, providing the taste, aroma and appearance of a traditional, pan-fried product.
Notably, bacon cooked in microwave ovens is often flat and dull in color, whereas the spiral oven produces wavy, natural-looking slices.
"Many microwave ovens have a hold-down belt that prevents bacon strips from rolling up," explains Adam Cowherd, vice president of sales at Unitherm.  "The spiral oven is designed so that the finished product is not flat, but instead has a natural, home-cooked appearance."
The spiral oven not only produces authentic-tasting and esthetically pleasing bacon products, but also meets high volume requirements along with some very attractive economies.
Versatile & Compact
Another determining factor in Olymel's decision to purchase the spiral oven was its smaller environmental footprint. For example, Unitherm's spiral is a 12.5ft x 14.5ft x 11.8ft unit that has up to 150 ft. of belt.
Because of the spiraled configuration, these ovens maximize the amount of product that can be cooked within a given footprint. To handle greater volumes in a linear microwave oven, the length of the oven has to be extended, increasing the plant area occupied by the unit. A spiral oven's capacity and throughput can be increased by simply adding more belt. While this makes the equipment somewhat taller, the advantage of a small footprint is retained.
The spiral oven is also more versatile than most linear ovens and is able to roast, steam, bake, broil or pasteurize a wide range of product – bacon and other meat products, chicken, seafood, kabobs, vegetables and potatoes – any foods included in ready-to-eat or frozen food products.
Cowherd summarizes that a single spiral oven would only take up 20 percent of that space required for three microwave lines to do the same output – with a lot less energy.
Enhanced Food Safety
The spiral oven cooks bacon by traditional heating in a small-footprint system. It can be set to temperatures that eliminate bacteria, doubled with the machine's "clean-in-place" (CIP) system to create a safe cooking environment. 
"The clean-in-place technology is engaged at the end of each cycle, which can be very important," says Peter Muriana, Ph.D., Food Microbiologist Professor at the Robert M. Kerr Food & Agricultural Products Center, Oklahoma State University (Stillwater, OK). "One of the problems with ovens that do not incorporate a clean-in-place function, including the linear microwave version with the big belt systems, is that they could get contaminated with Listeria monocytogenes. That is a big problem with ready-to-eat products such as bacon."
Dr. Muriana adds that Listeria has always been troublesome and a persistent contaminant in meat processing facilities, especially in equipment where the processing regimen doesn't eliminate it by heating (i.e., chilling tunnels, microwave tunnels, etc.) because Listeria can become lodged in the nooks and crevices of the equipment.
 "In my experience, microwave beams work by 'line of sight,' which may heat unevenly, and are more focused onto what is on top of a conveyor belt in a linear commercial microwave oven. It is conceivable that a chamber that processes raw meat ingredients (raw bacon) other than by heating the chamber, may have contamination issues that need to be addressed," says Dr. Muriana. "Also, the microwave beam may not completely penetrate particles such as those that can drop off bacon slices and fall onto the belt. That can possibly result in Listeria or some other form of contamination that gets mixed in with the finished product when it exits the oven. The high-temperature steam of the clean-in-place spiral oven virtually eliminates that possibility."
Improved Energy Efficiency
Available in electric or gas models, spiral ovens consume significantly less energy than the linear microwave and other cooking equipment, and are more efficient in terms of labor costs.
"The spiral oven replaced two linear electric belt grills so there was an immediate savings in electrical energy, labor and space," says Croteau. "It is a compact piece of equipment and requires fewer personnel to produce the same output."
Some spiral ovens can also run off natural gas, which is typically less expensive than electricity. 
"The cost to cook sliced bacon on a spiral oven is about one-third the cost of a linear microwave oven that uses electricity" Cowherd explains.
To see Unitherm Food Systems in action visit them at the Pack Expo: Chicago November 2-5th Booth E8152. Or for more information contact:: Unitherm Food Systems, 502 Industrial Road, Bristow, OK 74010; Phone: 918-367-0197; Fax: 918-367-5440; E-mail: [email protected]; website: www.unithermfoodsystems.com
Let's Connect!